Pool is a fascinating and competitive game where choosing the proper equipment, including the professional pool cue and billiard tips can make a world of difference. Should there be one thing that players in this game can agree on, it is that you can win at pool with the best pool cue, best accessories, and best pool tip. Take the tips as an example. They aid in your energy transfer onto the cue ball, enhancing your control, spin, plus accuracy to ensure a victory. Here, we run through some of the best pool cue tips with prominent attributes and quality. While these do have several downsides too, they are not big enough to detract from the value offered by them.
Key factors to consider when choosing pool stick tips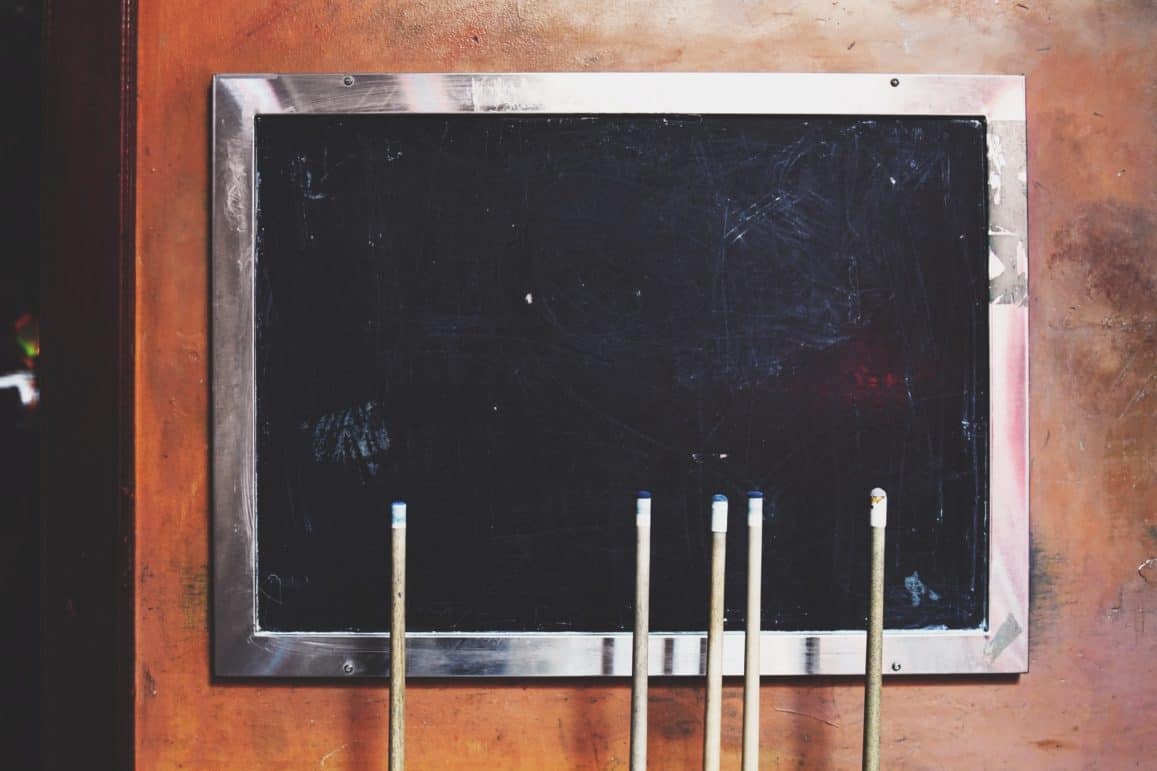 To get the best cue tips for your needs and wants, you are recommended to reflect on the following essential factors. In this way, you can make the best, most informed buying decision. As is the case with cues from the best pool cue brand, billiard tips from trusted brands tend to last twice as long as those from generic ones. The brand aside, please consider these key things:
1. Size
A larger pool cue tip usually implies more power. Meanwhile, by a smaller one, we often mean more finesse. Having said that, the proper size for your tip would be generally subject to the size of the ferrule (meaning the pointed end).
The diameter of many ferrules is about 13mm, whereas you can have a few cues in the thinner or thicker ferrules on hand. You can look at the specification of the cue or use the vernier calipers to measure the width in a breeze. It is likewise okay to choose wider pool stick tips than the pointed end, yet not the other way around. You can trim them down to fit your ferrule sizing.
2. Material
The best pool cue tips available today are constructed out of layered leather or solid leather. The price of layered leather is higher as pool tips designed from it are durable. As a result, these cue tips are popular among the pros. 
As for novices, intermediate, or relatively experienced pool players, solid leather tips are a good bet. They are pretty much reasonably priced and trustworthy. But on the other hand, you should pay more attention to their maintenance because they compress quite quickly.
3. Hardness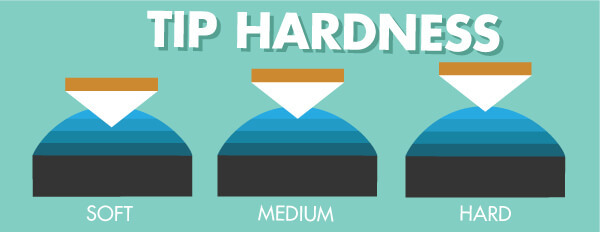 When it comes to hardness, you can choose between phenolic, hard, medium, or soft billiard tips. Soft tips often equate to their unmatched shock absorption. The softer your tip. the more excellent it is at absorbing the impact effects, and this leads to improved off-center control. In other words, even if you fail on the central ball hit, you still do not have to experience a miscue. Those interested in the tricky pool shot (sidespin or English) cannot go wrong with the soft hardness tips.
Speaking of hard tips, you can notice that their ability to transfer power to the ball is no joke, which assists it in pushing every other ball into the table pockets. Accordingly, pool stick tips with this hardness suit the jumps and breaks better.
How about phenolic cue tips? They are today considered the basic equipment trusted by many players who use breaking cues and their hardness is just mind-blowing. As break shots tend to strike near the ball center, phenolic pool tips (known to be hard as the balls) boast the ability to put a solid, seamless hit on the cue ball and there is no miscue at the same time. It seems safe to say that this type of tip transfers the most power and needs little to no maintenance.
Medium tips are more popular among those preferring a versatile pool tip. Since they offer the benefits of widely differing circumstances, A desirable amount of spin control plus accuracy can be reasonably expected. Tips with medium hardness are hard enough for breaks while still being great for a draw because of their adequate softness. This duality makes them ideal for players with a good sense of the way they desire to play the game of pool.
4. Layered or Non-layered
As the size, material, and hardness factors are out of the way, you should think about another significant element. That is whether the pool stick tips are non-layered or layered.
Layered tips are designed from some leather pieces stacked over one another to construct the pool tip. This layering gives the tip the ability to hold the shape longer and thus improve its durability. Regarding playability, this kind of tip never fails to deliver consistent control. Meanwhile, non-layered tips are constructed out of a single piece of material with solidity. Because manufacturing them is simpler, the price of this type of tip is usually lower. It offers a solid hit and this aids in your accuracy enhancement.
Top 15 best pool cue tips
To curate this list of the best billiard tips, we accessed things such as how the tip performs, the way it gives control to the pool player, in addition to the way it impacts the jump. We likewise took a close look at all of their features to see to it that they deserve a place on this rundown. Simply put, we picked these pool stick tips for their playability plus qualities. You can be sure of that.
1. White Diamond Jump/Break TIP 13mm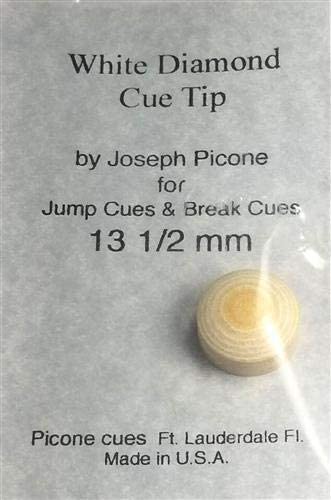 If you are in the market for a jump or break tip, this should be one of your best bets given its hard hardness level.
Why we choose it: The overall finishing of the White Diamond tip has been constructed out of high-quality fiber. Better yet, the product unit enables you to grip the ball while performing like a phenolic. Its capability of taking and holding chalk is more applaudable than many phenolic billiard tips. You may likewise appreciate that it lets you apply English to the cue ball, enables you to stop this ball, and put a draw on it on a jump or break shot. As a bonus, these pool stick tips shape and scuff in a breeze with sandpaper, are harmless to equipment or balls and last long.
Pros
Cons

Ideal for jumping and breaking
Able to hold chalk
Sturdy manufacturing
Well priced

Not the best pool tip for playing
1 piece
2. Zan Hybrid MAX Cue Tip 14mm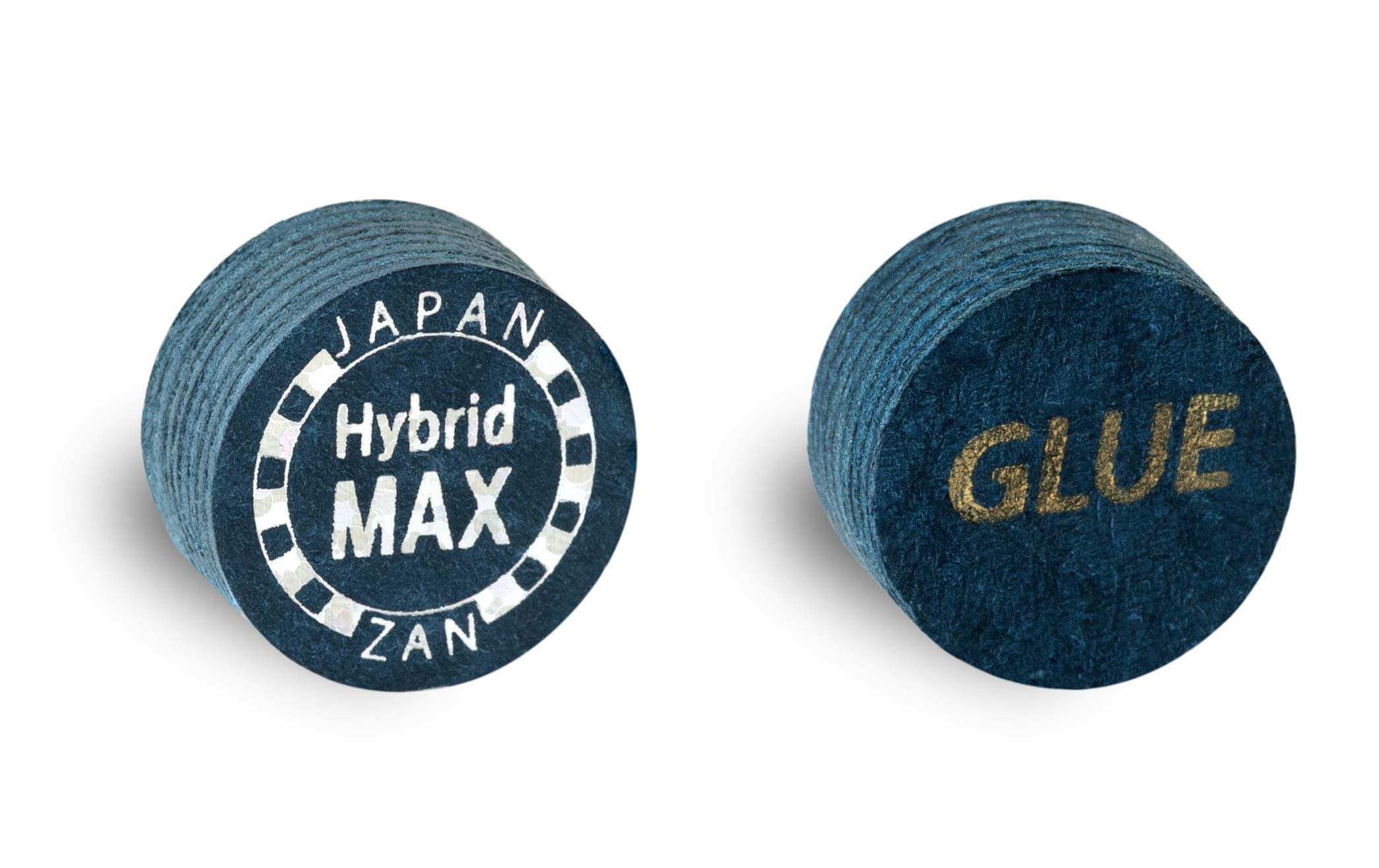 This product unit is very much a top-of-the-line tip from the well-known brand Zan. It genuinely speaks for itself and should you be having a hard time finding the best cue tips to purchase, we suggest you consider this bad boy.
Why we choose it: The name is self-explanatory; this Hybrid Max tip offers every benefit of two different billiard tips (hard and medium). The medium hardness pig skin is where the ball makes contact. The tip core is hard leather. The medium section gives a decent grip and assists in miscue mitigation. Meanwhile, the hardness enables keeping the shape of the tip, thus less grooming is necessary with it. What is more? The Zan Hybrid MAX is laminated in 8 hog and pig layers. The way it is constructed implies it is great at holding chalk. Generally speaking, this technological beast is ideal for the more advanced pool player with its special and advanced features.
Pros
Cons

Ideal for every soft, hard, and medium
Good control
Retain chalk well
8-layered cue tip
Hybrid construction

A better fit for advanced pool players
1 piece
3. Tweeten Elk Master Soft Leather Pool Cue Tips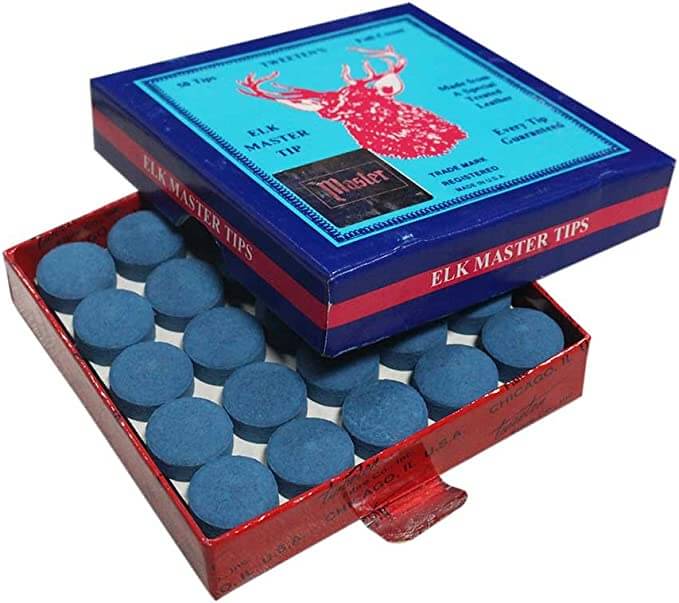 These pool stick tips are among the softest ones that you can get these days. As a plus, their sizing is perfect for regular cue sticks.
Why we choose it: When hitting the center, you will notice these soft tips apply more spin to the ball. Also, the Tweeten tips retain more chalk, which translates to reduced miscue in the process. Installing them is easy as well when it hardly takes you 10 minutes. They likewise need less grooming thanks to the impressive leather design. Based on your needs, you can opt for the tips at 14, 13, or 12 mm.
Pros
Cons

Need less attention than other comparable pool tips
A large number of tips (50)
Let you impart more English on the ball easily

Lost its shape faster compared to hard or medium pool tips
Relatively pricey, likely intimidating the wallet of a casual player
4. Billiard Evolution Screw-On Pool Cue Tips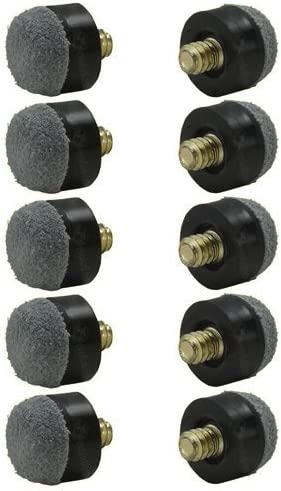 This set contains 10 pretty affordable screw-on pool stick tips that stay tight. Because the Billiard Evolution product unit is relatively soft on purpose, it gives a good feel and desirable cue ball control regarding English.
Why we choose it: Screwing this product on and off is simple. It is nicely shaped as well. This is why you just need to put chalk and hit the ball. What is coolest is that you will not suffer from the mushrooming issue when you hit the tip extra hard. Considering their good price, these billiard tips are less tough compared to other more expensive screw-on pool tips. But on the other hand, they work well enough.
Pros
Cons

Easy to install with no glue required
Good price
None of the cue tips in the set are unusable or off-center.

Not as long-lasting as more costly screw-on pool stick tips
5. Bulletproof Pool Break Cue Tip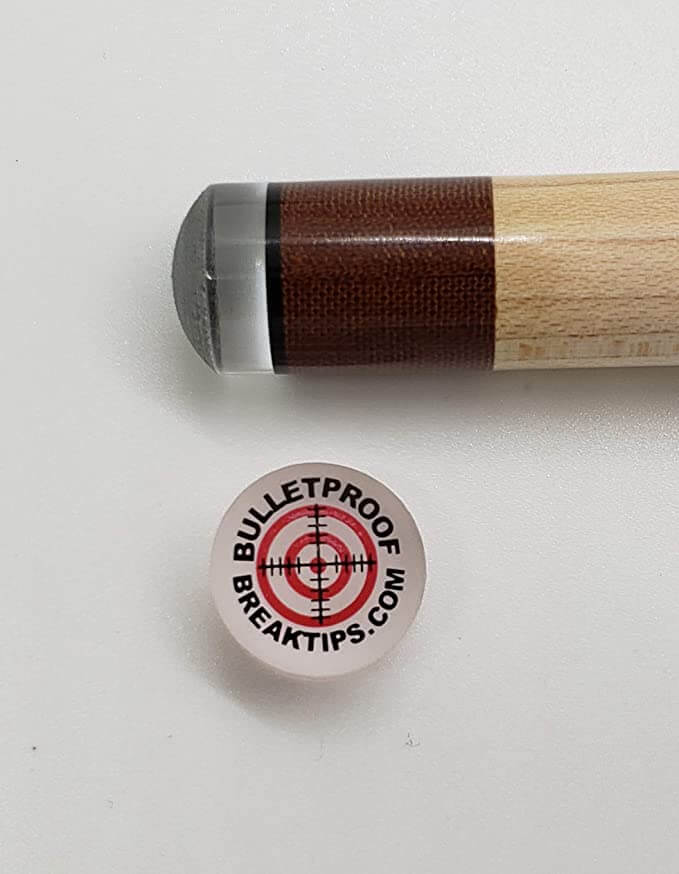 This Bulletproof is also the best pool tip nowadays. It will allow you to get impressive breaks. With its functions plus quality, you can reasonably expect great action, too. Not to undermine the fact that this thing jumps relatively conveniently.
Why we choose it: It retains the chalk and is decent enough to offer adequate spin to the ball. Indeed, you will likewise notice a significant difference in the ball's power and speed. This does not imply that controlling the ball is impossible. You can still control it! As a breaker, the tip is genuinely as good as can be expected. You do not have to use much power on all the strokes but still succeed in spreading the ball.
Pros
Cons

So well-designed that many professional players such as – Max Henning have used it
Retain chalk well
Have the best action in its price range
One of the best breaks ever
Give fantastic spins for a hard break tip

Pretty hard to shape this pool tip. Thus, you are recommended to rely on the experts for the installation.
6. Tiger Emerald Laminated Tip (13/14mm)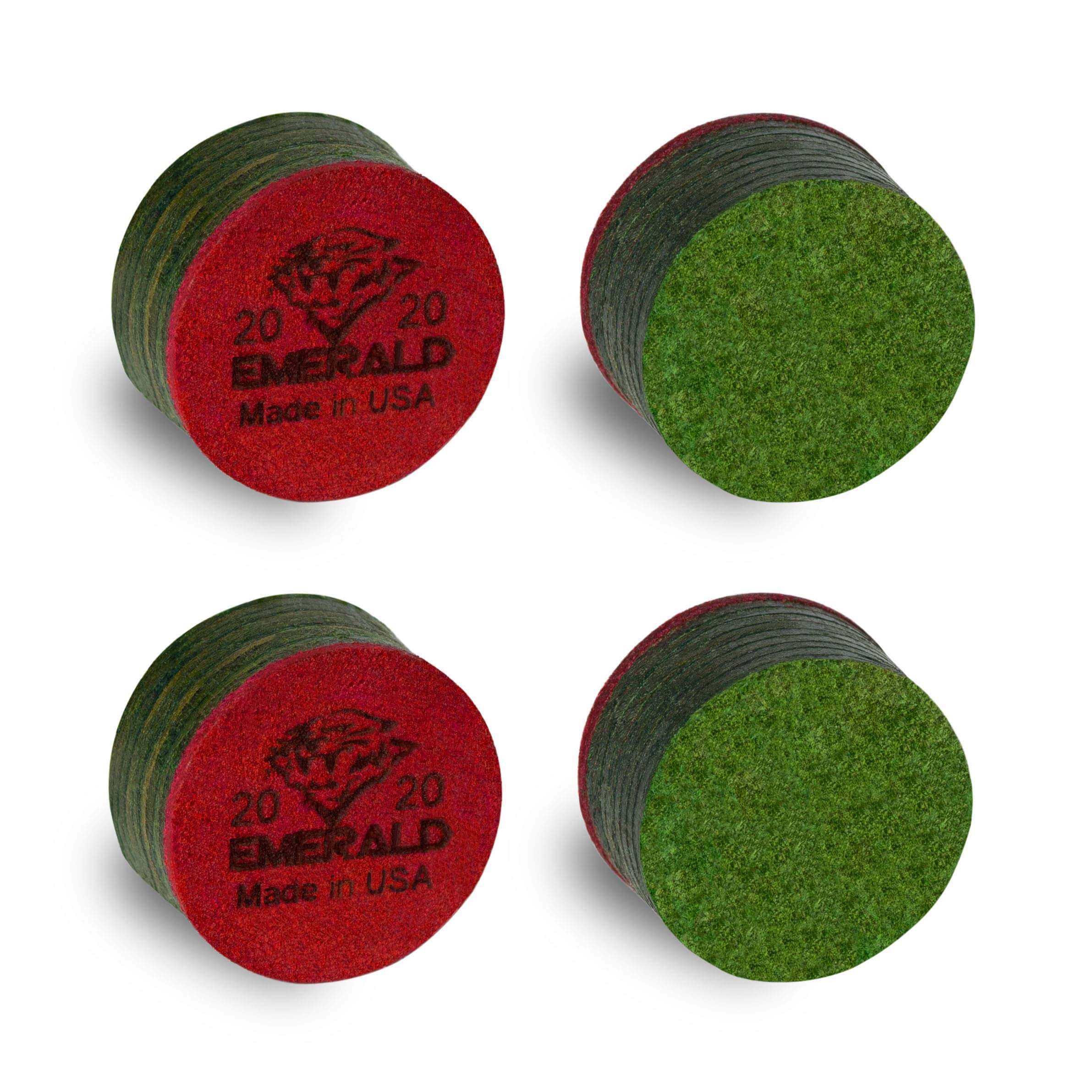 This pool stick tip gives a medium-hard touch and a noteworthy spin. Take a hard look at it if you want the best of both worlds.
Why we choose it: This Tiger Emerald Laminated Tip is laminated with a special vacuum lamination process (called Vaculam) for maximum strength, remarkable durability, and consistent tip result. Moreover, because it has a diameter of 14 & 13 mm, you will have no difficulty selecting the right size and can do less sanding when installing new pool cue tips. On the one hand, the Emerald is not on the cheap side of the spectrum. But then, each pack comprises two, making this product unit better priced than you might think.
Pros
Cons

Accessible in 14 & 13 mm diameter, enabling you to opt for the right size
Last long
2 in each pack, making it not that expensive
7. Fuji Cue Tip (Single) 14mm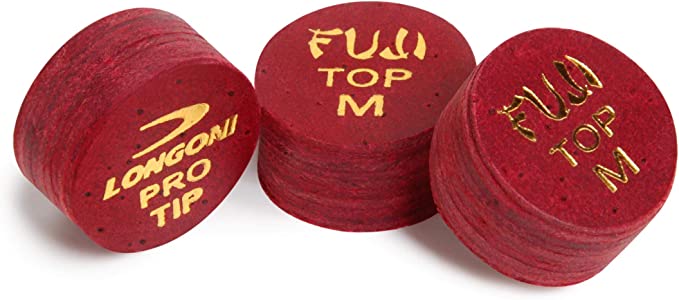 These best pool cue tips are the property of Longani. This company is one of the most reliable billiard tips out there.
Why we choose it: Each Fuji cue tip is designed from 10 premium pigskin leather layers. This thing exists in multiple hardness varieties known as soft, medium, and hard. According to tests, the tips are incredibly consistent in hardness and made for holding chalk and controlling pool balls.
Pros
Cons

Constructed out of premium 10-layer pigskin
Made for holding chalk and controlling pool balls
Variety of hardness
8. Cuesoul 5pcs Pigskin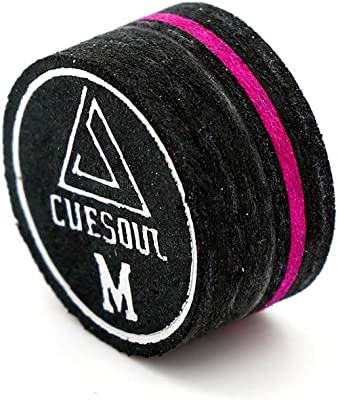 This pool stick tip is a good value for the price. The quality makes it just about the same as pricey billiard tips in the market – a bit of information confirmed by veteran pool players.
Why we choose it: There are different hardness tips in this kit, from hard to extra soft, which will enable you to use various tips based on the situation. Similar to premium pool tips, this thing is simple to shape and boasts chalk retention. On top of that, it stands up nicely to plenty of use, keeping you from replacing your pool cue tip all too soon. The brand's good reputation is a plus point, implying that you can rest assured about the product quality.
Pros
Cons

Easy to install
A good value for the price
Playability

Not perfect for big tournament players who need to get a high-priced tip
9. Moori IV laminated Tip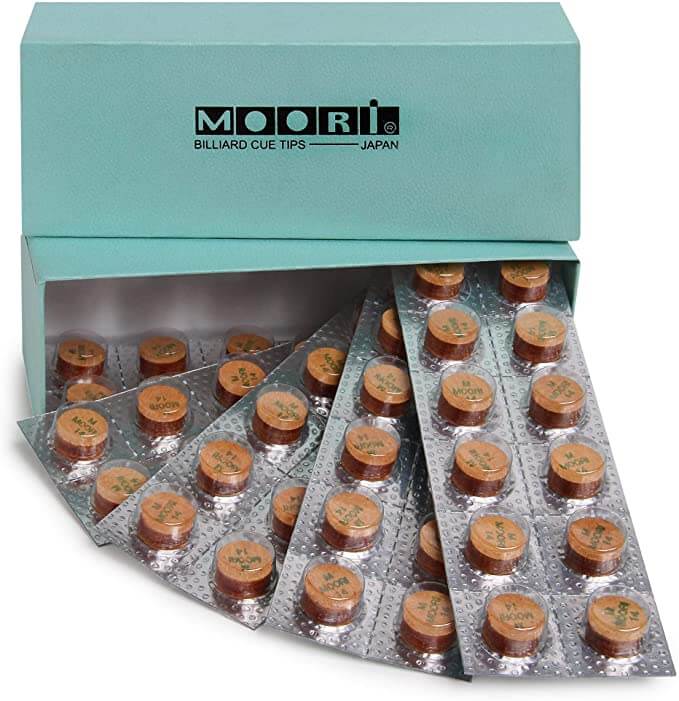 These best cue tips are made by the world-renown manufacturer of billiard tips Moori. They are constructed out of 8 pigskin layers, providing them with desirable hardness and consistency.
Why we choose it: Your shooting accuracy will improve if you play with this tip. It likewise holds chalk impressively and has a high grip. Are you fond of spins? If this is you, you cannot go wrong with the Moori IV laminated Tip since it provides you with exactly that. The hardness level of the product unit is medium and it offers great ball control and shooting consistency.
Pros
Cons

Hold chalk well
Not be distorted fast
Offer consistency in playHave impressive strength and medium hardness

The asking price may be high for some people.
10. KAMUI Original Laminated Pool Cue Tip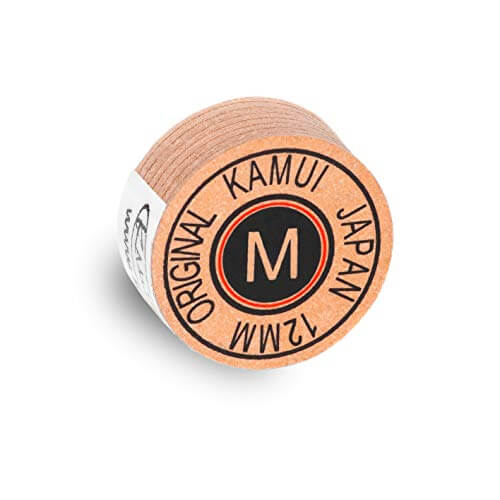 As the new version of the clear original, this laminated cue tip improves its quality. In the meantime, much has stayed the same. For example, it still uses high-quality pigskin leather and boasts consistency and hardiness in how it works.
Why we choose it: The best part is that the KAMUI Original Laminated Pool Cue Tip somehow works to perfect the already good original version. The brand has brought special improvements in the tanning process in leather, making the KAMUI Original Laminated version more heavy-duty. The accuracy of your shots will be great as always and your ball will still manage to move far yet with extra protection. Plus, you do not need to be too concerned about the 10-layer tip mushrooming, becoming damaged, and whatnot.
Pros
Cons

Give the whole benefits of the original
More heavy-duty
No need to be too concerned about the 10-layer tip mushrooming, becoming damaged, and whatnot.

Some people think it is overrated.
11. Honbay 10pcs 13mm Tips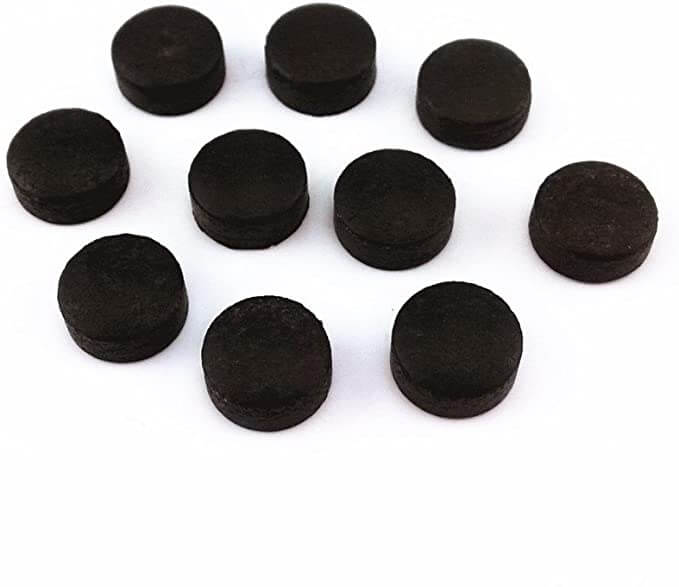 These pool stick tips are inexpensive, which is not to say that their quality is low. It is great!
Why we choose it: This thing is constructed out of thick leather skin, letting it shape more nicely. The leather layering likewise plays into the Honbay tip's longevity. In addition, you will find it simple to install it on the pool cue and be happy with the set of 10 cue tips included in each purchase. The wow factor is the product unit's fantastic way of playing, lasting, and retaining the billboard chalk. It seems safe to say that this product's chalk gripping ability is comparable to many costly billiard tips on the market. As a medium hardness tip, it likewise allows you to get a soft tip's ball control and a hard tip's durability. In general, the Honbay 10pcs 13mm Tips is an affordable, nicely-designed pool tip for general purpose use.
Pros
Cons

Ideal for general purpose use
Easy to install
Among the most reasonably priced products in its price range
The fantastic capability of playing, lasting, and retaining the billboard chalk
Durability

Not perfect for commercial/ professional use
12. Collapsar 6 Pcs 14mm Tips (H/M/S)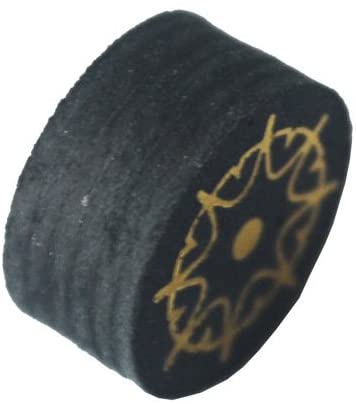 The best pool cue tips from this brand come in a set of six 14mm pieces. These are designed from multi-layered leather and are accessible in 3 levels of hardness: hard, medium, and soft.
Why we choose it: This best pool tip plays nicely and has a decent feel to it. It is relatively good at holding its shape and is not easy to deform. The best part is that you have the choice to buy a combination of hardness, which offers 2 tips for each kind of hardness. As a result, you can try out various types of tips and decide on your best fit.
Pros
Cons

Good value for money
A variety of hardness
Give pool players more fitting possibilities

Soft hardness and high hardness may be almost identical to the medium-hard hardness often found out there.
13. Predator Victory Cue Tip (H/M/S)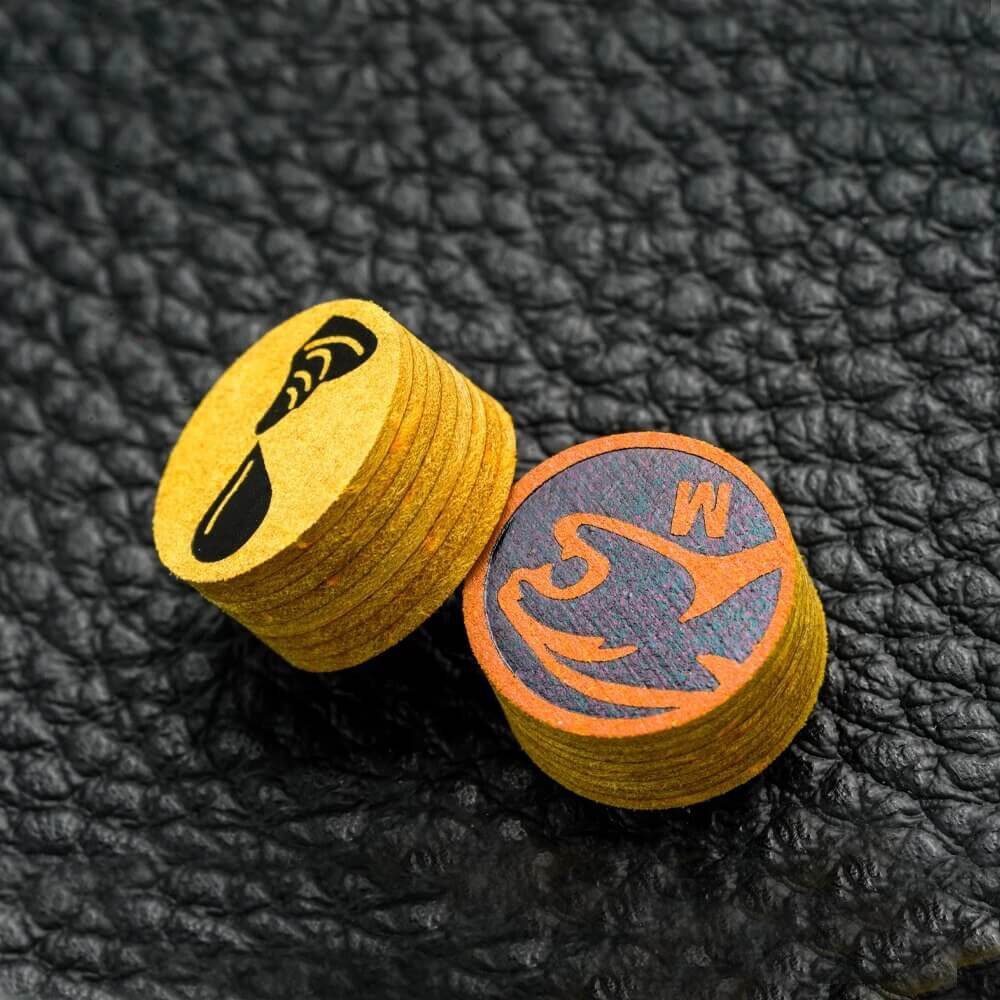 It is well on its way to becoming a perfect pool stick tip, justifying why it is expensive.
Why we choose it: Having an 8-layer, unparalleled quality leather design, the Predator Victory Cue Tip is made to provide high performance every time. The feel, control, and hit offered by this thing are genuinely top-notch. In addition, it can retain more chalk than many other competitors. The pool tip also does not need plenty of reshaping, undeniably increasing its durability. Another great upside is that it is one of the easiest to maintain. Unlike other inferior billiard tips today, this tip is almost unlikely to flatten out or mushroom.
Pros
Cons

Great for both experienced and casual players
Unparalleled quality leather design
Excellent chalk retention
Easy to maintain
Durability
14. Blue Diamond Leather Cue Tips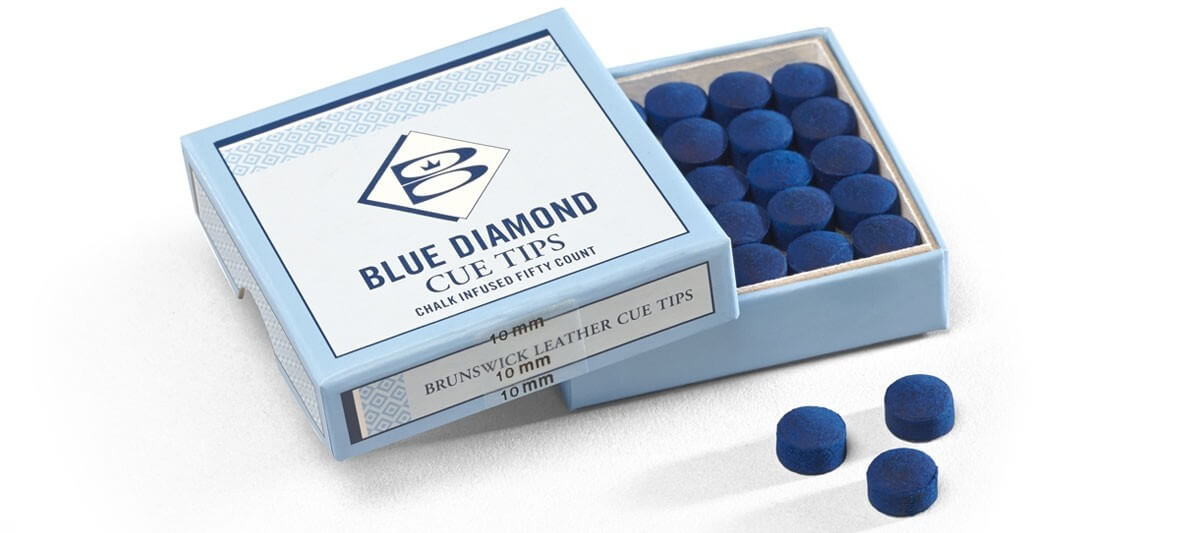 The Blue Diamond pool stick tips are designed by the US-based Brunswick, famous as one of the leaders in cue tip design. You will be happy with this great all-around option.
Why we choose it: The pool tips are constructed out of meticulously selected and well-treated leather and have chalk infusion. They are also super simple to change and have no problem taking glue. After fitted, they are a good tip to shape, allowing you to get the final look you prefer.
Pros
Cons

Meticulously selected and well-treated leather construction
Easy to fit
Simple to shape

Somewhat on the hard side
The sound when striking the ball makes some people cringe.
15. Kamui Clear Black Cue Tip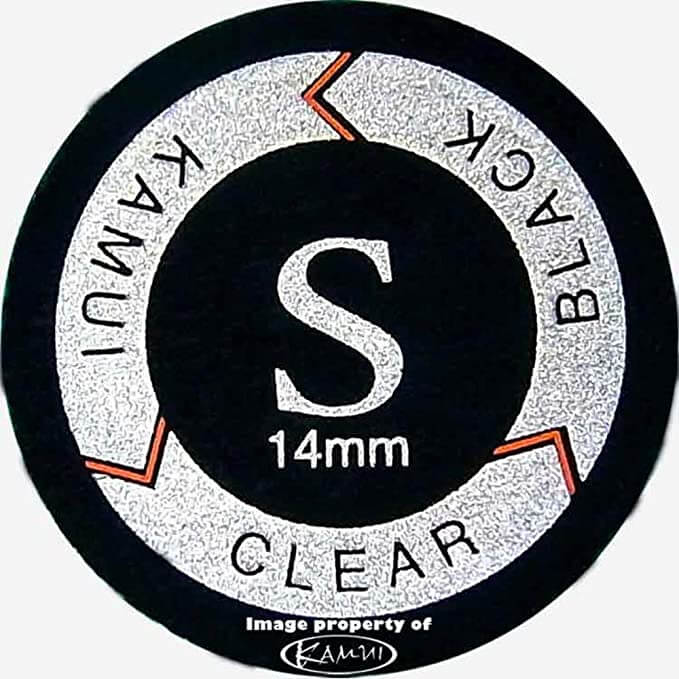 This is a popular billiard tip from a great brand.
Why we choose it: The best pool tip from Kamui stands out in every main area of use (lifespan, performance, and appearance). It is a breeze to install this multiple-layer leather tip and it gives good ball control at all times. Also, the product unit hardly ever loses its shape like other soft hardness tips on the market. It likewise boasts outstanding chalk retention. What is more? Kamui will provide you with a choice between super soft, soft, medium, and hard tips when you buy. Given how great this pool cue tip is, maintaining it does not take you plenty of time and effort.
Pros
Cons

It hardly takes 15 minutes to install the tip.
Need little or no sanding
Constructed out of high-quality leather, it lasts as long as it can.
Receive an ever-increasing amount of positive feedback
Final words
You have every reason to appreciate and improve your game with the best pool cue tips addressed above. As we see that not every pool table player has the same need and preference, we have run through these products with varying attributes for you to pick from. We guarantee that each of them is selected with care to suit the different playing skillset. And if you could not determine which one to purchase, the salesmen can assist you in reaching your final choice.