How Much Room Do You Need For A Pool Table? Pool Table Room Dimensions
A space to relax after school and work is such a wonderful thing for everyone. In particular, for billiard enthusiasts, a game room with a pool table is perfect for satisfying their passion.
Buying a pool table to design a room depends on many factors and uses, for example, the family pool table or the billiard zone, a small pool table size for the kids, or a large one for adults and friends to gather or practice. If you are looking around to find a reasonable answer to the question: how much room do you need for a pool table? This is the right place.
Table size, the type of games you wish to play, the length of the cues you use, and other factors all play a role in determining how much space you need for your pool table. The amount of space you'll need may vary depending on if you're playing on different-sized tables or with different-length cues.
Popular pool table room size chart
It is not easy to determine what size room your pool table is right away. You will need time to measure and consider all the surrounding factors. However, you can quickly check the pool table size chart below for your references to get the first ideas:
Pool table size

Pool cue length

Min room size




6ft (playing surface: 33''x 66'')

48''

11'x13'6''

52''

11'6''x14'6''





7ft (playing surface:38''x76'')

58''

12'6''x15'6''

48''

11'6''x14'6''

52''

12'x15'





8ft (playing surface:44''x88'')

58''

13'6''x17'

48''

12'x15'6''

52''

12'6''x16'




8ft oversized (playing surface: 46''x92'')

48''

12'x16'

52''

12'6''x16'6''

58''

13'6''x17'6''





9ft (playing surface:50''x100'')

48''

12'6''x16'6''

52''

13'x17'

58''

14'x18'
How much room do you need for a pool table?
If the above table can not fulfill all your doubts or if you wish to design a new room for your pool table, follow these steps below to figure out how much room you need for your pool table:
Determine pool table size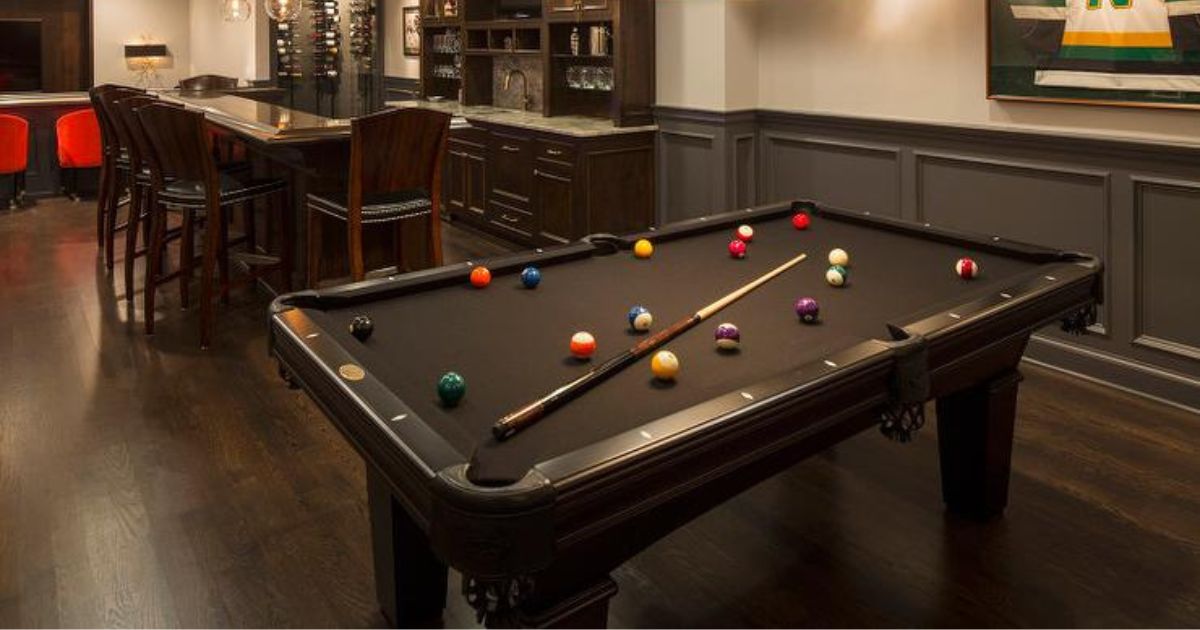 Pool table measurement is an important starting step to figure out the room size needed
Length, and width
The first thing you have to do is to determine the pool table size including its length and width. Pool tables are available in a range of sizes to accommodate the space you have available. While most people consider 8-foot tables to be the ideal size for in-home use, 6-foot, 9-foot, and 7-foot tables are also available. These are considered standard pool table sizes.
Because players will need to shift positions and move frequently during the game, the distance between the pool table and the wall is important. You should leave at least 4′-6′ of space around the pool table. If space is a constraint, you can adapt by utilizing a shorter cue of 52 ". It would be great for locating your pool table in larger rooms, such as the basement.
Height
Pool table height is also an important factor to determine the pool table room dimensions. It's critical to think about the distance between your pool table and the ceiling. You may intend to put the light above to aid in shooting from all angles without casting shadows. The objective of pool table lighting is to illuminate the playing area of the billiard table rather than the entire room. The recommended distance between the light and the pool table is 32-36 inches.
Determine pool cue length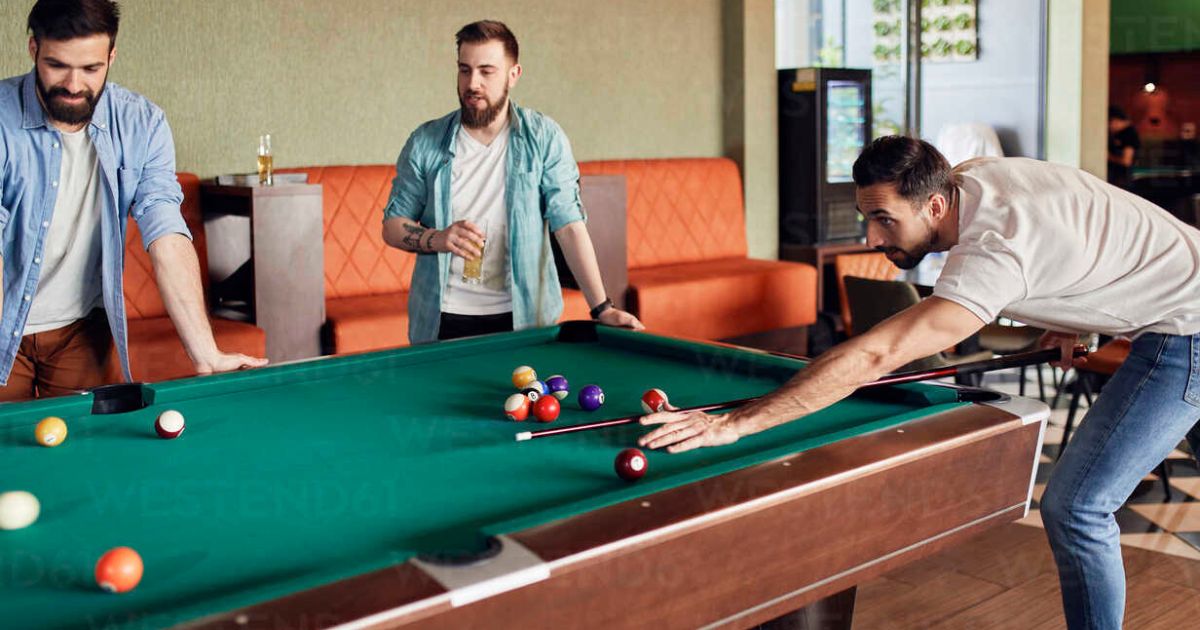 If you've ever played pool in a crowded billiard hall or pub and had trouble setting up and taking your shot because your cue kept hitting walls or other people, you know how aggravating it can be. Therefore, knowing your pool cue length can help you figure out how much space you need to have to make different shots from different angles. Pool cues typically range in length from 48 to 58 inches but the most popular pool cues are 58'' in length. After getting your pool cue length, multiply it by 2.
Finally, you have to put the all numbers together to get the final room size you need. Add the length of your pool table and the length of your pool cues together. Then repeat for the width. For example, if you're playing on a 4ft x 8ft table (48′′ x 96′′) with 58′′ cues (x2 116′′), you'd add 48′′ with 116′′ to get 164′′, and 96′′ with 116′′ to get 212′′. This is equal to a room size:13′ 6′′x17′
FAQs
Is it possible to fit a pool table in a 12'x12' room?
It depends. Pool tables are available in a variety of conventional sizes, but the average home table is 8 feet long. Given that a pool cue is 58 inches long, players won't have much room to walk around and shoot without hitting a wall. This indicates that a 12 by 12-foot area is insufficient for a conventional home pool table. On the other hand, if you use a small 6ft pool table with a 42'' pool cue, it may be ok but not comfortable. You should make your calculation based on the suggested steps to get the exact room size you need
Can you put a pool table in a carpeted room?
It is ok to put a pool table in a carpeted room. However, for a pool table and its players, hardwood floors are ideal. You will have to clean and adjust the carpet regularly. Rugs, on the other hand, are ideal for pool tables because they protect the floor from traffic, bumps, dropped balls, and other mishaps.
What are other factors affecting your room size calculation?
You may wonder how much room you need for a pool table if many people are playing. In this case, you have to increase your room size or reduce the table size to have enough space for all the people. Besides, you also have to leave some space to put some comfortable chairs for people while they are waiting for their turns.
Conclusion
In short, how much room do you need for a pool table? It depends, just like so many other things. The size of the table you desire, the lengths of your cues, the number of players you want to play with, and your overall space. You may calculate the room size required for your pool table by following all of the specified steps. Besides, you can also seek some references from trustable size charts with minimum room size as above or even professional consultations if necessary.