What Cue Tip Do The Pros Use? Top 5 Best Professional Cue Tips in 2023
Pool is a fascinating and competitive game where choosing the proper equipment, including the professional pool cue and billiard tips can make a world of difference. Should there be one thing that players in this game can agree on, it is that you can win at pool with the best pool cue, best accessories, and best pool tip. Take the tips as an example. They aid in your energy transfer onto the cue ball, enhancing your control, spin, plus accuracy to ensure a victory. Here, we run through some of the best pool cue tips with prominent attributes and quality. While these do have several downsides too, they are not big enough to detract from the value offered by them.
Factors to be considered when choosing a cue tip
There are many factors that you need to consider to evaluate a pro-level cue tip such as the hardness of the tip, its type, its consistency, and durability.

1.1 Hardness
There is a wide variety of cue tip hardness, with soft, medium, and hard being the most frequent.


soft tips
The energy absorption during impact results in a longer contact time between the cue tip and ball. Players use soft cue tip benefits in manipulating the cue ball's movement around the pool table.

Hard tips
Because it absorbs less energy at impact, the cue ball spins less. Hard tips also last longer, require less maintenance, and provide some consistency to players.

Medium-hard tips
This is the most common cue tip, and it gives players a good balance of cue ball control and consistency. Medium-hard tips also require less maintenance.

Phenolic tips
They're made of carbon fiber and are as durable as a pool cue, which frequently used for breaking. Phenolic tips transmit the most energy when touched.

1.2 Durability
Because of their density, hard tips are more durable. Soft tips, especially when utilized for break shots, can quickly mushroom. Yet, some players enjoy the feeling of their soft cue tips mushrooming and compressing.

1.3 Cue tip size
The most frequent sizes of cue tips are 12mm, 13mm, and 14mm. While smaller diameter pool cue tips help skilled players put a side-spin on the cue ball known as English, larger diameter tips help beginner players pocket the balls more easily. The cue tip's increased surface area may help you land even the most challenging strokes.

1.4 Consistency
Pro players experiment with different tips until they find one that works perfectly. However, consistency is more about a player's game skills than it is about the tip they are using.
Top 5 best professional cue tips
Understanding all the factors that make professional cue tips will help you find out which cue tip option should be in your mind. However, there are so many options available in the market that can make you feel confused. So what cue tip do the Pros use most recently? We will list here the top 5 best cue tips chosen by Pros for your reference.
Tiger Everest Laminated Cue Tip
Everest Laminated Cue Tip is the ultimate cue tip crafted from the finest pig skins in the world. Meticulously crafted through a careful process of selecting and splitting layers, only the top 10 most durable and even layers are chosen. Using our proprietary VACULAM process, each layer is vacuum laminated to create the most sophisticated, durable, and advanced product. Its special red layer notifies players when to replace the tip. Moreover, this cue tip is made to shape like a hard tip, hit like a medium, and offer the control of a soft tip.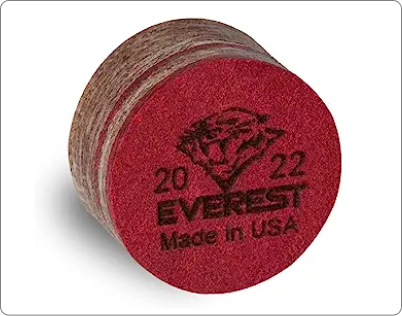 Special pig skin quality
Flexible playability with soft, hard, medium cue tip adjustments
Strict selecting process
Offer 10 layers to maintain hardness

Hard to apply on the pool cue
Products that have "Tiger Everest Laminated Cue Tip"
Predator Victory Tips
Predator victory tips are provided by the predator corporation, which has been in business for over 25 years. They produce tips in a variety of hardnesses, from mild to hard. This pro-level cue tip is popular among professionals because of its bright color, which allows it to be used even in low-light situations. Furthermore, the tip is long-lasting and requires little upkeep. As a result, if you're on a budget, it's a great option.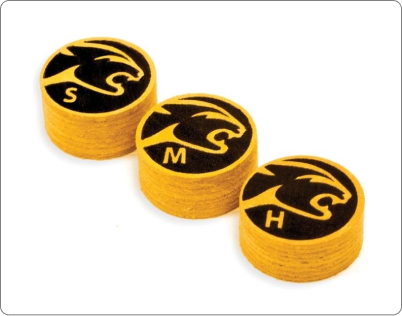 Give a fantastic performance
High quality
Easy to install
Bright color is good in low light conditions

Just provide one suggestion
Difficult to play
Elk Master Cue Tips
Elk Master cue tips are made by a company that has been in business for over 85 years. Elk master 13mm pool billiard cue tips are popular among professionals because they enable them to achieve more spin on the cue ball thanks to their excellent grip on the chalk. Mistakes are therefore uncommon while employing these techniques. Because the cue tips are comprised of a single strip of leather, they must be groomed on a regular basis. Other maintenance procedures, such as shaping the tip after numerous games, are also required.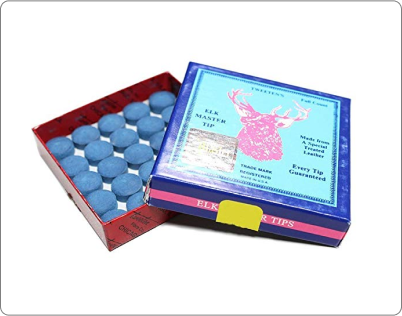 Cost-effective
Five options to choose
Incredible control
Allow players to obtain additional spin

Require regular maintenance
HONBAY Billiard Cue Tips
HONBAY pool cue tips are among the hardest available on the market. As a result, you don't have to be concerned about mushrooming when using these cue tips. The cue tips are constructed of aged leather, which adds to their durability. The tips also provide superb control of the cue ball.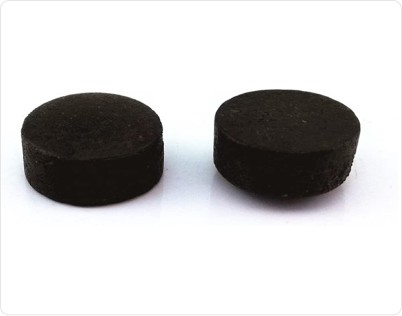 The cue tip is tough.
Provide nice spin
Affordable

When compared to more expensive tips, it's not as much fun to play with.
Collapsar Pool Cue Tips
Collapsar pool cue tips are regarded as providing the most value. Six tips are included in this package. It comes in three different hardness levels: hard, medium, and soft. The tip is popular among players because it gives the cue ball more spin. Furthermore, it holds chalk well and retains its shape even without routine maintenance. Collapsar is reasonably priced, making it one of the finest pro-level cue tip options for those on a tight budget.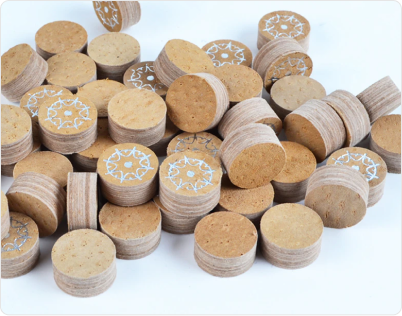 It's of good quality and doesn't fall apart.
It is quite valuable.
Controls the cue ball quite well.

Its soft tips may be softer than expected.
Frequently asked questions
How much is a pool cue tip?
A pool cue tip can be from a few dollars to a hundred dollars. There are many cue tips with affordable prices and good quality in the market. The most important thing is choosing the one that fits your needs and is within your budget.
How to replace a pool cue tip?
Pool cue tip replacement is simpler than you might think. If you are a beginner and don't know how to do it, check here to find out 6 simple steps to replace a pool cue tip. However, you'll need to practice putting one on at first, but after a few tries, you'll be a pro at it.
What are pool cue tips made of?
Cue tips are created in a variety of ways by various brands. Many popular tips are manufactured from compressed chalk, which is why they are blue. Some new tips on the market, however, are made of laminated pigskin, which has a distinct orange color. Besides, some other tips are made by using leather. After trying out a range of tips, you'll have a sense of what kind of tip you prefer.
Conclusion
In general, there are numerous aspects to consider when selecting a pool cue. However, it is necessary to check for products that offers best quality within your budget. Above are the best 5 professional cue tips that provide finest materials with reasonable prices, giving you the smoothest play at all time.
Good news! To every pool cue purchase, Pearson Cue gifts FREE pool tip that best matches with the chosen product, which definitely maximize your chance of win. Check out the 15 Best Pool Cue Tips To Choose in 2023 now!
check out these Related Products