What is the Difference between Snooker and Pool? (Basics Explained)
Both snooker and pool are pocketed cue sports. So, what is the difference between snooker and pool? The tables of the two games have six pockets but the snooker tables are often larger. In pool games, you will play with fifteen or nine balls. Meanwhile, snooker has up to 22 balls. What else can help you to differentiate snooker and pool? Let's check out the experts' analysis!
What is snooker?
Snooker is said to be younger than pool
Snooker contains many games such as 6-red, English, American, Brazillia snooker, etc. These games take place on a 6-pocket table and need at least 2 players.
Read more: snooker vs billiards vs pool
History
Snooker officially appeared in the 1870s when a British Indian army officer set its rules. The name "snooker" also represented newer or first-year military personnel.
In the first half of the 20th century, the first World Snooker Championship took place. It was not until 1969 BBC broadcaster live-streamed the Pot Black snooker tournament on television that it became more popular.
Popularity
Snooker players are mostly in the United Kingdom. It is easy to explain because its origin is here and most world tournaments happen in this country. The game is also popular in the US, Brazil, and some Asian countries but in smaller quantities.
For beginners, snooker is easier to play on the first days. It is extremely difficult to reach higher levels. Because mental ability takes up to 60% of success, not only techniques. Just a few players know how to control emotions, muscles, and maximum concentration to get the best score.
What is pool?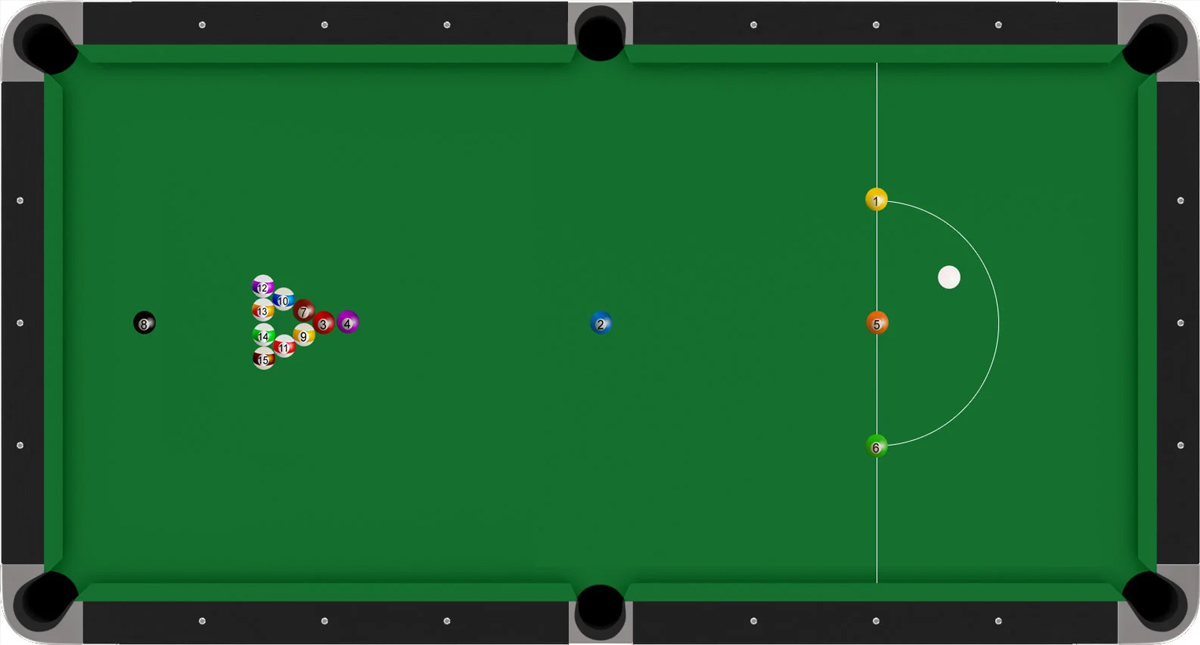 People think that pool is one of the easiest games of cue sports
In like manner, pool is played with a 6-pocket table, a cue, 2 players, and some balls. However, their features are different from snooker.
History
Pool's blooming period started simultaneously with snooker. However, people found that the word "pool" had appeared in 1797 in Virginia newspapers. This word described a billiards-like game.
Since the mid-19th and the early 20th century, it has evolved into many different variations. The most popular games are straight pool, one-pocket, 3-ball, 5-ball, 7-ball, and even 16-ball games.
Popularity
While snooker dominates the UK, pool lays down the law in the US. After two movies: "The Hustler" and "The Color Of Money", they are so popular that you can find pool halls at bars, private houses, and others. There are also many players from Canada, Australia, Taiwan, the Philippines, Ireland, and China.
It seems to be much simpler to learn how to play pool. In comparison with snooker, a pool table has larger pockets, a smaller playing surface, and a smoother cushion.
Game accessories for Snooker and Pool
A table, a stick, and balls are the core elements to differentiate between snooker and pool.
Features of Balls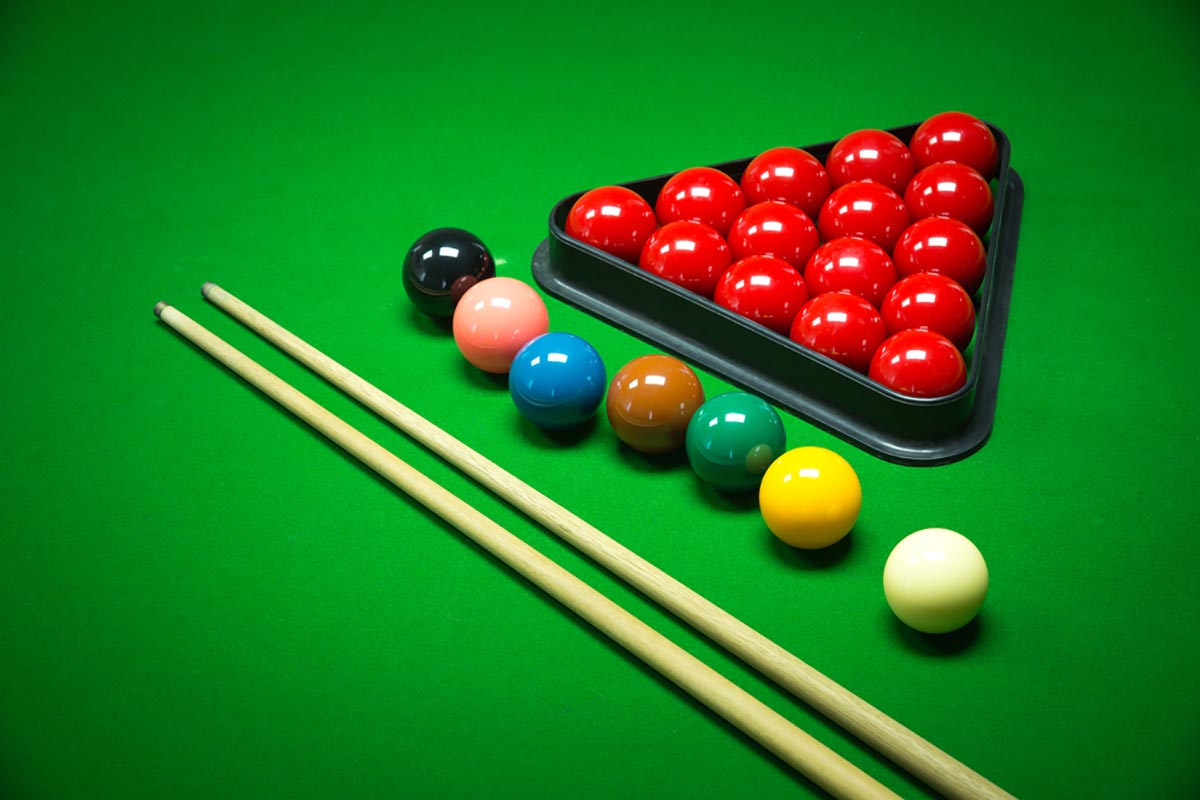 Snooker balls do not have numbers
You can recognize which ball is for a pool game or a snooker game by following this comparison table.
Features
Snooker
Pool
Number of balls
22 balls in total
16 balls (mostly);

Might change to 7; 8; 9; 10; 12; etc.
Color

15 red balls
6 colors: yellow, green, brown, blue, pink, and black
1 white cue ball

In 16-ball games:

8 solid color balls: yellow, blue, red, purple, orange, green, maroon, black
7 striped balls: yellow, blue, red, purple, orange, green, maroon
1 cue ball: white or off-white

Numeric characters
No
From 1 to the end, except for the white ball
Diameter
2.07 inches (52.5 mm)

plus or minus 0.002 inches
2.25 inches (57 mm)

plus or minus 0.005 inches
Weight
0.11 oz (3g)
5.5 to 6 oz (160 to 170 g)
In brief, there are more balls on a snooker table than balls on a pool table. On the other hand, pool balls are much larger and heavier. The color also helps you differentiate between two games easily.
Snooker table vs Pool table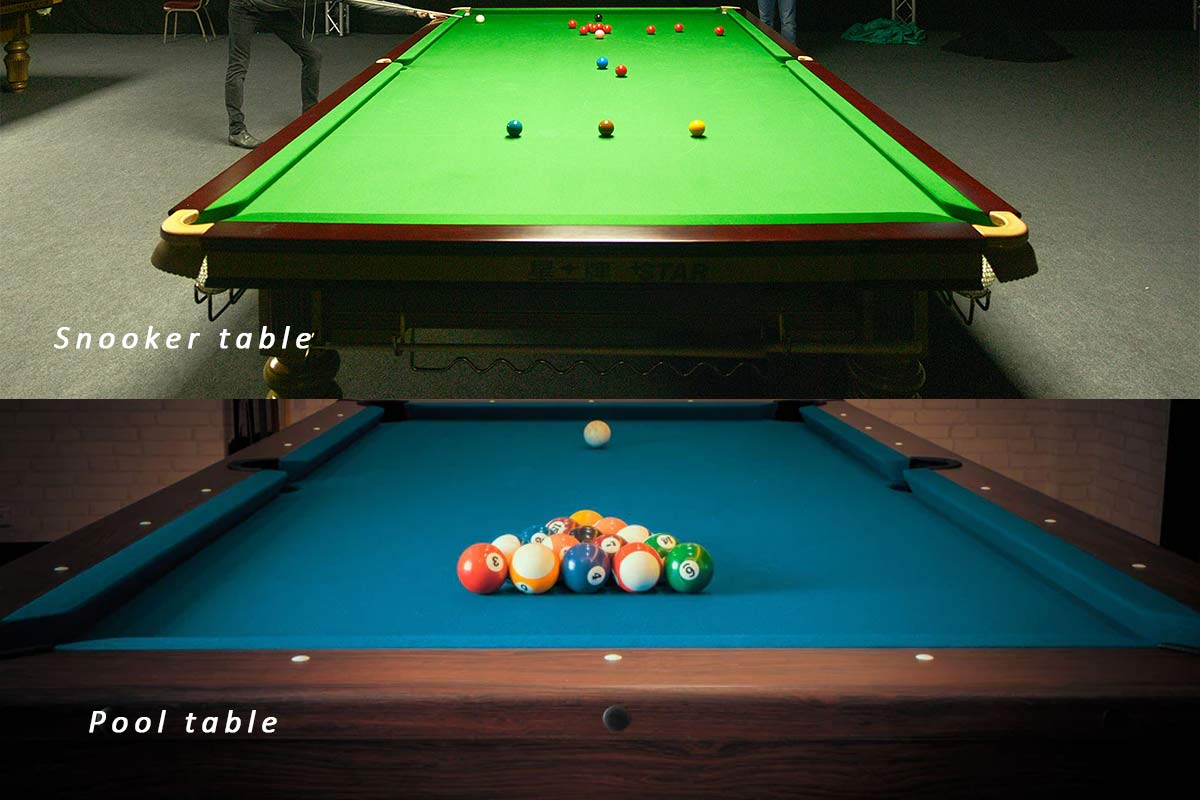 A snooker table is larger than a pool table
Snooker and pool need a rectangle table (the length is twice the width) with 6 pockets. However, the size, playing surface, height, and cloth are different. Check the comparison below for more specific details:
Features
Snooker
Pool
Size
Full-size: 12 × 6 ft (365.8 cm × 182.9 cm) and might be smaller
3.5 x 7 ft (107 x 213 cm)
to 4.5 x 9 ft (137 x 2.74 cm)
Height (*)
33.5 to 34.5 inches
(85.1 – 87.6 cm)
29.25 to 31 inches
(74.3 to 78.7 cm)
Playing surface (**)
Full-size:
140 × 70 inches
(356.9 × 177.8 cm)
3.5 x 7 ft table:
78 x 39 inches
(198.1 x 99.1 cm)
Weight
170kg – 1270kg
280kg – 450kg
(*) Height: from the floor to the top of the cushions
(**) Playing surface: between the noses of the cushions
Besides, the cloth materials are variant:
On pool tables: (often called felt) usually made from wool with nylon, surrounded by vulcanized rubber cushions.
On snooker tables: (often called baize) made from coarse woolen or cheaper cotton. The texture is similar to felt but more durable because of the higher wool content (at least 95%).
Obviously, a snooker table is much larger and better than its "brother". Its baize is long-lasting as 40 times as felt, fire-resistant, renewable, and biodegradable. Although pool tables are smaller and less durable, it helps you save a lot of money to set up one.
Snooker cues and Pool cues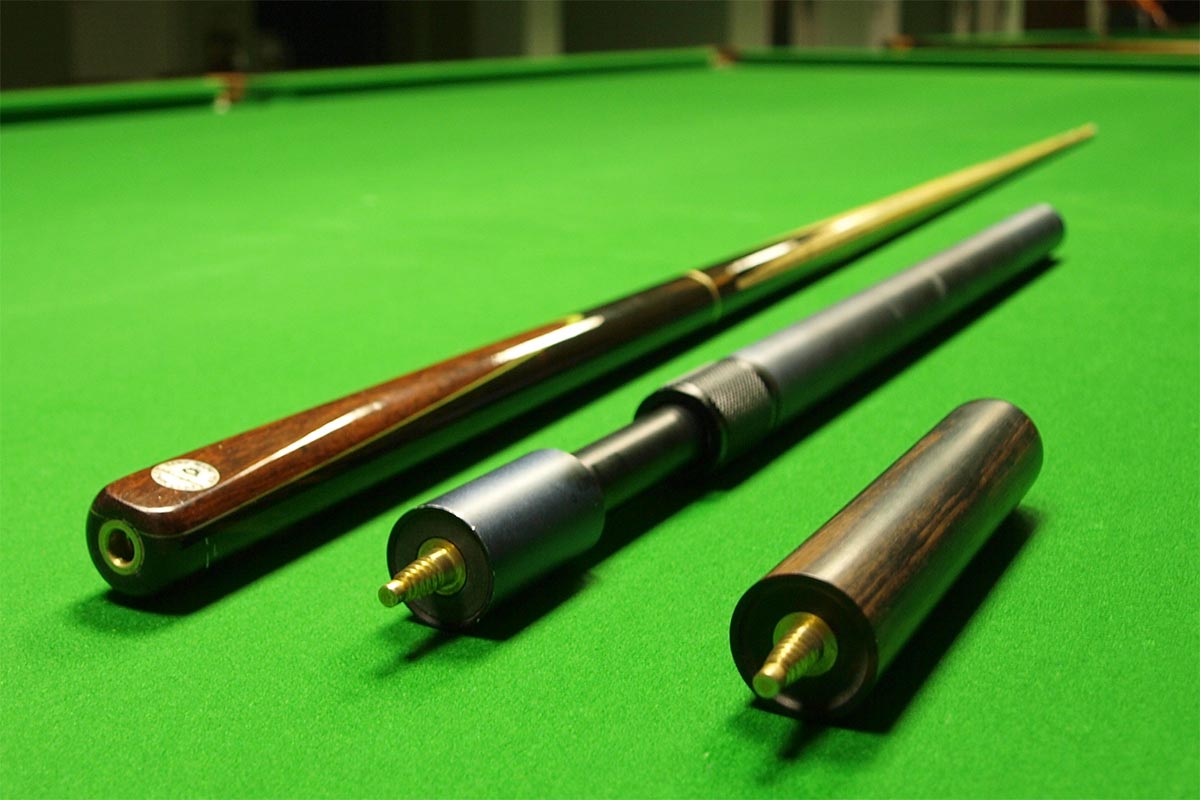 Snooker sticks are longer
The next snooker and pool difference is cue sticks. You will need specific sticks for each game. Cue sticks can be made from wood, graphite, or carbon fibre. However, snooker sticks are longer, narrower, and lighter.
Snooker cues: 57 – 63 inches in length and 16 – 18 oz in weight. In particular, you can extend the butt to make it longer.
Pool cues: standard dimensions are 59 inches in length and 16 – 21 ounces in weight.
The difference in rules between Snooker and Pool
The objective of both games is to get as many points as possible. However, the score calculation is separate. To help you visualize the rules of snooker and pool, Pearson Cues has a quick summary below!
Snooker rules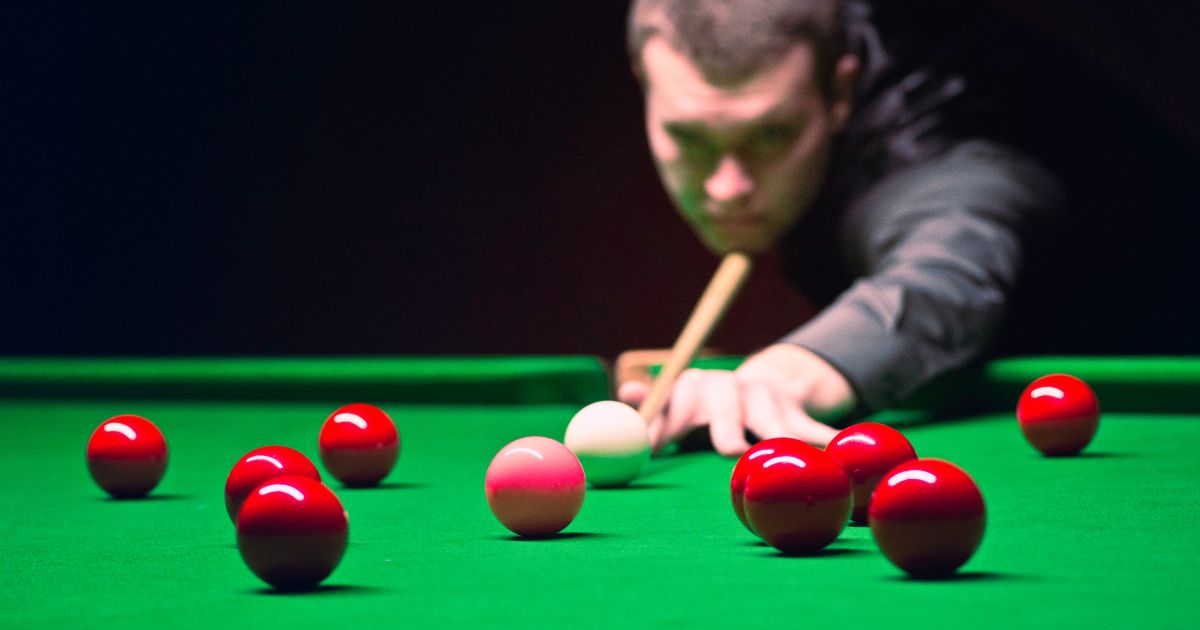 A snooker game includes some frames. A frame starts when 22 balls are in the right arrangement. It finishes when the last ball – the white cue ball is pocketed.
The player who gets more points will be the winner of the frame. To become the winner of a match, a player needs to win 10 frames before the opponent can.
Each ball gives a certain point:
Red: 1
Yellow: 2
Green: 3
Brown: 4
Blue: 5
Pink: 6
Black: 7
When hitting the balls, you should take notice of their order. You cannot pot consecutively red balls. If this happens, it will be recorded as a foul. Then, you will get no points and lose your turn.
Pool rules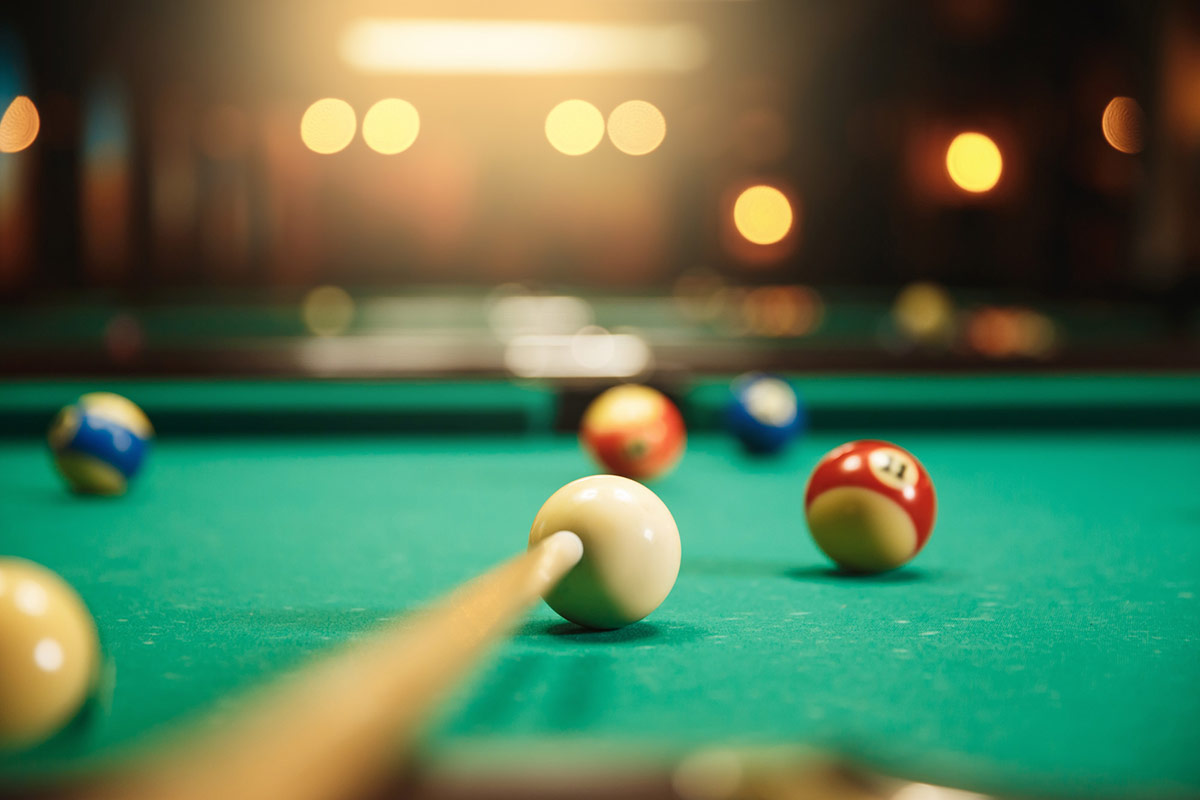 The rules of pool games are very diverse
Pool games are variants out there. The rule often depends on the ball quantity. Therefore, it is necessary to know how many balls are on the pool table before playing.
For example, in an 8-ball game, each player needs to pot all objective balls, and each ball is 1 point. To start a break, one player does the first shot. If there is at least a ball running into the pocket, they can choose their object balls (solid or striped balls) and do the next shot. If they get fouls, their opponent will gain the next turn.
In a straight pool match, the rule is quite specific. At the beginning of the match, both players have to agree to set a certain score for the winner (often 100 to 150 points). And before every shot, you have to declare your next objective ball. Your opponent will make the next shot if you miss that ball.
The difference in techniques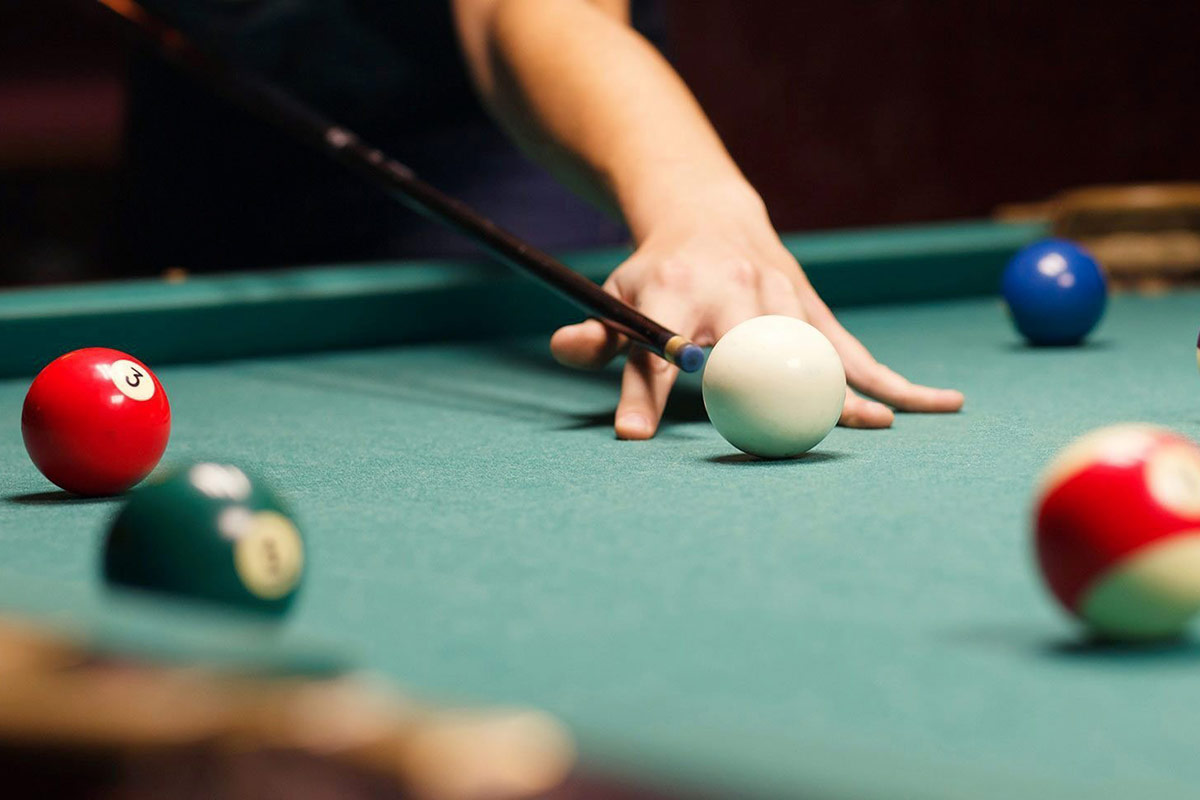 It takes a long time to become a professional player
About this aspect, is snooker the same as pool? Snooker's technique is not much different from the pool. However, you will spend more time thinking and practicing to get higher levels. Great visualization and aiming, speed controlling, planning, and especially strong mental focus will help you to become a master of masters player.
See more: What is a Scratch in Pool? How to avoid scratches in Pool
FAQs
Is snooker harder than pool?
Yes, snooker is more difficult than pool. With light balls, and a wide & high-friction surface, playing snooker requires complex techniques to make accurate shots. The strict laws and long snooker matches will make you exhausted if you train unprofessionally.
Can I play snooker on a pool table?
Yes, you can play snooker on a pool table but you need to prepare meticulously before starting. "D" shape at one end of the table, the colors of the balls, and the cue stick should be similar to snooker. However, you may not be as excited as playing real snooker because the pool table's cloth is different.
Meanwhile, carom is too challenging for beginners, it is wise to start with pool or snooker. After getting your own answer to "What is the difference between snooker and pool?", which game will you choose? Let Pearson Cues know then consult the best one for you.