9 Best Pool Balls With Highest Reviews In 2023
In the diverse billiards world, the quality of your pool table ball set can drastically impact your game. From variations like Snooker and English Blackball to popular 8 and 9-ball pools, each game demands specific, top-quality balls. Whether you're a novice seeking custom billiard balls or an expert aiming to enhance your play, choosing the best pool balls is crucial.
Therefore, we've created a list of the 10 best pool balls with the highest reviews in 2023, featuring premium and budget-friendly options. Dive in to find the best pool table balls and elevate your billiard experience.
How To Choose The Perfect Billiard Balls?
As you set up your billiards space and select your table and pool cue, you may wonder why some billiard cue and ball sets carry a heftier price tag. The truth is, there's more depth to a pool ball set than initially meets the eye.
Continue exploring to gain a deeper understanding of a pool table ball set and apply these 7 insightful tips to choose the perfect set for your unique billiards setup:
Size & Weight: Ensure all the balls have the same diameter and weight. The standard diameter for pool balls is 2.25 inches, and should weigh between 5 and 6 ounces.
Evenness: Unevenness in ball size or weight makes it hard to predict and execute them as planned. Always double-check the roundness of your pool balls.
Bounce-back or Elasticity: When cue balls are too complex or inelastic, they result in hard-to-transfer speed to the target ball by moving in an unpredictable direction.
Material: The longevity and quality of pool balls largely depend on their material. Synthetic resin balls are generally considered superior because they're lightweight and resistant to scratches.
Shape or Roundness: Ensuring the pool balls are perfectly round is vital. A slight flaw in roundness leads to unexpected movement, disrupting your shot accuracy.
Type: While plastic balls might be fine for beginners, they aren't suitable for professional games. These balls can cause increased friction on the tablecloth, leading to faster wear and tear, burn marks, and even damage to the playing surface.
Game Type: There are different types of pool games, each with a specific set of balls. Before buying, purchase the correct set for the game you intend to play before buying.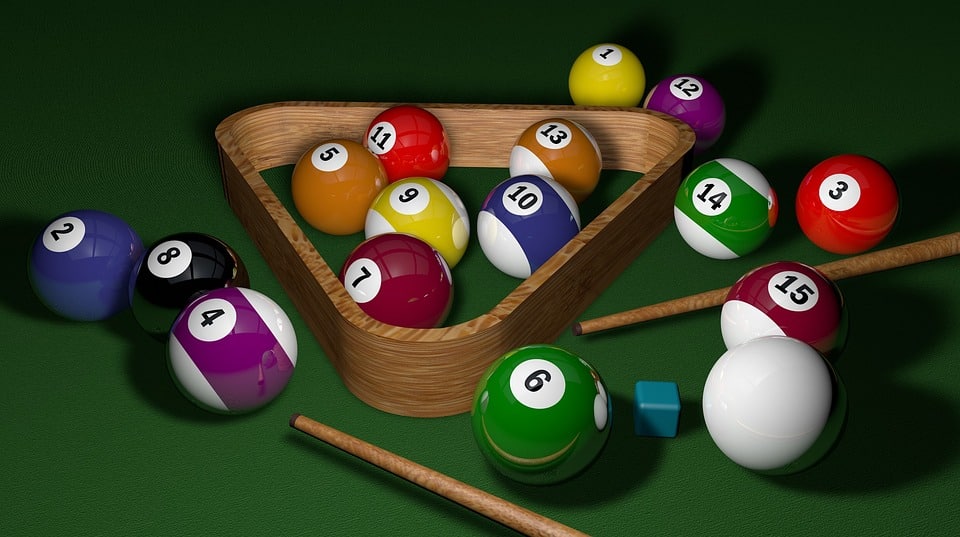 What Are The 9 Best Pool Balls For Professionals Players?
Whether you're a novice player in pool games searching for personalized billiard balls or a seasoned pro wanting to elevate your game with high-quality ones, this list is for you. 
It features some of the finest billiard balls, including top-tier and budget-friendly options. Keep reading to explore these fantastic options.
1. Aramith Premium Ball Set – Editor
Number of balls: 16
Diameter: 2.25″
Material: PREMIUM phenolic resin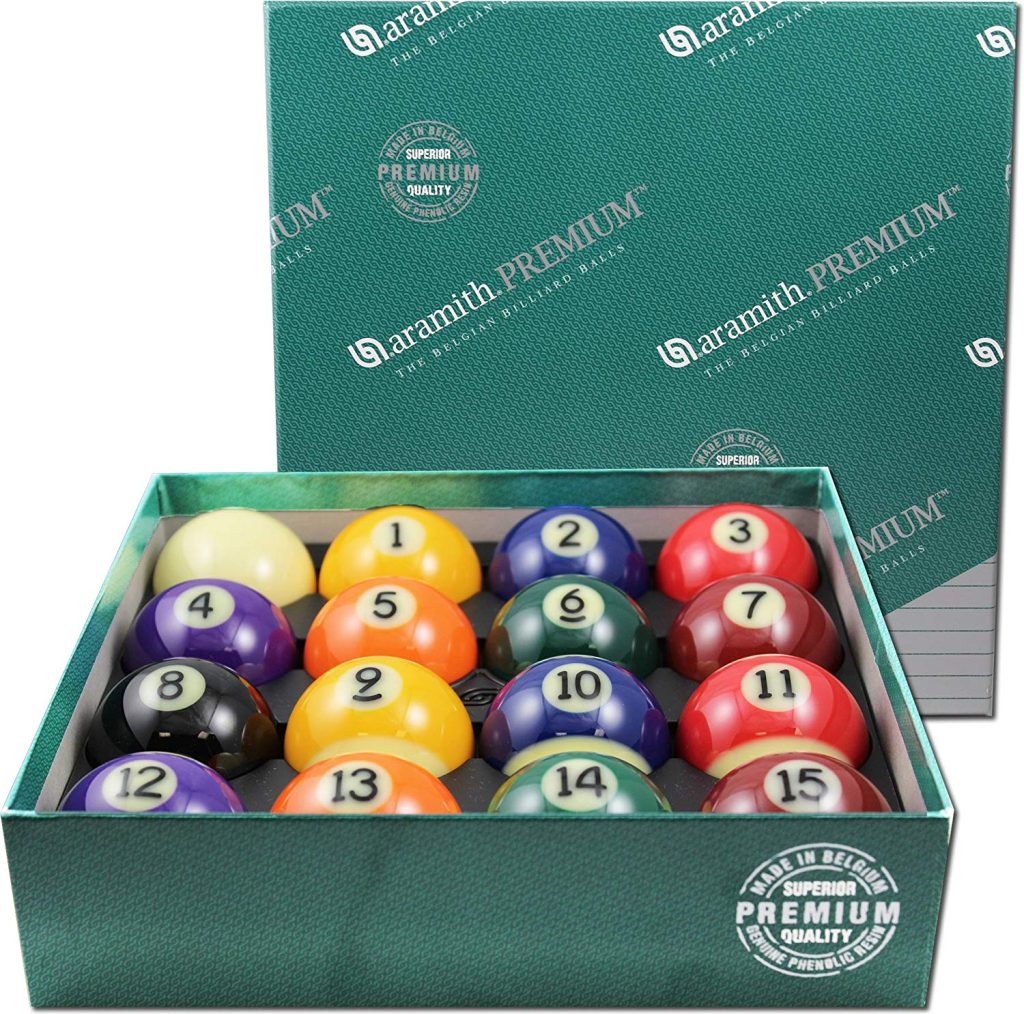 Regarding superior design and quality, this pool table ball set is crafted from durable phenolic resin, promising five times the longevity of polymer balls. The 16-ball set, including 7 striped, 8 solid, and a cue ball, offers scratch resistance, uniform weight, and a sweet sound at the break.
Thanks to Vitrotech technology, enjoy high impact resistance, balanced hardness, and friction-resistant roll. While they might be pricier, their longevity and playability assure great value for money. Trust the reputable Aramith brand to provide a top-notch, enduring investment for your pool game.
2. Iszy Billiard Ball Set
Number of balls: 16
Diameter size: 2-¼ inch
Material: Polyester resin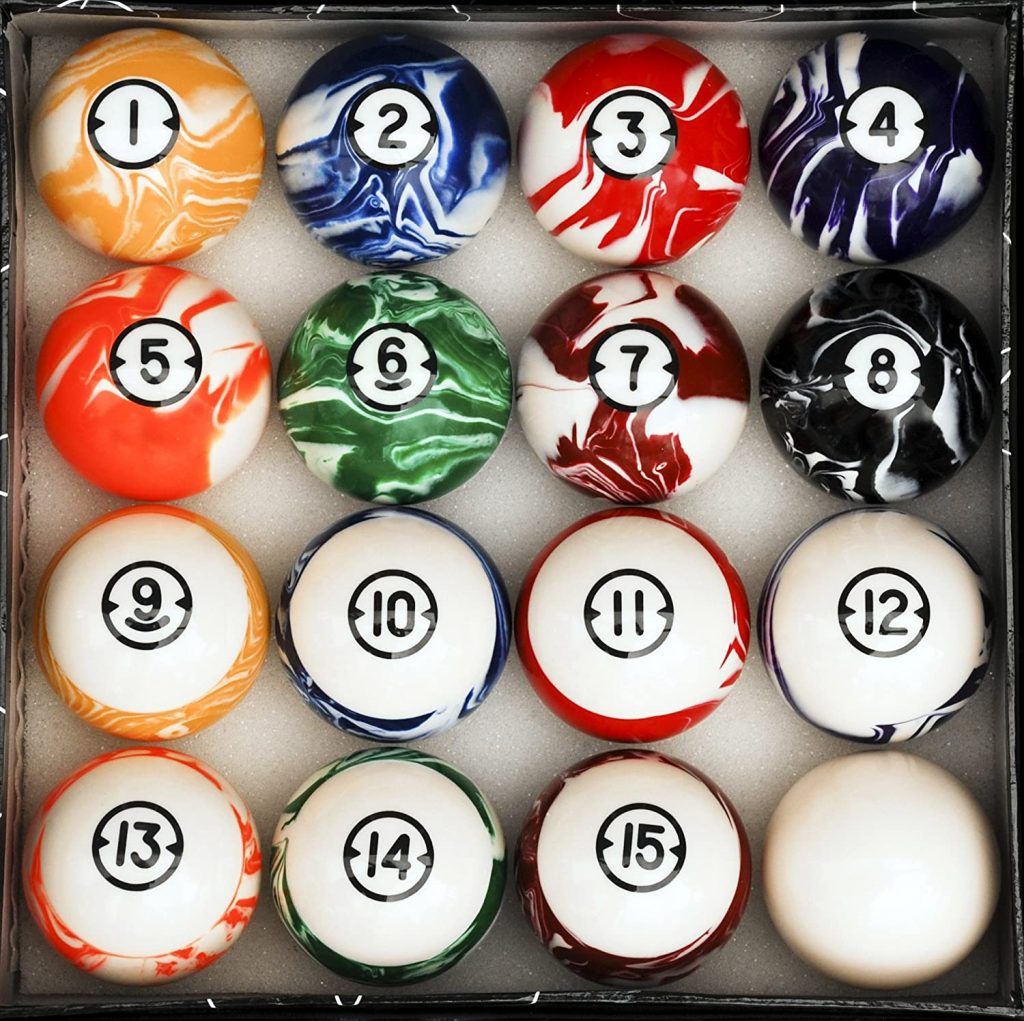 If you're hunting for the best billiard balls that are top-notch and wallet-friendly, you can't go wrong with the Iszy set. It's been a hit among billiards enthusiasts because pool players may receive a lot of bang for their buck.
Especially it may not be the ultimate luxury, but it's quality. They're made from polyester resin – less durable than the fancier phenolic resin, so if you're all about long-lasting gear, you should look elsewhere.
What's neat about Iszy is that they don't just sell one-color style. You've got four to choose from! Most folks will stick with the classic colors, but it's cool to have options. There's marble, classic marble, and dark marble. These versions have a sleek look but might make it tricky to tell your spots from your stripes. Moreover, they're also a tad pricier than the old-school style.
3. Brunswick Centennial Billiard Balls
Number of balls: 16
Diameter: 2.25″
Material: premium phenolic resin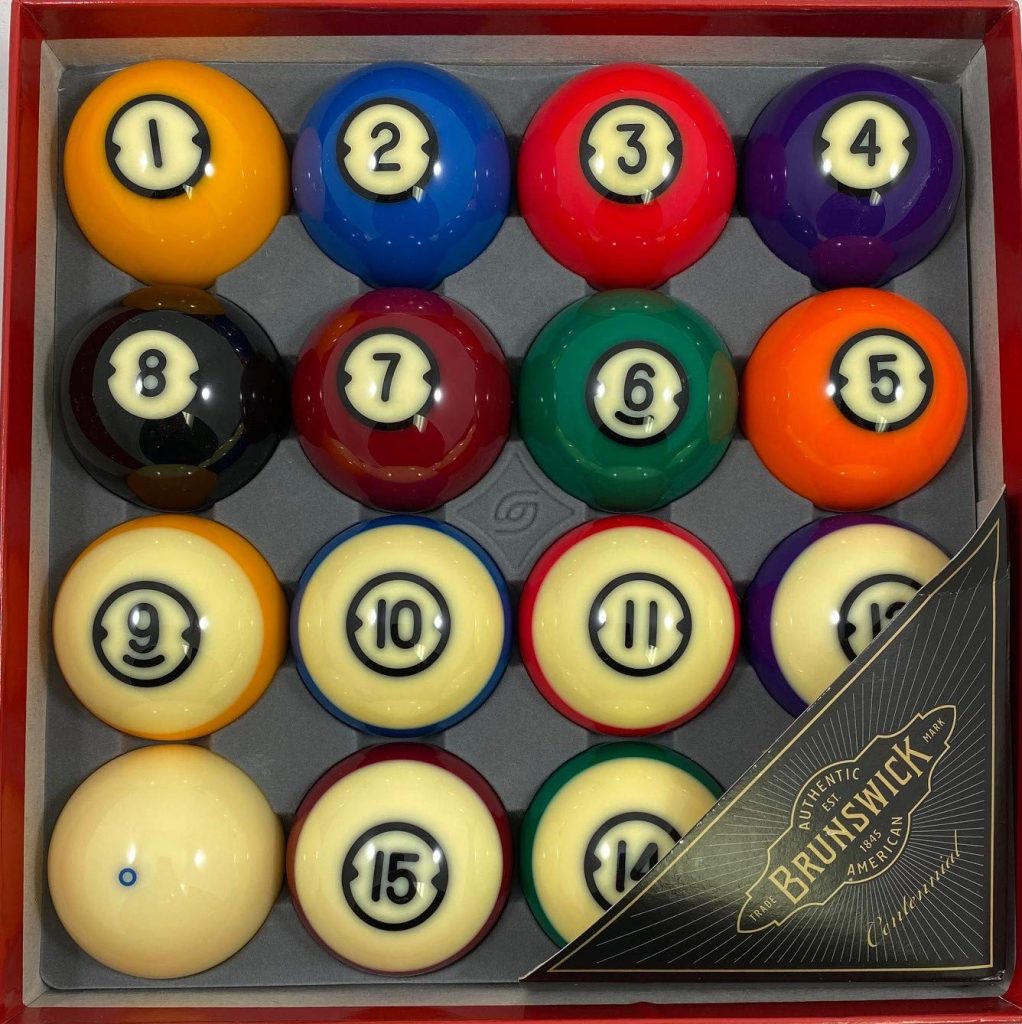 Made from premium Aramith phenolic resin, Brunswick Centennial Billiard Balls offer superior impact and scratch resistance, promising longevity. Their smooth exterior is gentle on your tablecloth, further enhancing their lifespan.
The balls have been vitrified for a robust molecular bond, ensuring their vibrant colors and numbers won't fade or spot over years of play. Precision-ground and polished to exact tolerances, they offer a perfect roll.
This 16-ball set, housed in a beautiful box, makes an ideal gift for pool enthusiasts. Although a higher-end investment, these balls frequently grace professional events, underlining their quality.
See more: Best pool chalk
4. Felson Pool Ball Set
Number of balls: 16
Diameter size: 2-¼ inch
Material: Resin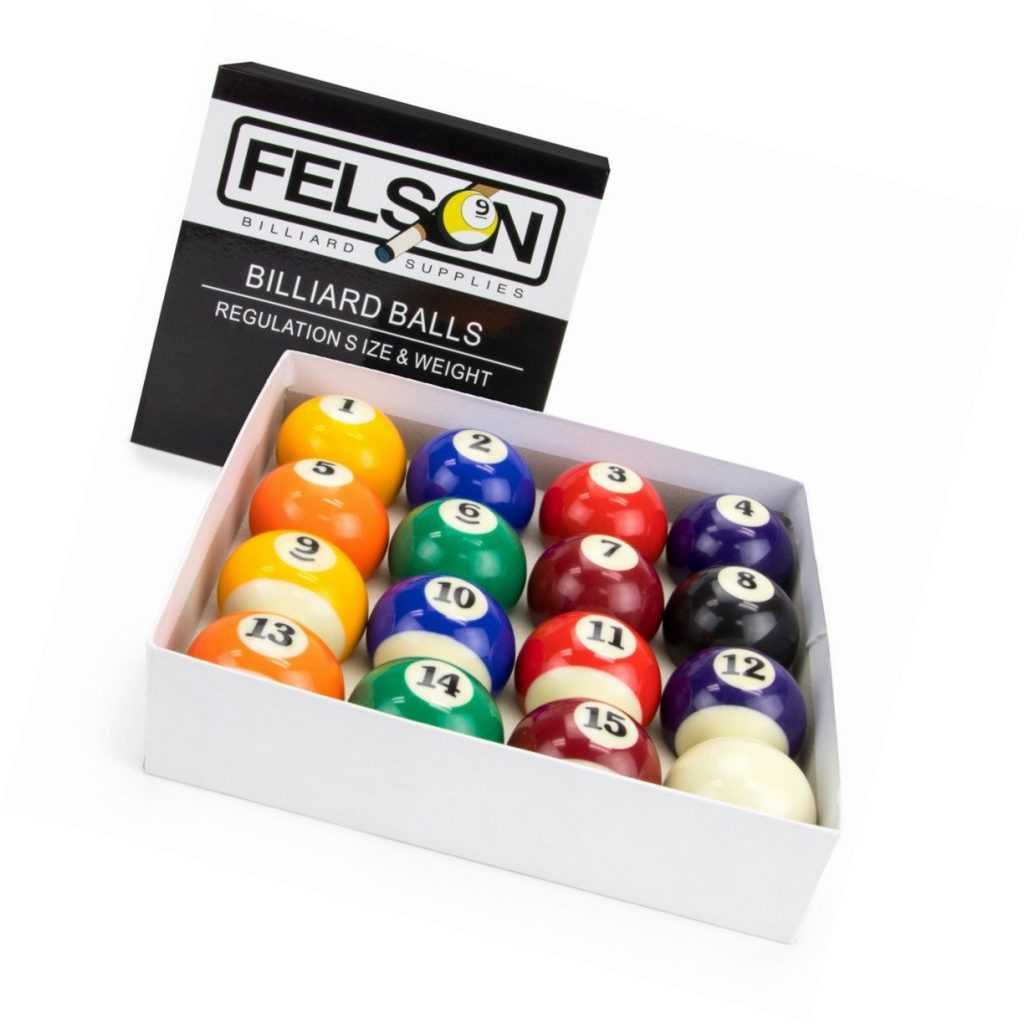 If money's tight, check out Felson's budget-friendly billiard balls set. They've made sure these balls are as round as can be so they roll smoothly and don't go off in unexpected directions. Like the other pool table ball sets we've discussed, they're the right size and weight according to official standards, but they are more evenly made than we'd prefer.
There are some other areas where this set falls short of quality. The colors, for one, are lackluster, and the paint job isn't that great. Also, we spotted a typo in the word "size" on the packaging. These are minor issues, but they suggest the product isn't top-of-the-line. If you can spare another 15 bucks, we'd recommend going for the Iszy set instead. It's a much better deal.
5. JAPER BEES Ball Set
Number of balls: 16
Diameter: 2.25″
Material: Resin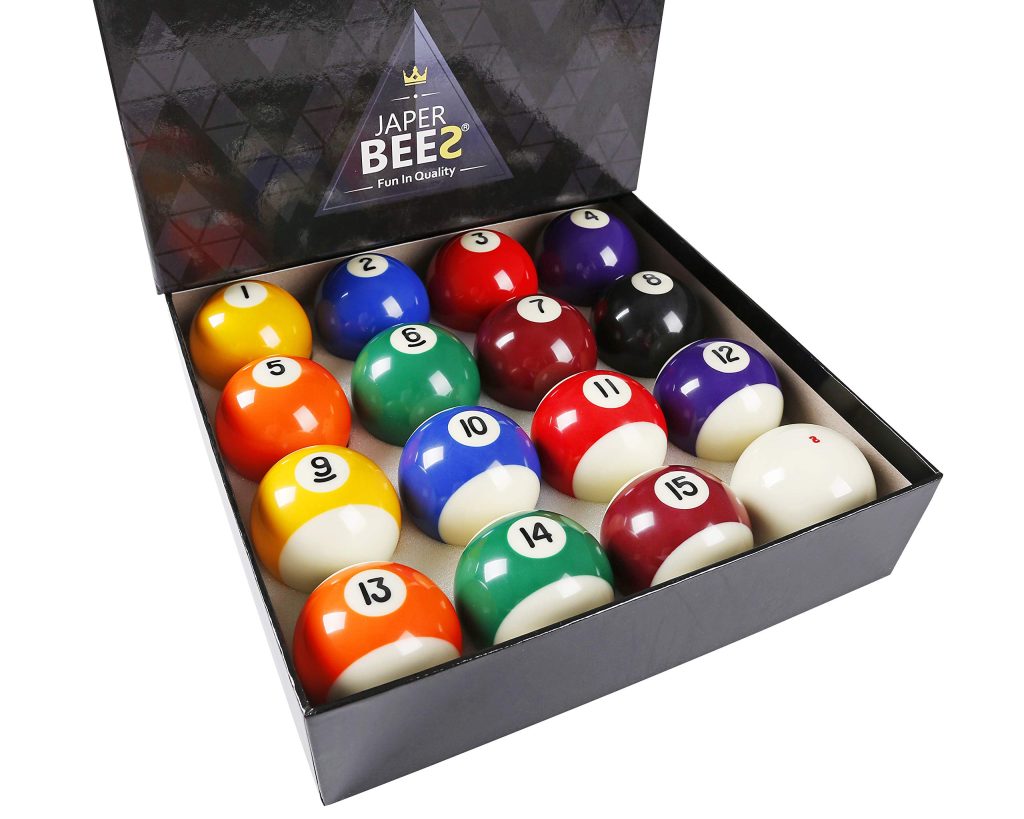 JAPER BEES Ball Set is a collection of 16 regulation-compliant balls in size and weight. Crafted from high-quality phenolic resin, these balls is a perfect balance, stable weight, and exceptional bounce. Their design emphasizes color and finish, providing visual comfort during extended gameplay. Ideal for training, leisure, and competitive events alike.
These balls measure 2.25″ in diameter and weigh 5.9 oz, ensuring consistent hits and movement on the pool table. Using vitrotech technology, their hardened surface offers enhanced impact resistance, uniformity, and high friction resistance for prolonged play. The meticulous production process guarantees exceptional roundness and balance.
The phenolic resin's standard weight allows perfect control and precise hits, enabling the balls to roll and bounce without scratching. With vibrant colors, including 7 stripes, 8 solids, and 1 cue ball, this set will make your pool table visually appealing. Their durability surpasses ordinary pool balls, ensuring value for money.
6. Cuppa Billiards Professional Pool Balls
Number of balls: 16
Diameter: 2.25″
Material: Polyresin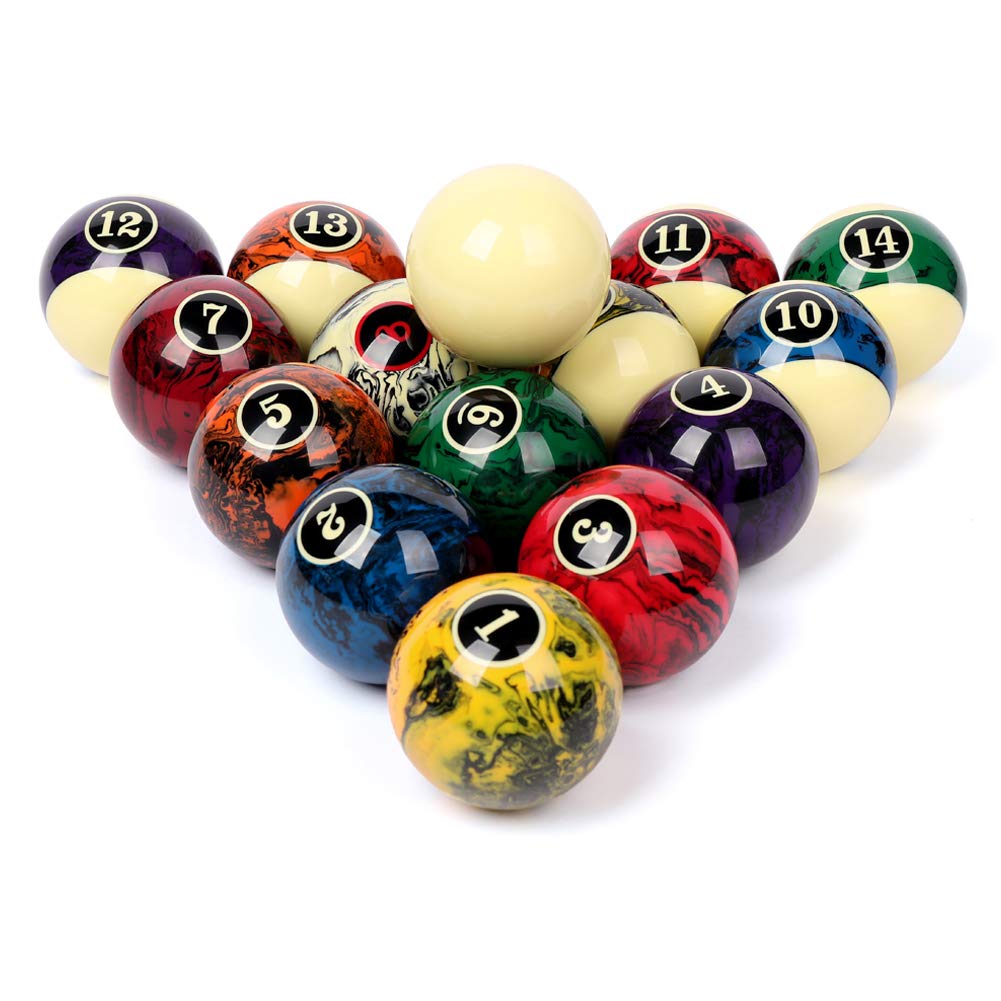 Cuppa Billiards Professional Pool Balls are a fantastic choice for sturdy and attractive pool balls. These balls are crafted precisely and perfectly polished from non-toxic and top-grad polyresin. Therefore, the scratch-resistant set can handle even the most intense games.
This pool table ball set includes 16 balls – one cue ball and 15 colorful solids. Each ball is super vibrant and sleek thanks to the high-quality polishing. Plus, the unique marble and swirl patterns make these balls real show-stoppers. They'd make a fabulous gift for any billiards lover.
Despite the higher price tag, these balls' durability and consistency in size and shape make them worth the cost. They meet industry standards, each with a 2.25-inch diameter, perfect for accurate, straight shots. These balls are great for players of all levels because they weigh around 0.37 lbs (168 grams). So, whether you're a beginner, a pro, or just looking to spruce up your collection, Cuppa's got you covered.
See more: How To Choose A Pool Cue? 4 Steps To Choose A Good Pool Cue
7. Harley-Davidson Bar & Shield Flames Billiard Ball Set
Number of balls: 16
Diameter: 2.25″
Material: Phenolic resin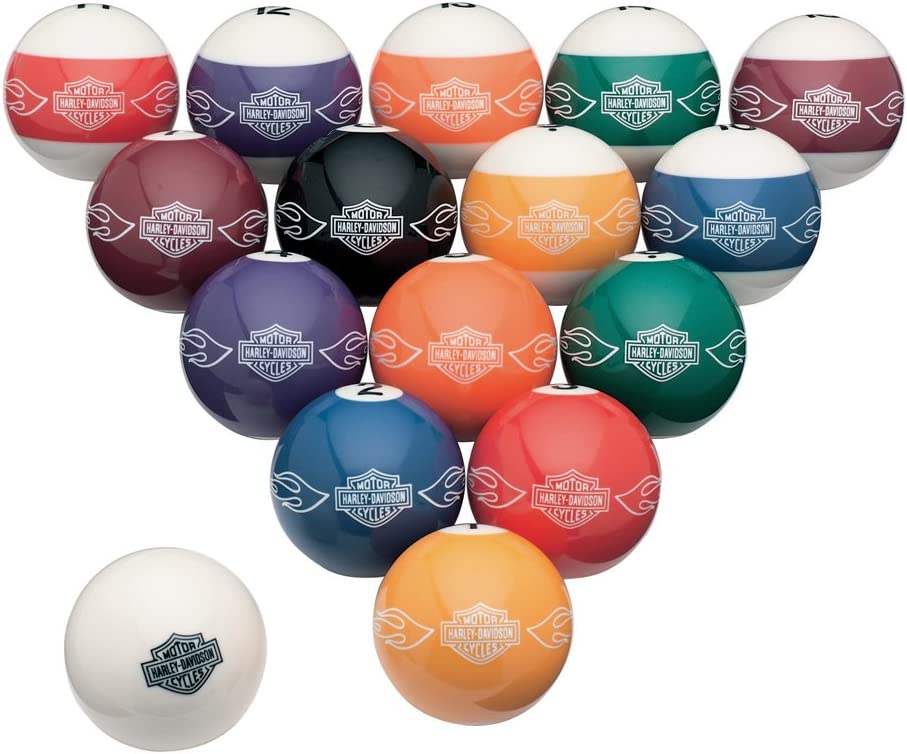 The exterior puffs a high-gloss finish to ensure longevity and preserve the graphics' vibrancy. This professional-grade set features a complete set of solids, stripes, and a cue ball, meticulously crafted to conform to a standard size, weight, sphericity, and balance.
Moreover, the balls offer maximum resistance against scratches and collisions and retain their shape even when heated on the table because of their material from exclusive phenolic resin. Ideal for professionals showcasing their advanced skills in tournaments or enthusiasts enjoying leisurely gameplay at home, this set is priced reasonably.
The H-D logo on every ball adds a sense of identity and association for proud owners. A downside is that the branding may not complement all table designs. This may be one of the best pool table balls you shouldn't miss.
8. Aramith Black Tournament Pool Balls
Number of balls: 16
Diameter: 2.25″
Material: Phenolic resin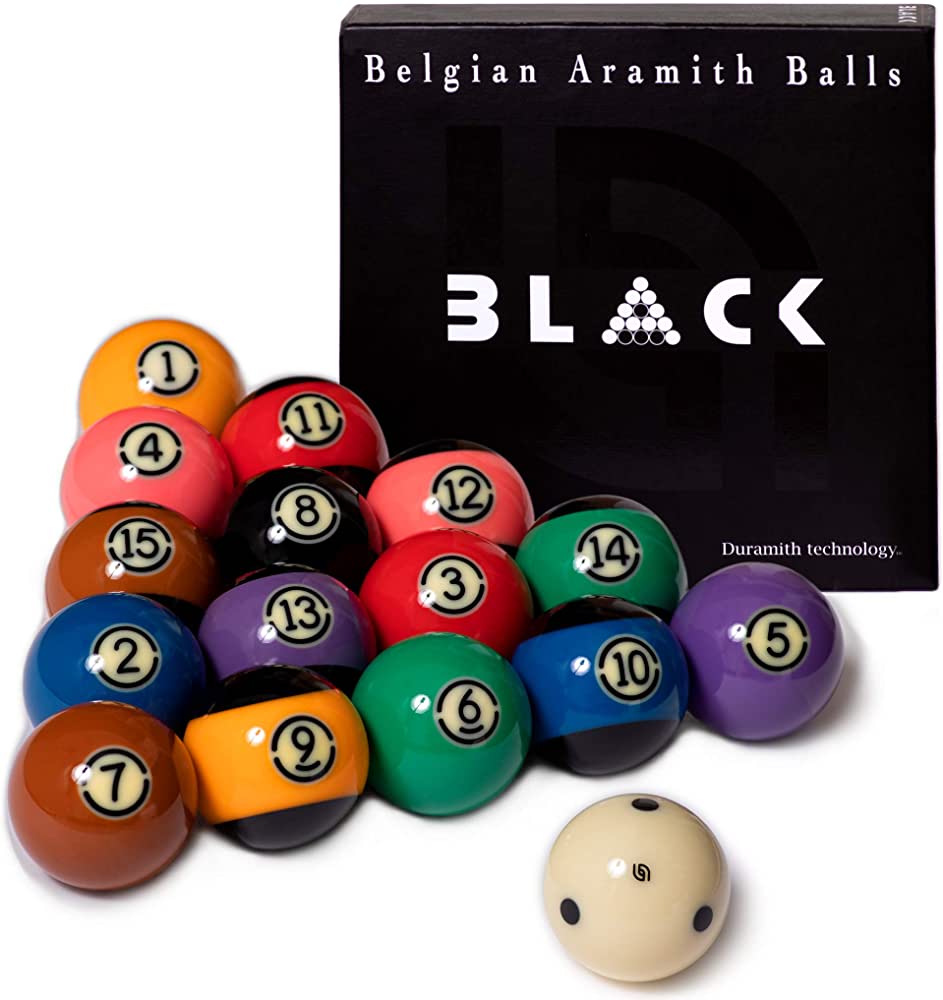 Regular billiard players know that cheaper pool balls tend to wear out quickly. But Aramith Billiard Balls are different. They've been delivering top-quality products for over a hundred years, earning the trust of 89% of billiard players worldwide.
What makes Aramith stand out? Durability. Players know they won't need to replace their Aramith balls multiple times yearly. These balls are created using advanced techniques and Belgian expertise, ensuring uniform quality and a strong reputation globally.
Crafted from top-notch phenolic resin, Aramith Billiard Balls offer precise shots and smooth spins. They're pricier, sure, but their Tournament Black Set is worth every penny, especially for professional games.
These balls boast a glossy look and are friction-resistant, reducing the risk of burning your pool table's felt. Unlike average balls that leave white burn marks on the table due to friction, Aramith balls are designed to reduce heat and friction.
9. Aramith Standard Ball Set
Number of balls: 16
Diameter: 2.25″
Material: Phenolic resin
Made from premium phenolic resin, Aramith Standard Ball Set is highly resistant to strokes and can last years. Official tests confirm their fantastic playability, with even weight and size, precise calibration, and impeccable roundness. The sleek surface adds to their appeal.
These balls adhere to the official standards, measuring 2.25″ in diameter and weighing 5.8 oz. The number and color distribution in the box follows standard recommendations. The yellow ball is numbered 1, followed by blue (2), red (3), violet (4), orange (5), green (6), and dark brown (7). Balls 9 to 15 follow the same color sequence with a wide stripe in the center.
The set also includes the black number 8 and pure white cue balls. Because of their vibrant color, it make them easy to spot on the playing table. These balls are affordable, but you'll need a special ball cleaner and polishing brush to maintain them and ensure their longevity.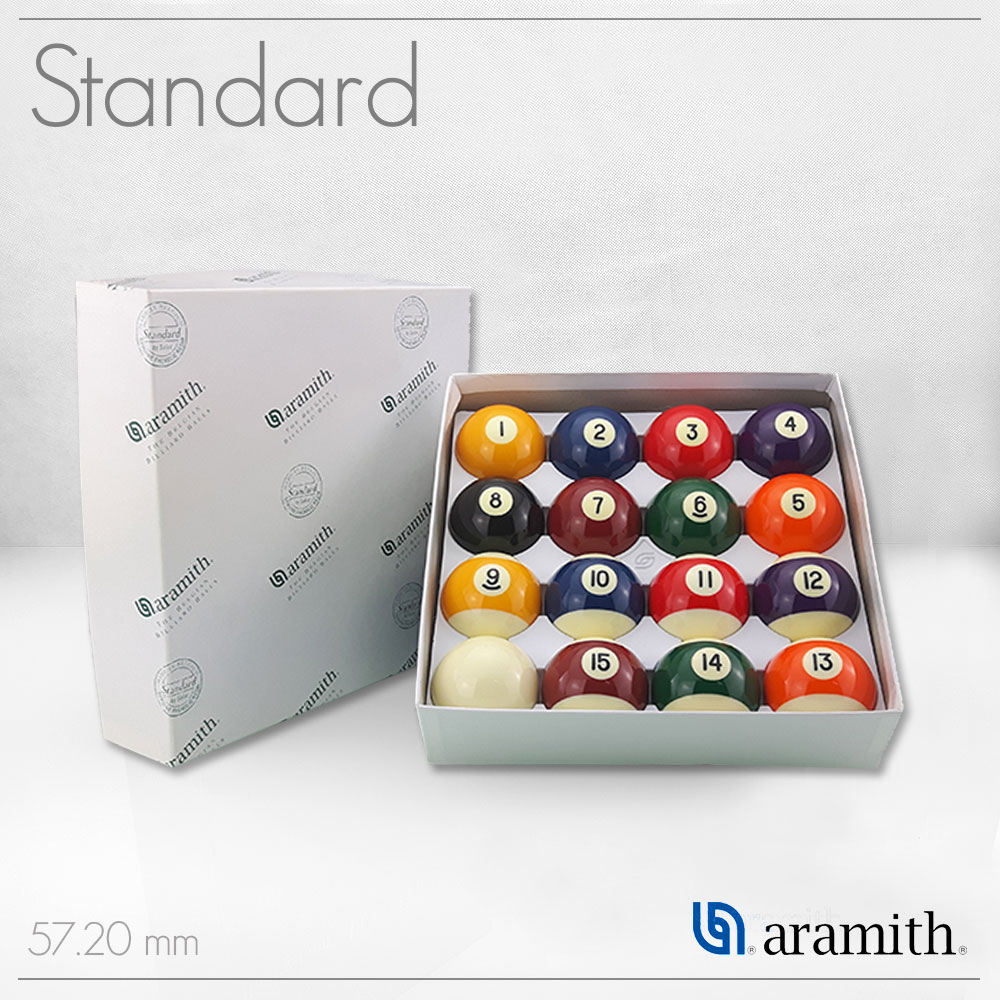 Investing in the best pool table balls is essential for a great billiards game. Our list of the 10 best pool balls with the highest reviews in 2023 offers various options for every player level. From premium quality sets to budget-friendly alternatives, manufacturers create these pool balls with superior materials, consistent performance, and long-lasting durability.
If you want to elevate your billiard game, purchasing a high-quality pool case is necessary. Nowhere can you find a better premium pool case than from Pearson Cues, one of the best quality yet affordable pool brands worldwide. Give it a try, and you won't be disappointed.
Frequently Asked Questions
What Pool Balls Do Professionals Use?
Professionals often use Aramoth balls when playing this game. Aramith balls dominate the billiards tournament scene worldwide and are the preferred choice of 3 to 4 million professional and amateur players who use them daily.
What Is The Best Make Of Pool Balls?
Modern billiard balls are typically composed using a blend of plastic and resin. This combination produces a uniformly dense material that can be molded to create high-quality balls for superior gameplay. The finest billiard balls are manufactured in Belgium by Saluc and are constructed from top-grade phenolic resin.
Do Expensive Pool Balls Make A Difference?
Yes, expensive pool balls can make a significant difference in gameplay. High-end pool balls are usually made from high-quality materials such as phenolic resin, which ensures they are durable, uniformly dense, and perfectly balanced. These characteristics offer players a consistent experience, with smooth rolling and accurate play.