5 Best Pool Cue Cases That Are Worth Buying In 2023
For pool players, a cue case is a must-have accessory that offers both safety and convenience for the pool cues. However, there are many options for pool cue cases in the market with a wide range of prices and styles. Therefore, making the best choice of pool stick cases can take time and effort.
In this article, we will provide you with all the essential factors to consider when selecting the ideal case and best pool cue cases worth buying in 2023.
Benefits Of Having A Good Pool Cue Case
Have you ever noticed how top pool players keep their cues in elegant cases for the whole time except when using? You might assume that it serves only as decoration. Actually, storing your cue in a decent pool cue case can bring many benefits beyond that.
Providing adequate storage: Pool sticks are generally made of wood, so many external elements like dust or humidity can harm your cues over time. A cue case can keep your cues in good condition for longer.
Protecting your cue during transportation: Wooden cues are more likely to sustain damage if dropped or struck against something else. Using a good case can help you prevent dents and scratches.
Enhancing professional image: The right equipment offers players a polished image and helps them appear professional. The rivals become more respectful of one another, which may provide them an advantage.
How To Choose A Suitable Pool Cue Case?
The most expensive cue case is not always the best option for you. You have to consider the following factors when choosing a good pool cue case:
Materials
Cue cases are available in various materials, each with different benefits and visual appeal. The most typical materials are as follows:
Leather: Leather cases provide excellent protection and a nice feel. They are solid and fashionable. They come in various grades and finishes to match your preferences and price range.
Aluminum: Aluminum cases are stable and lightweight, giving off a clean, contemporary appearance while offering trustworthy defense against knocks and scratches.
Wood: Wooden cases are famous for their tasteful aesthetic and inherent coziness. They can be manufactured from various wood kinds and feature distinctive patterns and hues.
Nylon: These cases are a lightweight, affordable, transportable choice that provides adequate protection for your cues.
Size
Billiard cue cases also come in various sizes to hold a variety of cue quantities and accessories. When deciding on the right size, take into account the following factors:
The number of cues: Make sure your case has enough room to accommodate all your existing sticks and any you want to buy in the future.
Extra storage: To store chalk, cue tips, and other supplies, search for cases with compartments or pockets.
Portability: Ensure the cue case is portable, especially if you frequently attend competitions or practice sessions.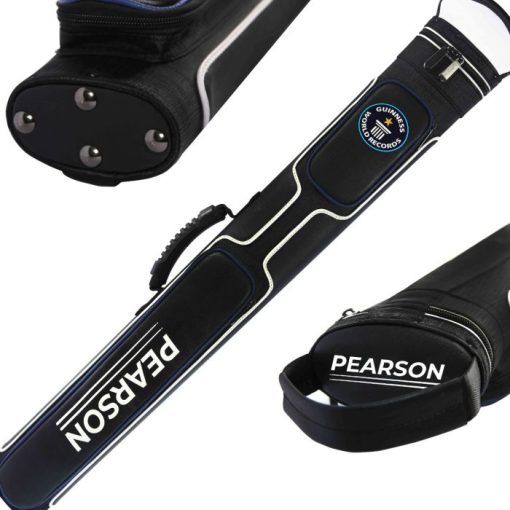 Cored Features
Look for features in a cue case that improve safety, organization, and use, such as:
Padded interior: Your cues will be protected from impacts and scratches while transported in a soft, padded interior case.
Secure fastening: Top-notch locks, clasps, or zippers will guarantee that your cues stay inside the case during transit.
Adjustable dividers: Cases with flexible sections or divisions let you alter the interior layout to fit various cue sizes and accessories.
Options for carrying: Look for cases with padded handles or shoulder straps for simple transportation.
Price
Cue cases are available at different prices, from low-cost alternatives to expensive, luxurious models. While it's critical to locate one that satisfies your requirements, keep in mind that spending money on a high-quality cue case is an investment in the durability of your cues.
Making an informed choice requires careful consideration of the case's features, materials, and durability while keeping your budget in mind. A pool cue case's price can range from $50 to $500. However, a case priced between $100 and $200 is considered an affordable choice with reliable quality.
5 Best Pool Cue Cases In 2023
There are so many pool stick cases in the market, but we can list the top 5 best pool cue cases in 2023 as followings:
Pearson Case 2 Butts and 2 Shafts
Pearson Case 3 Butts and 5 Shafts Backpack
Casemaster Classic Q-Vault 1Butt 1Shaft Cue Case
HAN'S DELTA 3B6S Hard Pool Cue Case
OUTLAW Nexus Vinyl Pool Cue Case
Pearson Case 2 Butts And 2 Shafts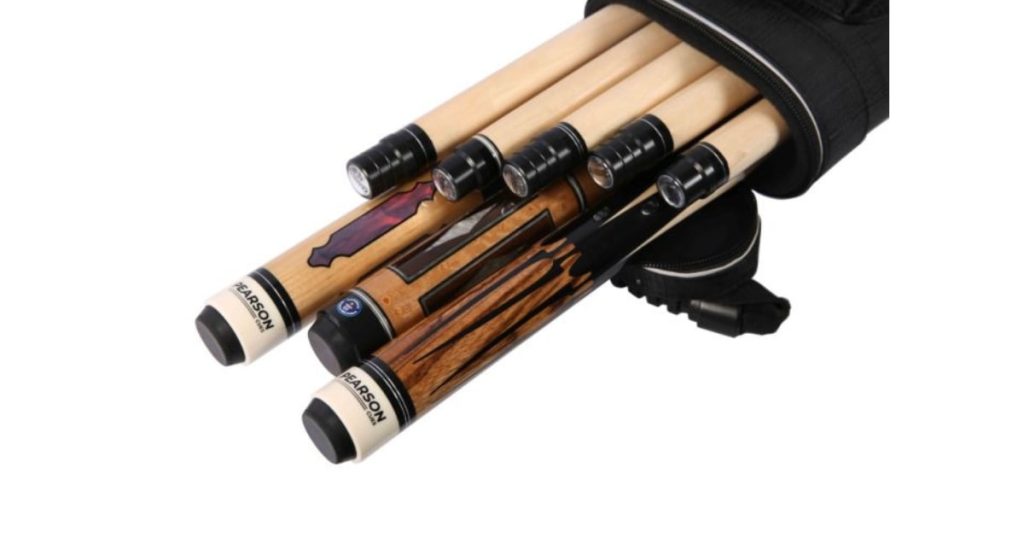 The Pearson two butts and two shafts case is beautiful, sturdy, stylish, and designed by the world champion pool player Dave Pearson. It is fashionable, well-made, and reasonably priced to meet your budget. However, it still meets all requirements of a true professional.
This hard shell case has a supple sports handle that gives you a professional appearance. Additionally, a second shoulder strap might be useful in any traveling situation. More importantly, it features a World Record logo that can dazzle your rivals at first glance.
Pros
Cons
1. Stylish appearance with World record logo
2. Comfortable sport grip handle
3. High-quality material
4. Lifetime warrantyAffordable price
1. Limited containing capacity with just two butts and two shaft
2. No adjustable dividers
Pearson Case 3 Butts And 5 Shafts Backpack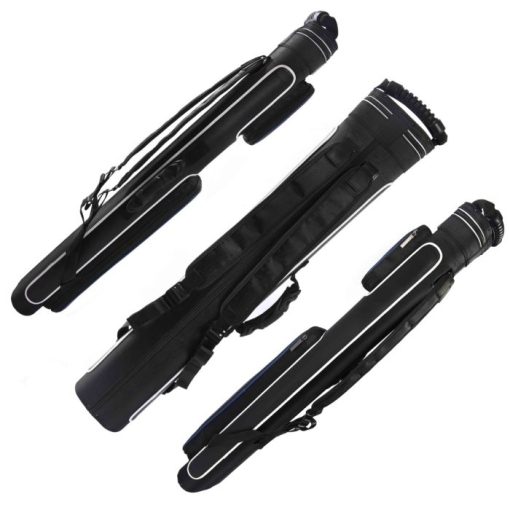 The Pearson three butts and five shafts case has a great appearance. This case can store all billard cue types, including breaking and jump cues. It also processes a stylish design with the world record logo. More importantly, Dave Pearson, a professional pool player and world champion, designed and tested it.
This hard shell case utilizes two spacious accessory compartments making a huge space for storing other stuff and fulfilling a true professional's needs. Besides, it has a comfortable sports handle and backpack strap, making it easy to bring your cue anywhere.
Pros
Cons
1. Huge containing capacity
2. Comfort handle
3. Backpack straps make it easier to carry
4. High-quality material Lifetime warranty
1. High price
2. Hard shell case is quite heavy to carry
3. No inside dividers
Casemaster Classic Q-Vault 1 Butt 1 Shaft Cue Case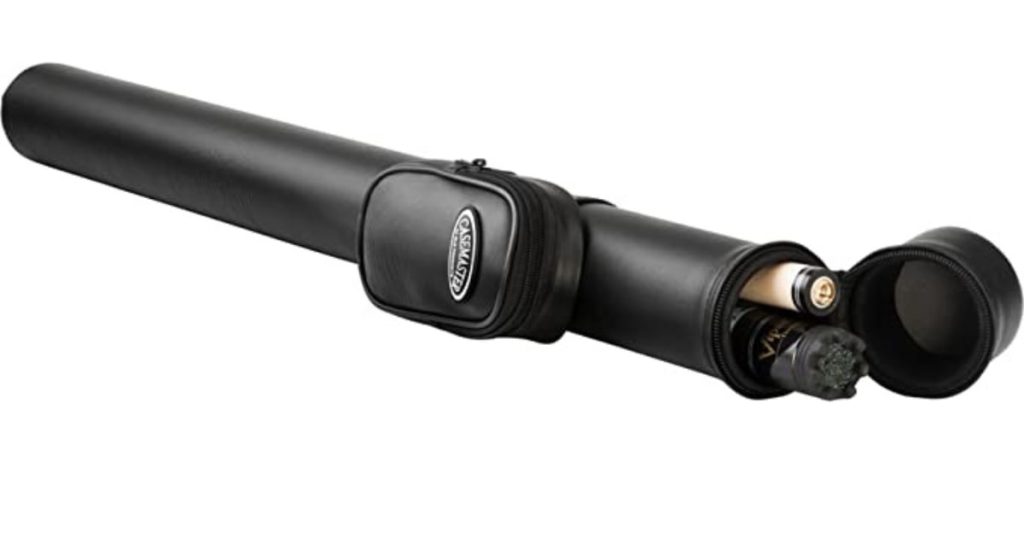 Casemaster Q-Vault is one of the best options for cue storage and transit. Its traditional leather shell can fight off the weather, keep your cues perfectly dry, and protect them from warping.
The soft cotton interior inside the durable resin shell will keep your cues from cracking or shattering.
The Q-Vault contains two spacious pockets ideal for keeping all the equipment you might need to crush the competition, such as extra tips, shapers, chalk, and other repair tools. It also has a practical carrying handle and strap for quick and simple transportation.
Pros
Cons
1. Stylish with various colors
2. Easy to transport
3. Removable accessory bag
4. 90-day warranty
5. Affordable price
1. Small side pocket
2. The pouch can slide.
HAN'S DELTA 3B6S Hard Pool Cue Case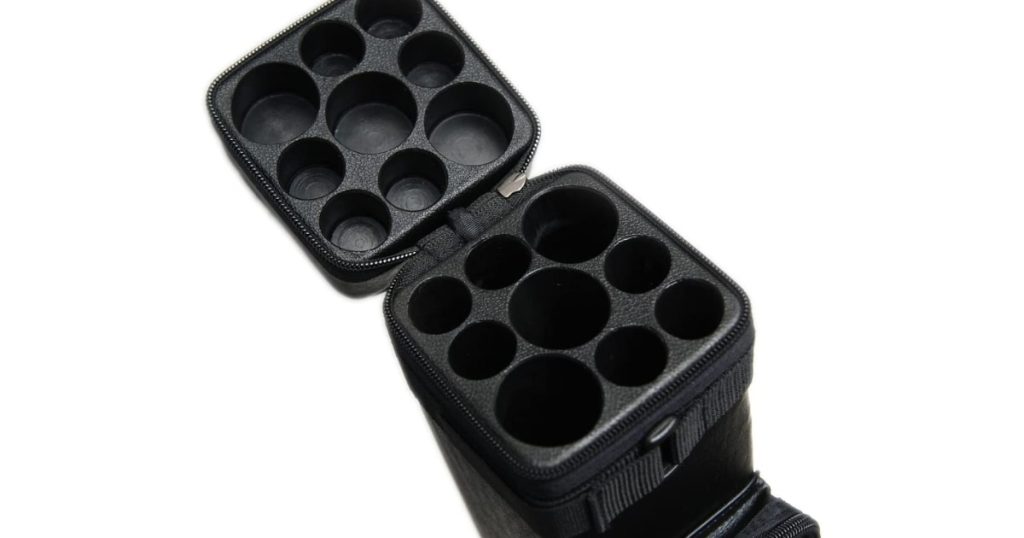 The HAN'S DELTA 3B6S Hard Pool Cue Case is an excellent example of how a cue case can provide excellent all-around protection while still being highly portable. It has a distinctive appearance with an oval-shaped form.
The case can hold six shafts and three butts. The entire interior is made of rigid vinyl, which can provide good protection for the cues. More importantly, it can be considered the best budget pool cue case with an affordable price.
Pros
Cons
1. Unique appearance
2. Huge storage capacity
3. Equipped with two extra accessory pockets
4. Reasonable price
1. No internal cushion
2. The rigid vinyl material makes it quite heavy to carry
3. Inconvenient strap
OUTLAW Nexus Vinyl Pool Cue Case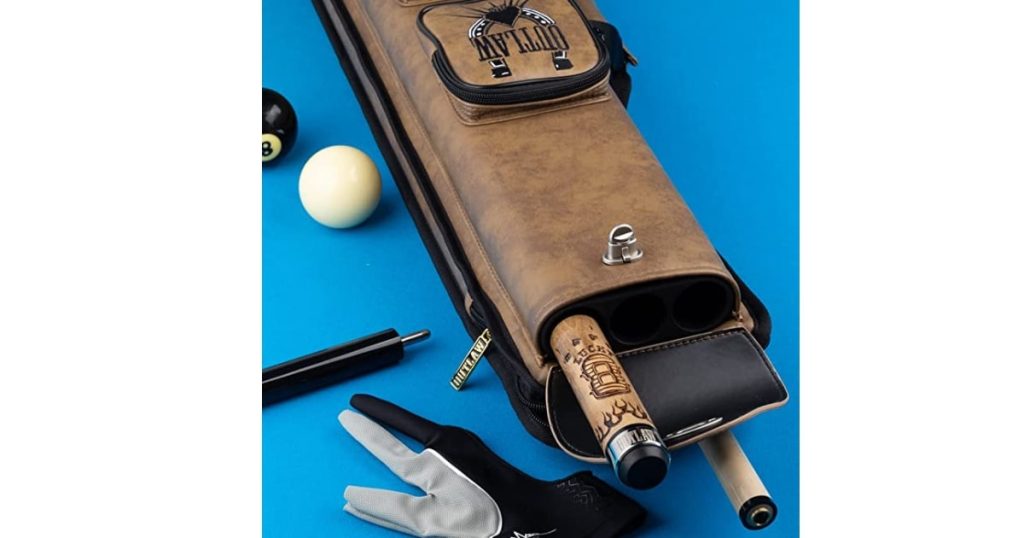 The OUTLAW Nexus Vinyl Pool Cue Case is a product that consistently appears on lists of the top pool cue cases due to its distinctive design and construction. It has a considerable capacity of three butts and five shafts, and a zipper on the case's back allows for simple access.
In addition to the interior, the outside has a brown vinyl interior made of soft felt. The two added pockets make storing accessories much simpler and more effective. This product's stunning appearance is another outstanding feature that most consumers will admire.
Pros
Cons
1. Unique construction
2. Two handy pockets provide a huge space
3. Beautiful design
4. Comfortable carrying handle and shoulder strap
1. High price
2. Can not contain thick jump cue
3. Soft case provides less protection
In summary, the best pool cue cases can greatly help you protect your billiard cue and enhance your professional image. Select a viable alternative based on the provided list or all of the aforementioned criteria, and you'll find the greatest option that fits your budget to outperform the pool competition.
Frequently Asked Questions
Should The Pool Cue Case Be Soft Or Hard?
It depends on your needs when choosing between a solid pool cue case and a soft cue case. Both types of cues have their benefits.
Hard pool cue cases offer the best defense against cue damage from being dropped against a hard surface, like the floor.
Soft cases provide more space for cues and other accessories but don't offer as much protection from impact if the case is knocked over or dropped.
What Is The Best Wrap For A Pool Cue?
The wrap is essential when choosing the best pool cue for players. It can be made of rubber, leather, or linen. Each material has its own characteristics.
Rubber wraps are ideal for players whose hands tend to get rather sweaty since they give the stick the best possible grip.
An Irish linen wrap is also a popular option for those who prefer to play elegantly and require a wrap that makes manipulating the cue easier. However, Irish linen gets dirty quickly.
Leather wrap is more stylish but provides a proper grip. This wrap type is the most popular option among all professionals and amateurs. It looks good, feels good, and has a reasonable price.