How To Make A Pool Cue? 7 Steps to Design Your Own Pool Stick
Contrary to billiards, pool is a well-liked table game that is reasonably simple to comprehend and play. The pool cue is one of the most important pieces of equipment for playing this game. While many people can pay money for different ranges of cue prices to pick their favorite one, in contrast, the price and scarcity of pool cue sticks are also one of the main obstacles that deter others from taking up the game, therefore choosing a pool cue is not easy.
In this case, making a pool cue is such a great idea for those who have a passion for playing pool without any obstacles. Here, we'll show you how to make a pool cue by walking through a few simple, quick steps.
7 steps to make a pool cue
Step 1: Choose the pool cue material
The cue stick is an essential sporting accessory in table games like pool, snooker, and billiards which is used to strike the cue ball and pocket other balls. The typical material for cue sticks is wood, but they can occasionally be made of fiberglass, carbon, and graphite. Among those, fiberglass cues can be considered the most often used substitute for wood due to its lower cost. However, fiberglass cues still need a wood core within the stick and are glued in the shape of a sphere. Beginner and intermediate players who want a cheap, reliable cue frequently opt for these cues.
There is disagreement among pool players on the "best" material. However, wood comes out on top if you are considering making handmade cues. Even with the introduction of materials like carbon fiber, wooden pool sticks have remained the top material for millennia and are unlikely to change. A pool cue can be made from a range of exotic woods. The sort of wood that is used to make the cue has a significant impact on whether it hits strongly or softly. For example, Rosewood creates a cue stick that produces a softer hit than those made from Ebony and Cocobolo which perform the hard strike. The middle hitting is a stick made of Bocote.
Step 2: Determine the indexes of the pool stick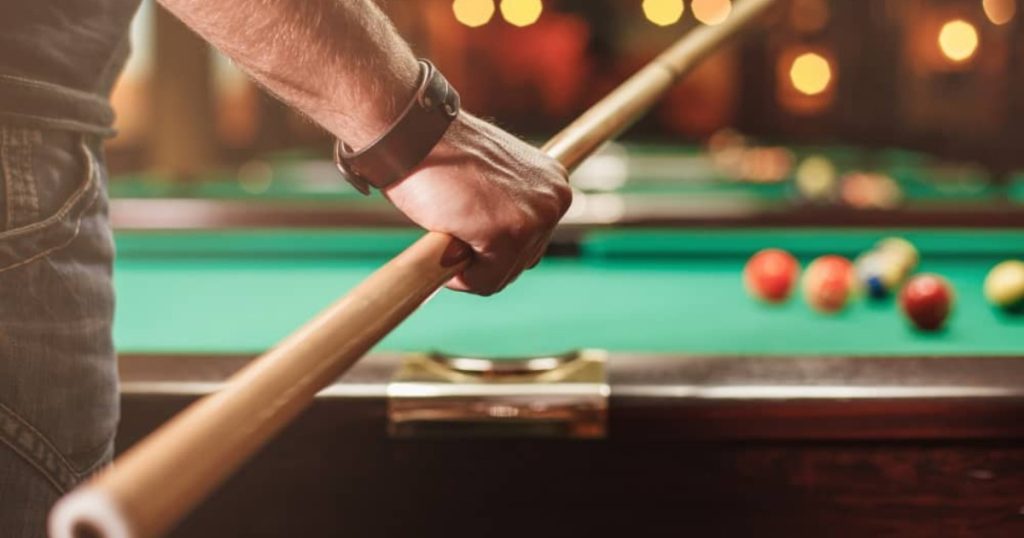 When it comes to pool cue dimensions, there are 3 main factors that determine the pool cue-making process which includes length, weight, and tip diameter.
Cue sticks normally weigh around 18 and 22 ounces. The cue ball will be extremely active if you use a lighter cue weight, such as 18 or 19 ounces, and the object ball will probably pocket more slowly since a lighter cue stick creates more snap. On the other hand, the cue ball will be slower and the object ball will probably pocket faster if you use a heavier pool cue since you have more weight to strike with.
Choose pool cue length based on your height, your grip distance, and space. A common adult pool cue is between 57 and 58 inches long. Conversely, younger or shorter players should use pool cues in the 36–52 inch range. 36-42 inches is an excellent fit for individuals who are 4 feet or shorter.
Additionally, pool tip diameter typically ranges from 0.50′′ and 0.52′′ which is ideal for precise shots.
Based on these dimensions, you can obviously create different parts of the cue stick and then build a pool cue perfectly.
Step 3: Core the pool cue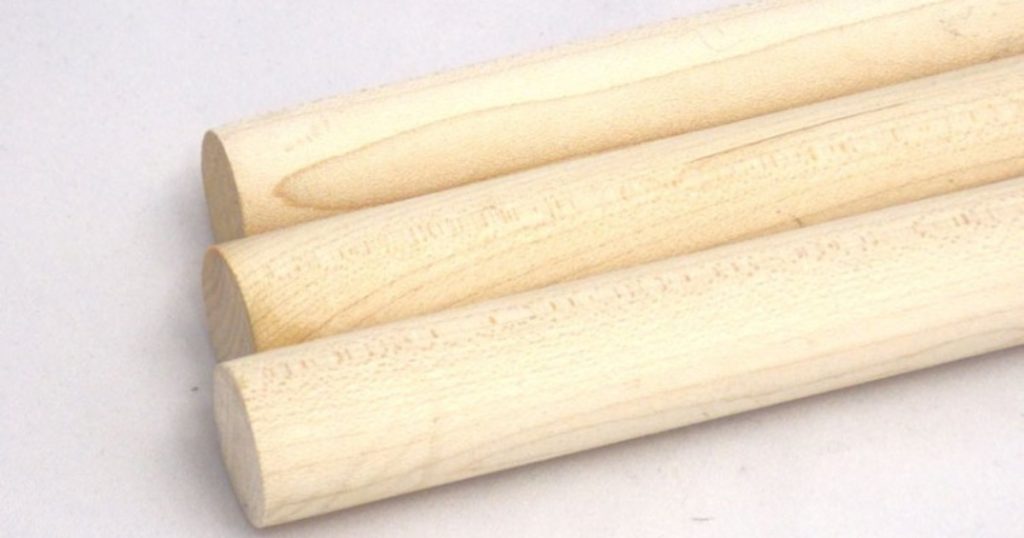 Before embarking on the cue-making process, coring must be mentioned first. Many custom cues are crafted from exotic or decorative woods, which can occasionally be very heavy. Coring that heavy wood will enable the cue builder to keep weight under control while still achieving the proper balancing point. In addition, it adds a little more stability to prevent the cue from bending over time. To accomplish this, secure the dowel made of exotic wood with a clamp and drill a flawless hole in the middle. Following completion of this step, the cue is prepared for milling, which entails carving out the groves to fit with the veneers and points.
Step 4: Cut the Veneers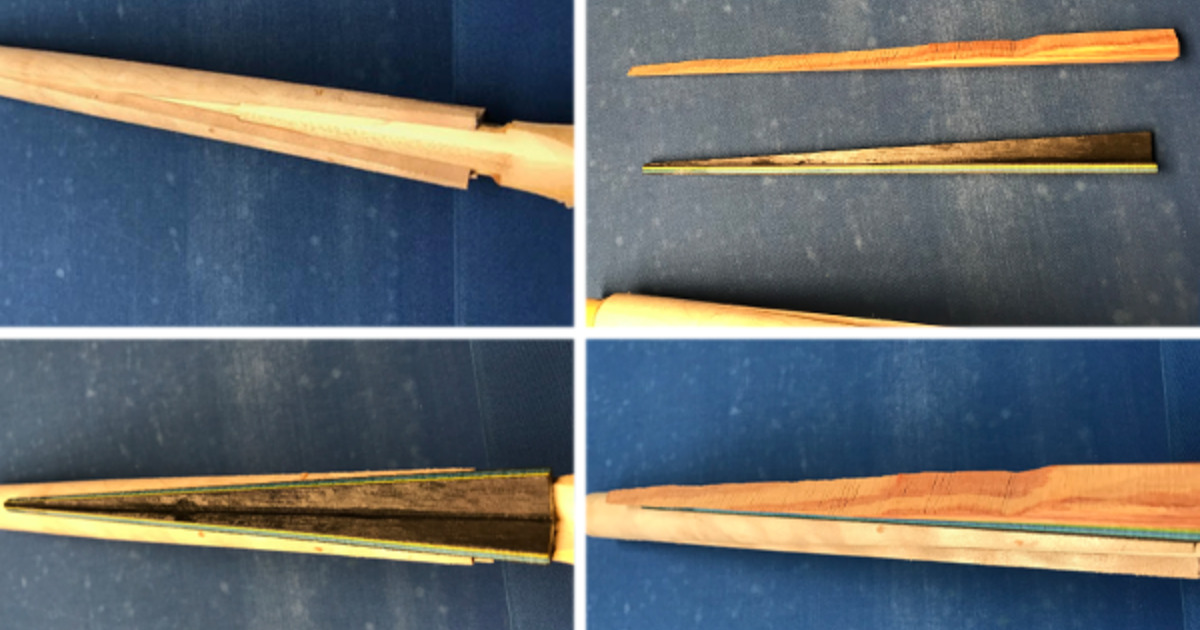 The pool cue point is normally the hardest part to make in the pool cue-making process which defines the special design of the pool cue. Pool cue points are normally located at the bottom of the pool cue butt. And the parts with several colors that highlight the main points are called veneers. They begin as flat, tinted wood layers that are adhered together before being sliced.
Step 5: Gluing Point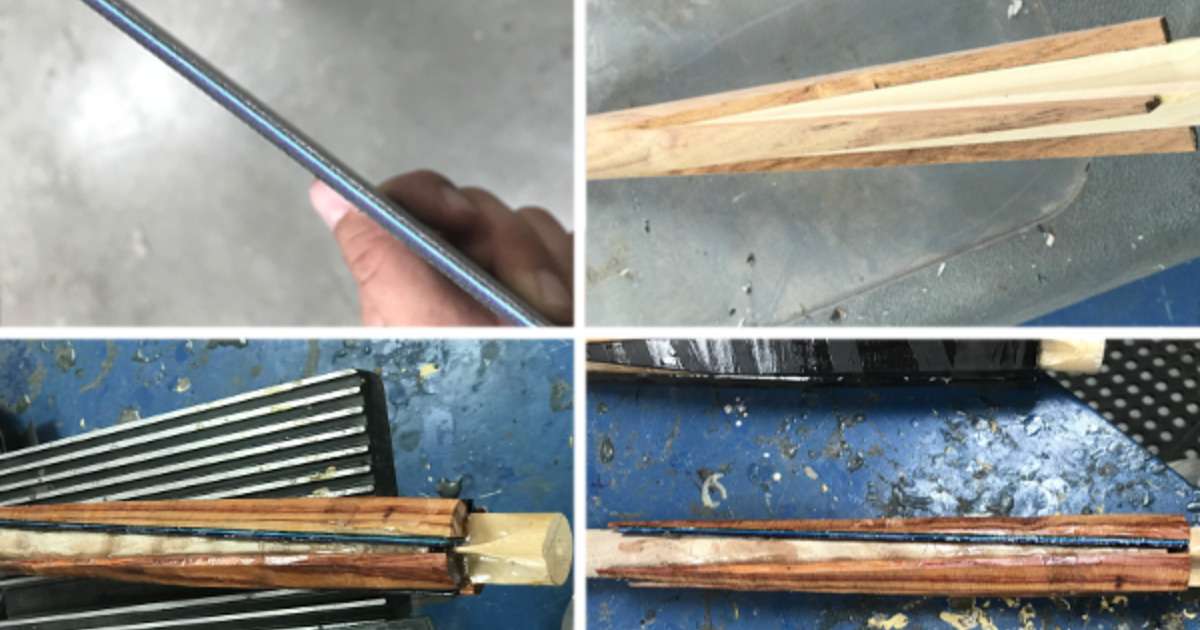 Following the cutting and milling of the veneers, the components are ready to be assembled, bonded together, and then tightly wrapped until the glue has dried. The glue used can be wood glue, epoxy glue, and polyurethane glue. For the best protection against the dye from the veneer reactivating, you should seal the veneer with a thin coat of epoxy or wood hardener.
Step 6: Turn the Points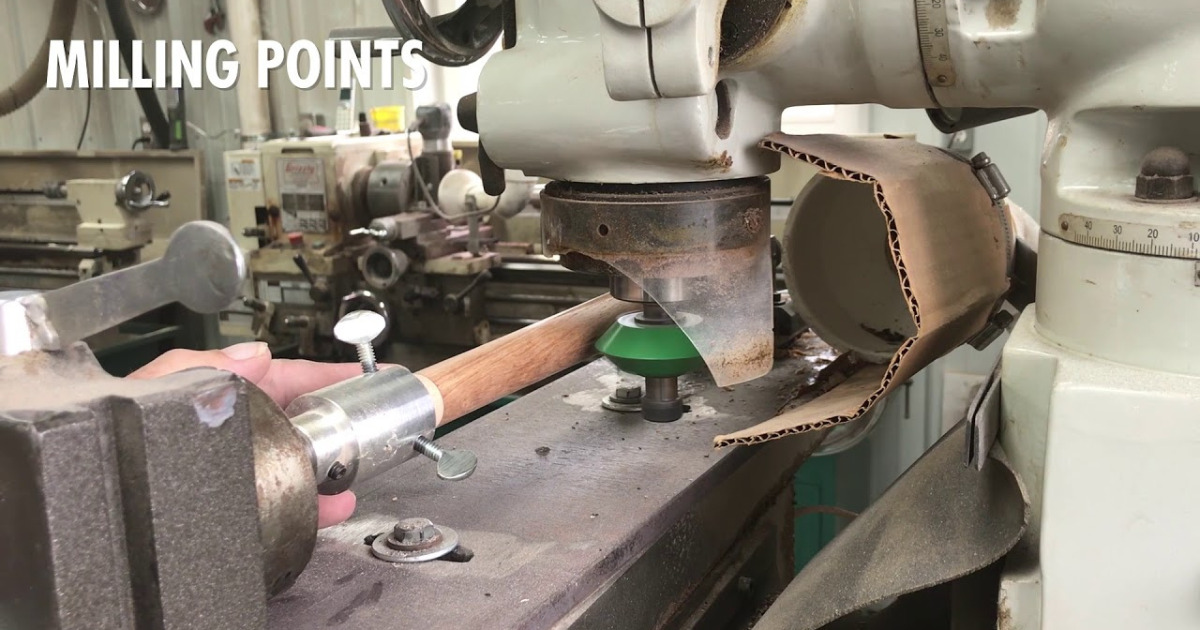 After the veneers are glued to the core. The points will then be rounded off into a single, smooth piece. To avoid shattering any of the components, this must be done extremely gently. Using the grip area, decretive joint rings, and sleeve, a half-spliced forearm may be put together.
Dowel joints, metal bolts, and adhesive are used in the butt's construction. Around the points where the parts join, the portions frequently have ornamental rings. In order to complete the procedure, the pool cue should be placed a few more touches before being lacquered and wrapped.
Step 7: Cut the Inlays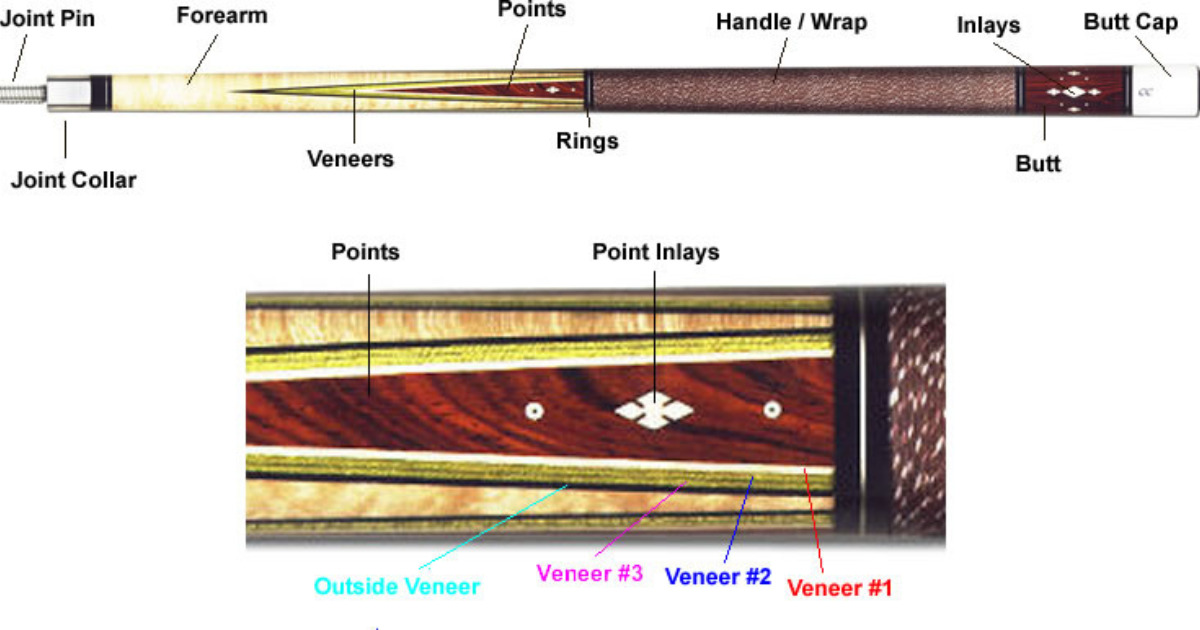 Finishing the cue with some inlays to provide the finest appearance is the final step in making a pool cue. Some cue producers have a long history of using inlaid points. The delicate inlays must be carved using specialized machinery or cue-making tools, such as CNC pantagraphs, and then placed into appropriate pockets. Although not fundamentally a part of the structure, inlaid points, when created by a skilled cue maker, are just as beautiful. Spliced points don't always provide you with as many design possibilities as inlaid points. You need to be an expert at figuring out how to create the parts and how to put the puzzle together in addition to being an artist to design them.
Top 5 High-quality Process Pool Cues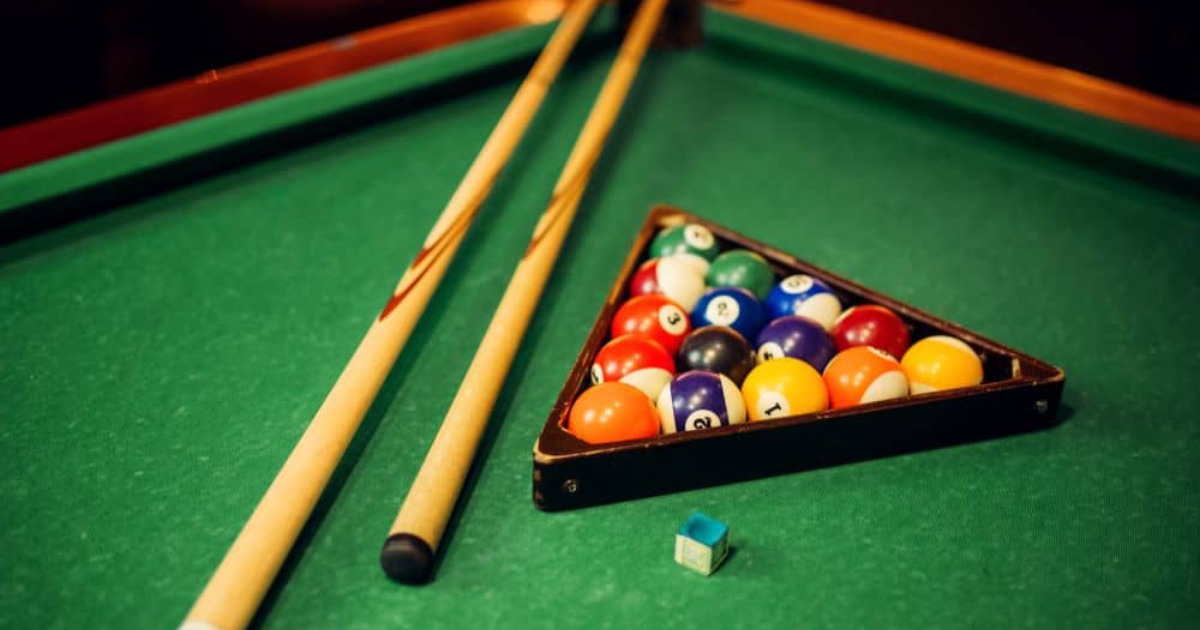 Making a pool cue is not simple, you will have to take time to prepare the material and cue-making tools. Besides, meticulousness and detail are essential.  If it is difficult for you to fabricate a pool cue by yourself, you definitely can refer to some unique and high-quality pool cues with stylish designs in the market. Here we bring you the Top 5 High-quality Process Pool Cues that are the best quality and budget.
| | | |
| --- | --- | --- |
| Pool cue name | Feature | Price |
| Pearson World Record Limited Edition 1 Pool cue | Limited edition with world record logoCertification of authentication | Around $1,495$ |
| Lucasi Hybrid LHC97 Natural Birds-Eye Maple Pool Cue | Zero flex-point ferruleHybrid wrap provides traction and shock absorptionExtended sweet spot and enhanced stability | Around $890$ |
| Players Technology Series HXT15 Two-Piece Pool Cue | Lightweight polymer ferruleLifetime warranty including warpingVery stable and smooth | Around $259$ |
| Viper Signature 57″ 2-Piece Realtree Camouflage Billiard/Pool Cue | Uses maple hardwood in the shaft for lasting powerComes in multiple sizes that range from 18 to 21 ounces Comes with a limited three-year warranty | Around $46$ |
| Champion Sports White Spider Maple Pool Cue Stick | Hybrid wrapAvailable in standard cue weightsTwo-piece | Around $100$ |
These process pool cues can show the amazing features for creating the best hit, helping you fully enjoy the pool game.
FAQs
What is the best material for a pool cue?
Wood comes out on top if you only consider the number of pool cues created from a single material. Even with the introduction of materials like carbon fiber, wood has remained the top material for millennia and is unlikely to change.
What is the best wood to make a pool cue?
The best wood for pool cues are considered ash and maple. Among these 2 types, the best one is lying on the matter of personal taste. Generally speaking, maple is stiffer and harder than ash, although this isn't always the case, and playing with maple won't necessarily improve your skills. Both will have a huge color range, with some being very pale and others being quite dark. All woods are natural, and the main factor influencing their color during a tree's growth is the environment. Both ash and maple are fully capable of giving you a full spectrum of shots and differ in terms of weight.
Conclusion
In general, the pool cue is typically the most crucial piece of equipment you'll need to play pool. Therefore, designing and creating a pool cue on your own is a really fulfilling process. It is easy to learn how to make a pool cue, but in practice, all of the preparation and considerations listed above are needed. Making an effort to comprehend every part of a pool cue could make the procedure more manageable. If you don't have the time to construct one, there are plenty of high-quality pool cues on the market that can satisfy your needs.