5 Steps Before Buying Pool Tables. What Are Pool Table Room Sizes?
Pool table is a pocketed billiard table used for playing pool and this is indispensable equipment to start a game. So, how to shop for the best pool table that matches your purpose and budget? Do thousands of pieces of advice on the Internet make you confused? These 5 core steps will help you buy your dream pool tables easily. The article from Pearson Cues is for every player regardless of level or purpose. Discover now!
Step 1: Know your purpose to buy pool tables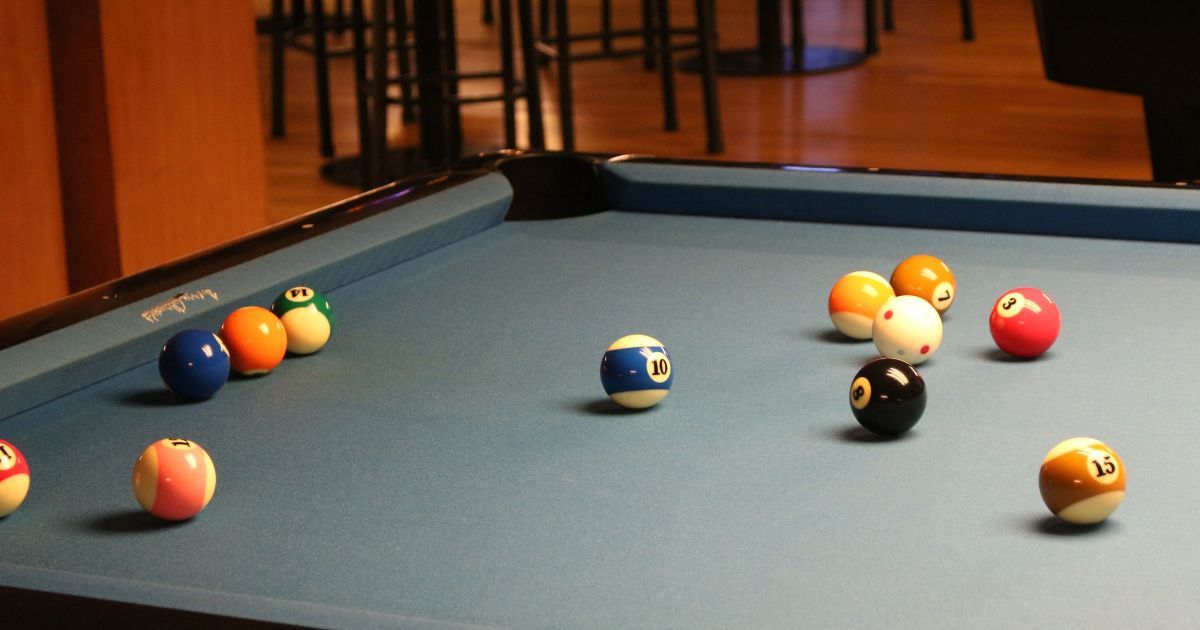 Pool tables come in many sizes, prices, and styles
Firstly, ask yourself why you want to buy a pool table. It will help you to minimize your list and not to regret after purchasing. Let's think about practical purposes: to entertain or seriously practice; to supply pool service or decorate; etc.
Commercial pool tables

would be suitable for pool halls and professional tournaments. The mass-produced products have the same size and quality. They are cheaper but lack cosmetic appeal.

Furniture pool tables

are perfect to highlight your house or office. It is not only impressive but also expensive because its design is customized following the owner's idea and made from high-quality materials.
Don't forget to determine the age and height of the players. It will help you to choose the appropriate size. While the small one brings fun for your family and friends, the larger one can offer a variety of games.
It is necessary to make clear which is more important to you. Following a professional career, you can choose both commercial and furniture styles. In case you just want to entertain, the smaller or cheaper tables may bring you great fun.
Step 2: Finalize your budget to buy billiard tables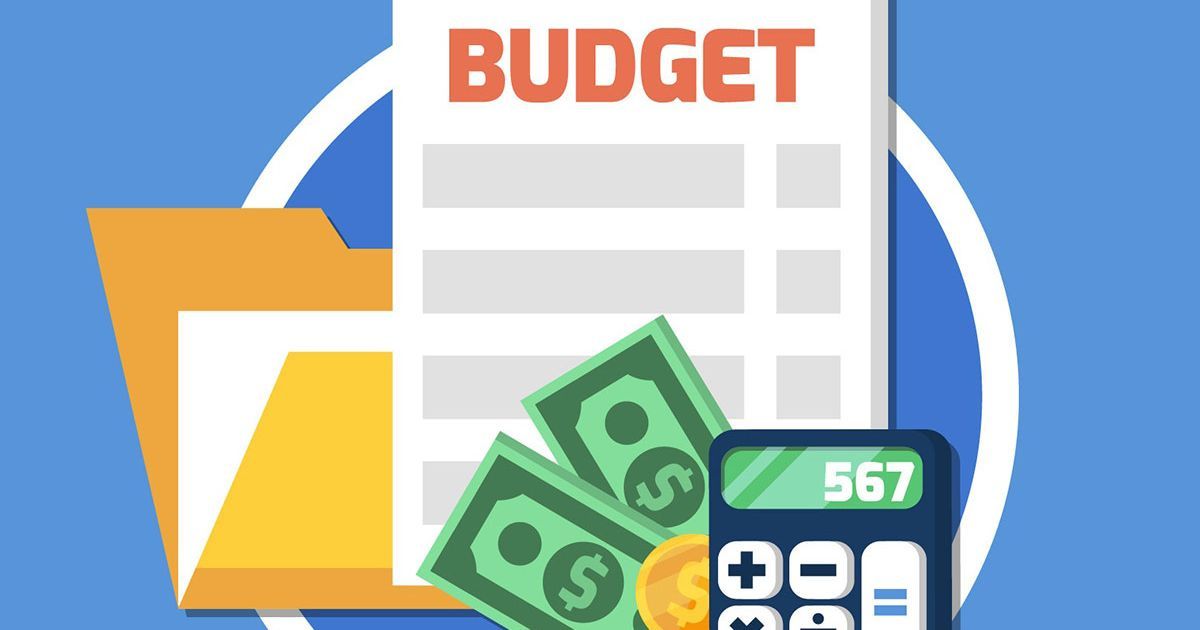 It is worth to invest a high-quality billiard table for professionals
If you are entirely new, you need to know the average prices. Three main ranges of prices are:
Low-priced tables

: from $500 to $1,000. Wooden bars on the table surface and legs could be warped quickly. If you do not play pool very often, it would be a good option.

Medium-grade tables

: from $1,500 to $3,000. These tables can serve any purpose for pool players. They are multi-function and more durable.

Heirloom tables

: between $2,500 and $15,000. High-end pool tables come to be ideal choices for decorative purposes or personality expression.
Now, you can set a budget to buy a pool table. Then, you have to decide what to buy: a new or a used pool table?
Your budget is tight

: A good second-hand pool table would bring a better experience at a lower price. However, you should know how to check its condition carefully and notice its warranty.

Your budget is not an issue

: don't hesitate to purchase the new and best one.
Note: This is a bulky product so the cost can be quite high. Keep in mind the cost of shipping is included.
Step 3: Measure your room space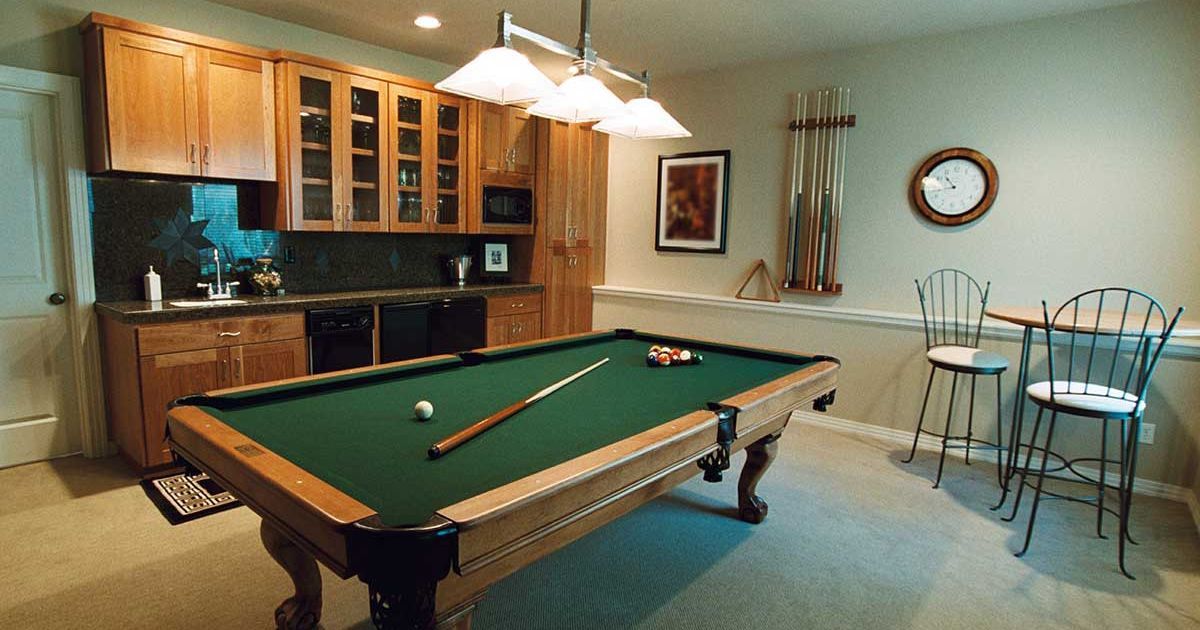 Your room should not be too small or too large
The room needs to be big enough for both tables and minimum playing space. Players cannot use pool cues to shoot if the space is too small or just fits the table. You can easily choose an appropriate size after measuring the width, length, and height of your room.
To estimate whether your room fits the table or not, you can add 5 extra feet on each side of the table. For instance, if you want an 8 ft x 4ft pool table, your room will be at least 18 ft x 14 ft.
Here are the room suggestions for some specific pool table sizes:
| | |
| --- | --- |
| Pool table size | Room size |
| 7 ft | 38' x 76' or 39' x 78' |
| 8 ft | 44' x 88' |
| Pro 8 ft | 46' x 92' |
| 9 ft | 50' x 100' |
Note: Pool tables are quite heavy (750 – 1000 pounds) so remember to put it on a strong floor.
Step 4: Check 6 aspects to look for in a pool table
When buying a pool table, keep in mind to carefully check the slate, legs, frame, cloth, cushions, and accessories.
Slate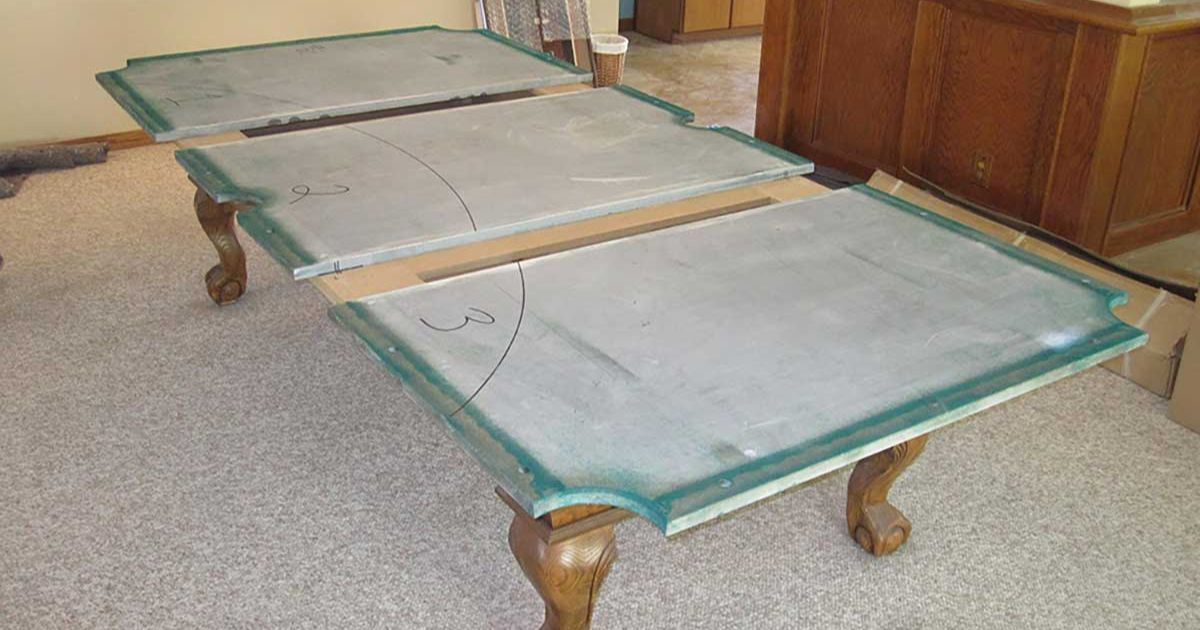 The appearance of a 3-piece slate
A good slate brings a smooth and flat playing surface. The slate is under the felt of the table. There are 3 popular types of pool slate:
No slate

: It might offer a level but less steady surface. It is cheap (around $100) and suitable for kids.

1-piece slate

: It is a solid slate with adjustment points at the legs. Therefore, you might have trouble when changing or balancing the table. Over time, your experience will become less fun because of the sag in the middle.

3-piece slate

: When it comes to the best pool slate, 3-piece slates receive the highest votes. It is easy to transport, easy to adjust, and 7 times as flat as a 1-piece slate.
The thickness of a slate is often ½, ¾, or 1 inch. The Billiard Congress of America (BCA) recommends the 1-inch slate for professional use.
In addition, as intelligent pool table buyers, you'd better not choose an MDF slate to avoid warping. Honeycomb and slatron are much better.
Legs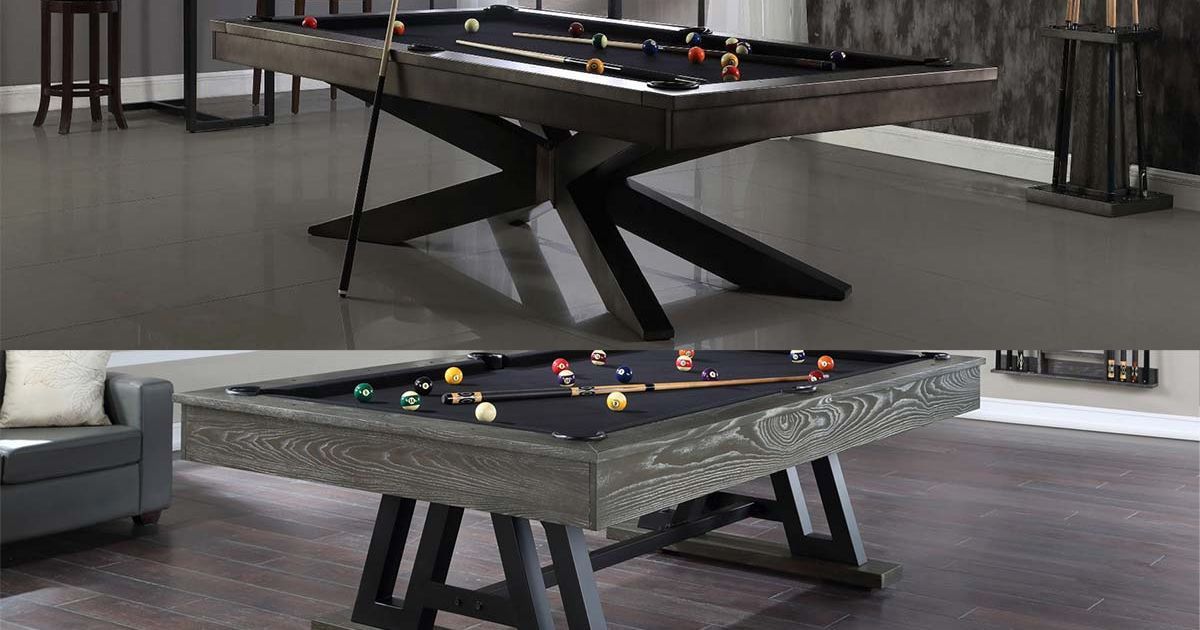 Pool table legs are diverse in materials, sizes, and designs
A good pool table needs strong legs to elevate the very heavy upper. Legs come in many different styles and sizes. It depends on your taste but you need to ensure they are strong enough.
Two popular types of legs include:
Post legs are solid from the slate to the feet. It dares to lower and break.

Two-piece legs have one or four nut and bolt combinations. It is cheaper and often used in pool halls.
The height of some modern legs is intelligently adjustable. With traditional tables, it will take more time and effort to put thin slices under every leg.
Frame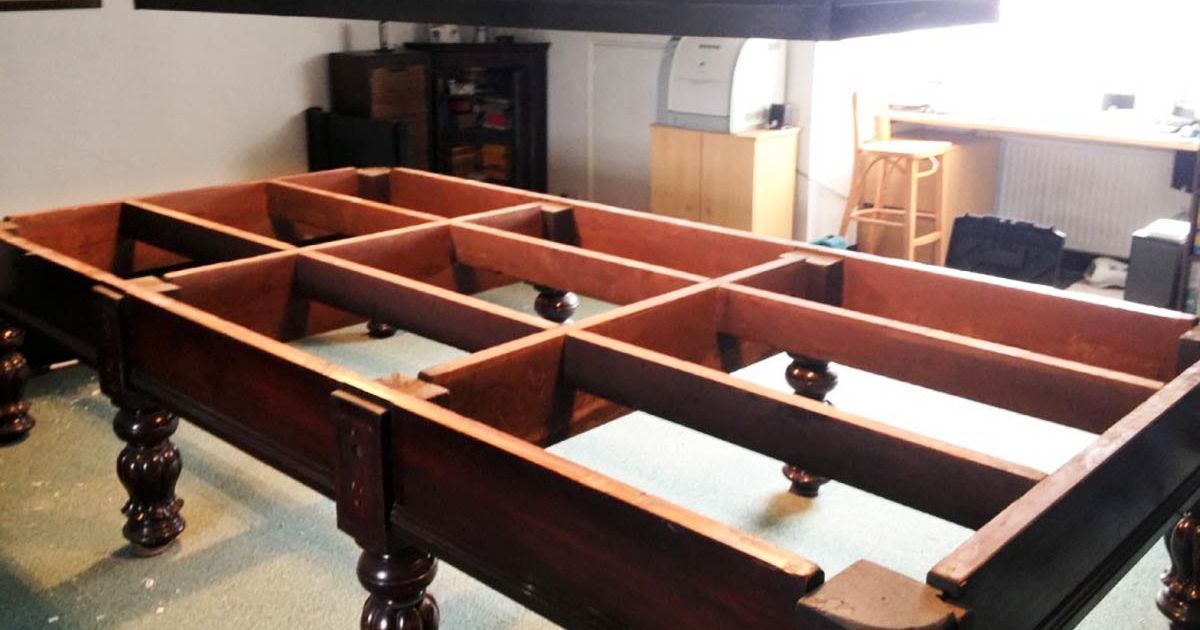 Pool table frame locates under the slate
To keep the slate stable, the wooden frame needs to be thick, hard, and solid. In addition, direct glue on the frame will prevent the slate from cracking and sagging.
Based on the beam design, the pool frame has three types:
Two cross beams for ¾ inch slate.

Two cross beams and a center beam for middle-class tables.

Two cross beams and two long beams (quad-beam) for 1 inch or larger slate.
Cloth / Felt
Cloth (also called felt) covers the pool table surfaces and contacts directly with cue balls. It is often blue or green. The standard felt material is Teflon, which is made from wool and nylon blend. It can offer less resistance surface with 10 years of usage or longer.
Your felt shouldn't be cheap if you want to become a professional. A high-quality one will bring you the best experience.
Cushions / Rails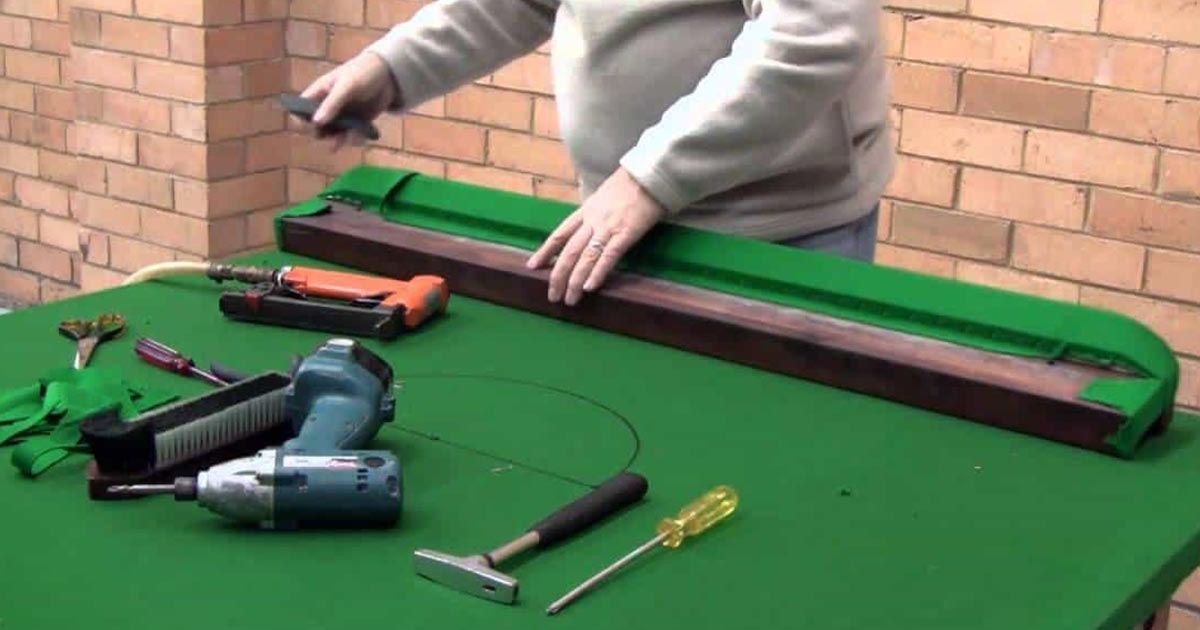 Wrap the sides of the table with good cushions
Cushions (pool table rails or bumpers) line along the table's edge. Without cushions, it is very difficult for balls to bounce toward the target positions. It is perfect when the material of felt and cushion is the same.
Other options are natural gum and gum blends. Natural gum cushions are recommended because they can provide a predictable bounce.
Playing Equipment / Accessories
Grade of pool accessories should go along with pool table quality. Don't forget to equip must-have pool table accessories to play the most interesting game.
Pool cues balls: 15 numbered balls and 1 white cue ball.

A pool rack to set up a game.

Pool cues

: at least 2 cues for a match

A Cue rack to store pool cues.

A cleaning or burnishing kit to keep your pool table and your pool cues shiny.

Chalk to add friction to the cue tip.

Others: bridge, gloves, etc for professionals.
Step 5: Choose the right type of pool table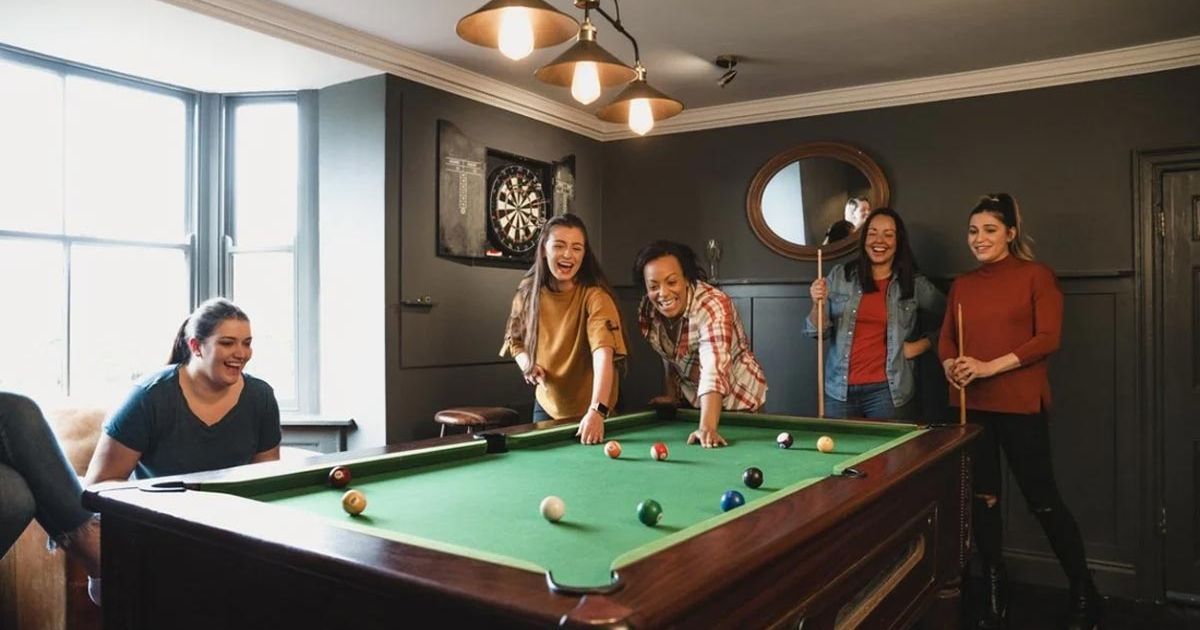 Each type of pool table is for a certain level
A pool table that fits your level can help to save money and improve skills. Here is expert advice for you:
For Beginners

: The frame materials can be cheap but the felt (and the slate) needs to be average. Thanks to that, you can practice basic pool techniques.

For Intermediate level

: to become a professional pool player, a mid-range pool table is necessary. It will be more expensive but the duration and experience you get are worthier.

For Advanced level

: Premium tables facilitate creating perfect shots and showing top-notch pool techniques. And they are the best in duration, design, and style.
FAQs
Is a 7-foot or 8-foot pool table better?
The better table will be the one that fits your room. If you have a large space, an 8-feet table is better because it offers a more exciting experience.
How do you know if a pool table is good?
A good product should be made of high-quality and solid pool table materials. It is much heavier and more well-groomed than a cheaper one. Price is not the main factor that indicates the table's quality. A good pool table will come with an expensive price but it's not true the other side.
In conclusion, you have 5 things to consider for a pool table: buying purposes, budget, room space, accessories, and your levels. If you need further consultancy to buy pool tables, don't hesitate to leave comments or contact Pearson Cues' expert via the fanpage and email.