What Is A Slate Pool Table? 2 Types of Slate Pool Tables
Pool has been among the most widely played games for many years. If you are among billiards enthusiasts, you must have insight into the game's rules and the necessary equipment for it. But do you know what material the pool table you play on is made of? How much does it weigh? And what is the price of a pool table? If you are considering buying yourself a private pool table, our best choice for you is the slate pool table. Do not skip this article, here are the exact things you need to know about what is a slate pool table.
What is slate material?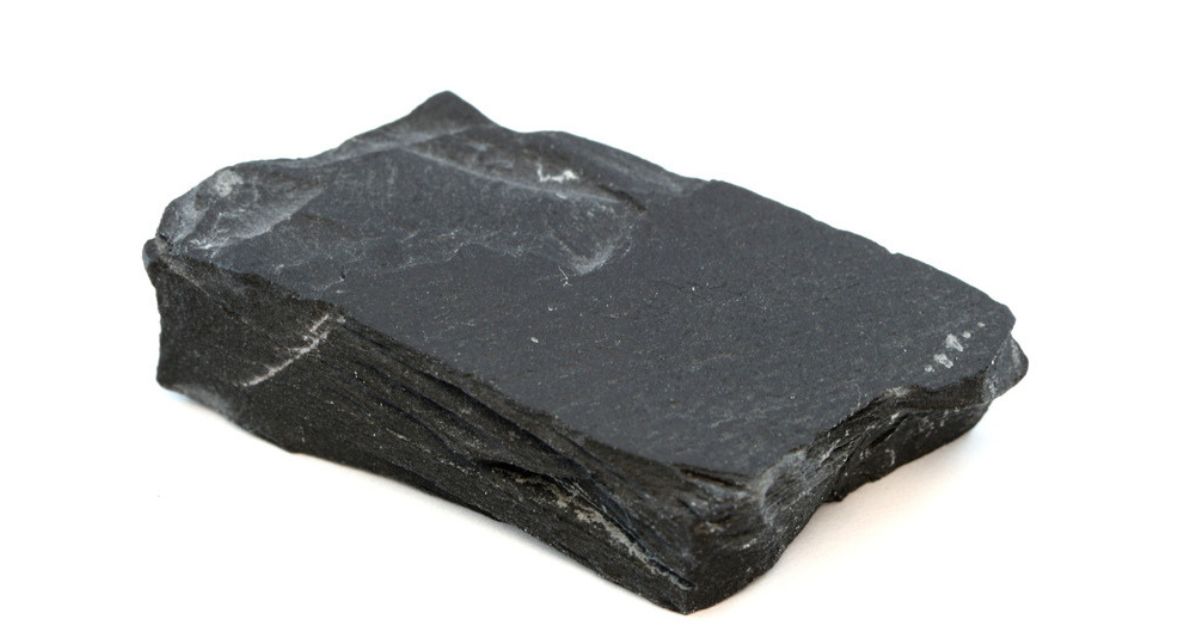 Slate is a type of rock formed from diverse mineral, clay, quartz, and sand mixes that undergo metamorphism. It is an amazing material as it is not too difficult to find in nature with abundant resources. Slate is also an environmentally beneficial and renewable material because it is recyclable. Due to its durability and attractive appearance, it is well known for a variety of uses, including flooring, flagging, roofing, and now making a pool table bed.
What is a slate pool table? Its history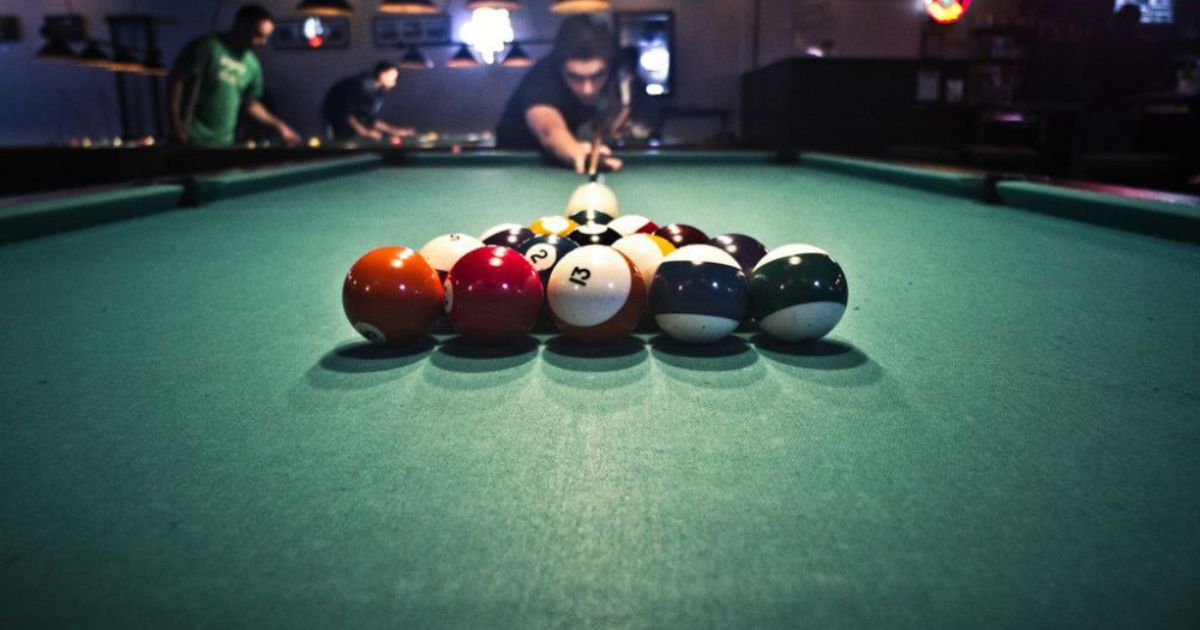 A slate pool table is one of many types that pool players should consider when buying a pool table, which has a playing surface made of slate. In reality, a pool table can be made with slate or MDF wood depending on your budget and needs. However, slate is widely regarded as the best possible playing surface because of its longevity, uniformity, and accuracy leveling. Slate tables are utilized in almost all pool tournaments and contests.
The history of the slate pool table started in 1826 with John Thurston. He originally grew bored with traditional pool tables that were made from hardwood and unworkable. Then he looked for a new material that could be utilized to create pool tables, one that gave a smooth playing surface while being affordable and simple to source, and one that would not deform due to moisture or absorption. And finally, he found slate which was the only material that matched all of these requirements and is still used in high-quality tables today.
Why are pool tables made of slate?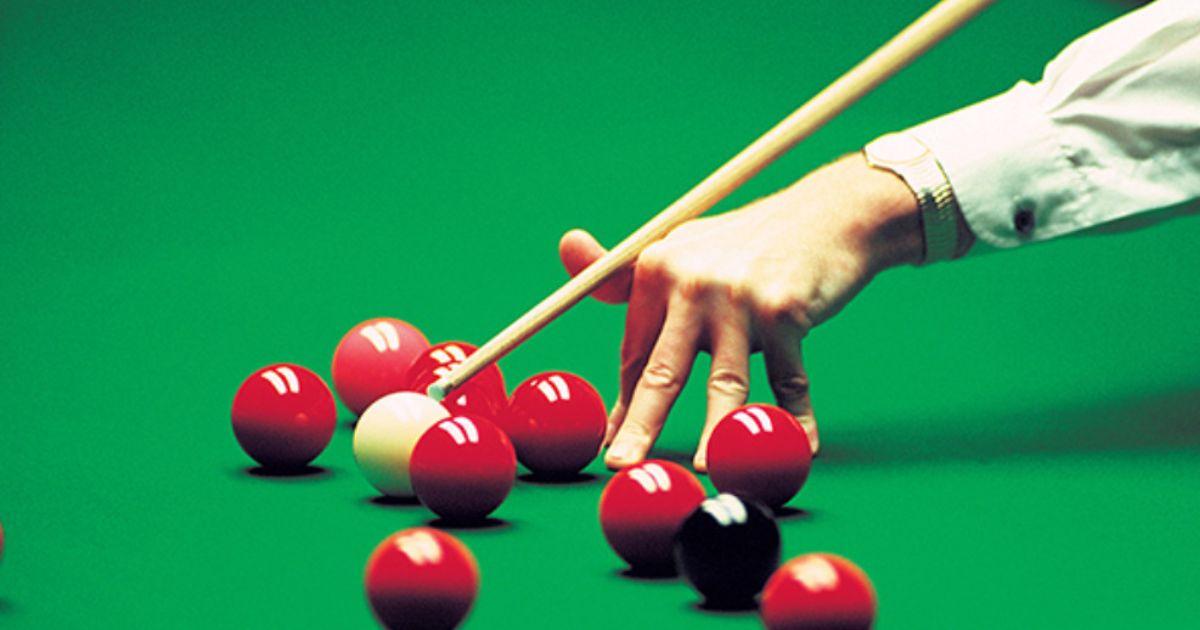 As can be seen over the years, slate pool tables have been quite popular because this game demands a flat playing surface and a smooth playing surface under the felt to allow the balls to flow easily. Slate is a great playing surface since it is easy to cut to size, ground, and polish to a completely flat, glass-like surface. Besides, the slate will no longer lose its original qualities and will always stay smooth and level to give an excellent playing surface, while wood material can absorb moisture or dry out and then of course warp over time.
Many manufacturers will offer a lifetime warranty for a slate pool table since it is so strong and long-lasting.
2 Types of slate pool tables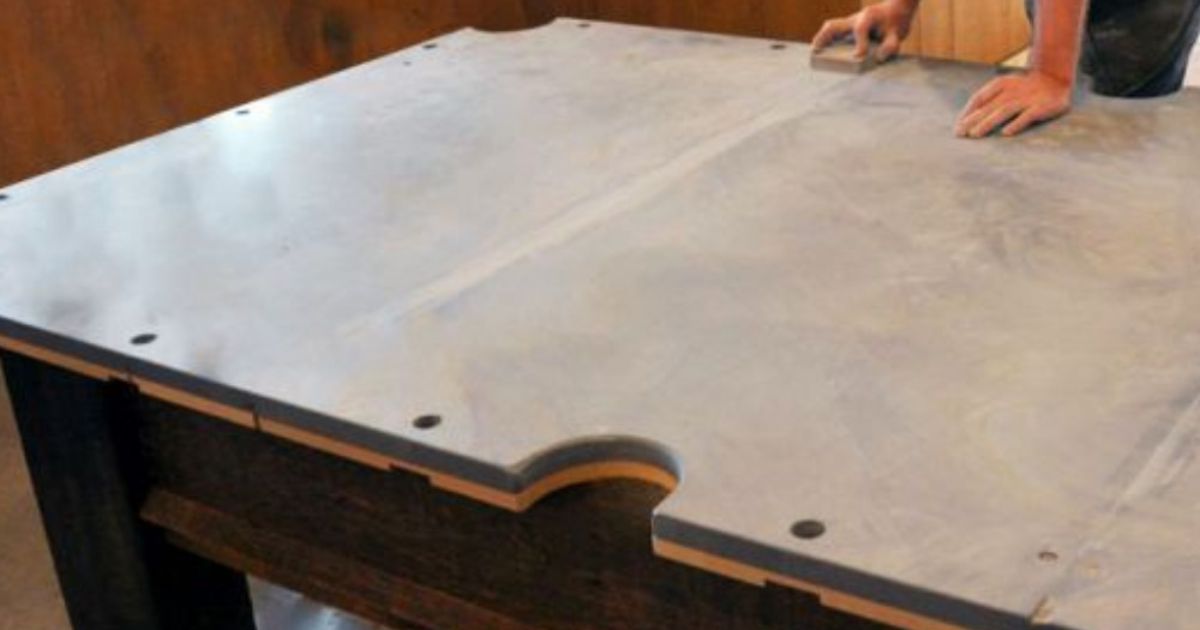 The pool table slate is normally between three-quarters and one inch thick and accounts for 60-70% of the pool table weight. There are 2 types of slate pool tables available in the market: Tables with one-piece slate beds will typically be ¾ inch thick, and 3-piece tables will have a 1-inch slate.
One-Piece Slate Tables
A one-piece slate pool table is made from a single piece of slate. The playing surface on one-piece slate tables is one complete piece so it is very smooth with no seams. There's no need to be concerned about the table being jostled and the seams becoming out of line. While this is correct, having a sturdy slate is essential for a robust pool table since one-piece slate can become uneven over time owing to warping or drooping in the middle due to weight.
The difference between one-piece and three-piece tables is mostly determined by weight. One-piece slate tables are significantly heavier, less flexible, and hence far more difficult to shift.
Three Piece Slate Tables
Three-piece slate tables begin as one piece of slate that is milled into three pieces. Many elite players prefer three-piece slate tables because they allow for precise leveling.
When dismantled, 3-piece tables are easier to move than 1-piece tables. Because they are meant to be disassembled, you may divide the three pieces of slate into manageable portions rather than attempting to transport the entire thing at once. Three-piece tables are also more appealing. A customized 3-piece table is available, although 1-piece tables are mostly used for business purposes. However, 3 piece slate pool tables can get misaligned over time and must be re-leveled.
3 Advantages of slate pool tables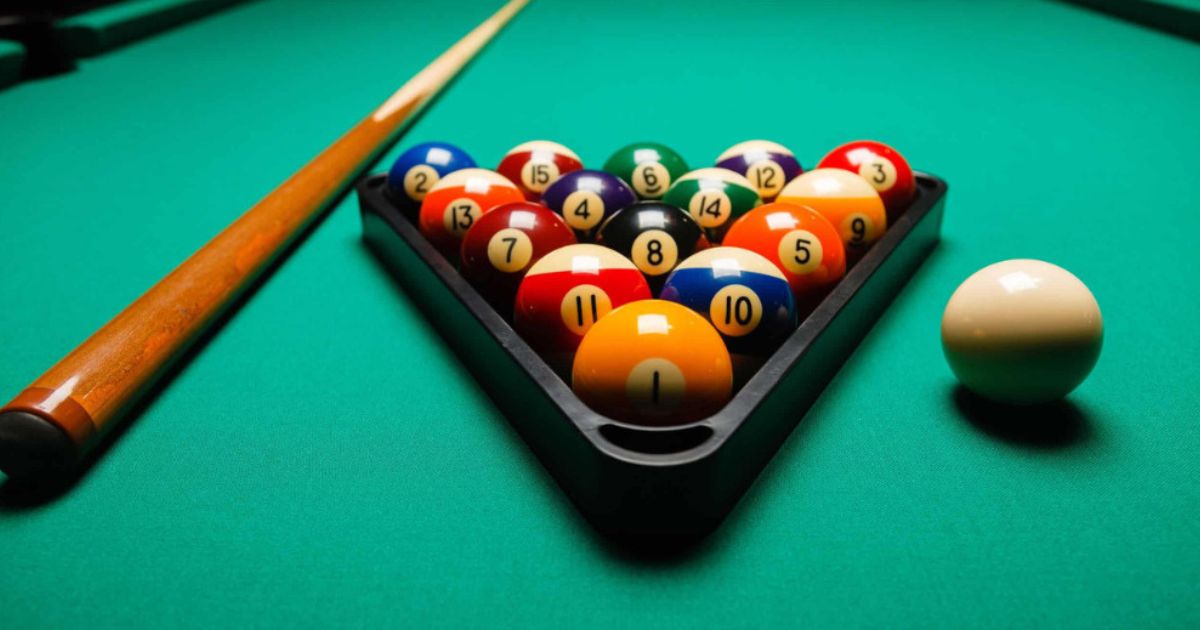 When comparing slate vs non-slate pool tables, you will find out that slate pool tables have many outstanding advantages.
Smooth and firm surface: The slate has 100% flat gritty rocks that are parallel and original, which contribute to high-quality outcomes. With a smooth and firm surface, balls can glide around the table with ease, making your shots more accurate. The table is beneficial for both amateurs and anyone else who wants to play competitively.
Durability: The slate pool table provides a competitive edge in terms of quality. Slate provides superior quality performance to play on. Its superior longevity and high price are both a result of its quality. Even with a very forceful jump shot, you have no worries about damaging the slate. They are quite accurate and, with proper care, will last for a long time.
Water-resistant surface: Similar to most natural stones, slate tiling is typically coated to make it more water-repellent and to shield it from scratches and stains. The pool table slate top is hence resistant to liquids, spills, and scratches. If a serious spill occurs, all that is required is a new tablecloth or piece of felt, and you are good to go.
3 Disadvantages of slate pool tables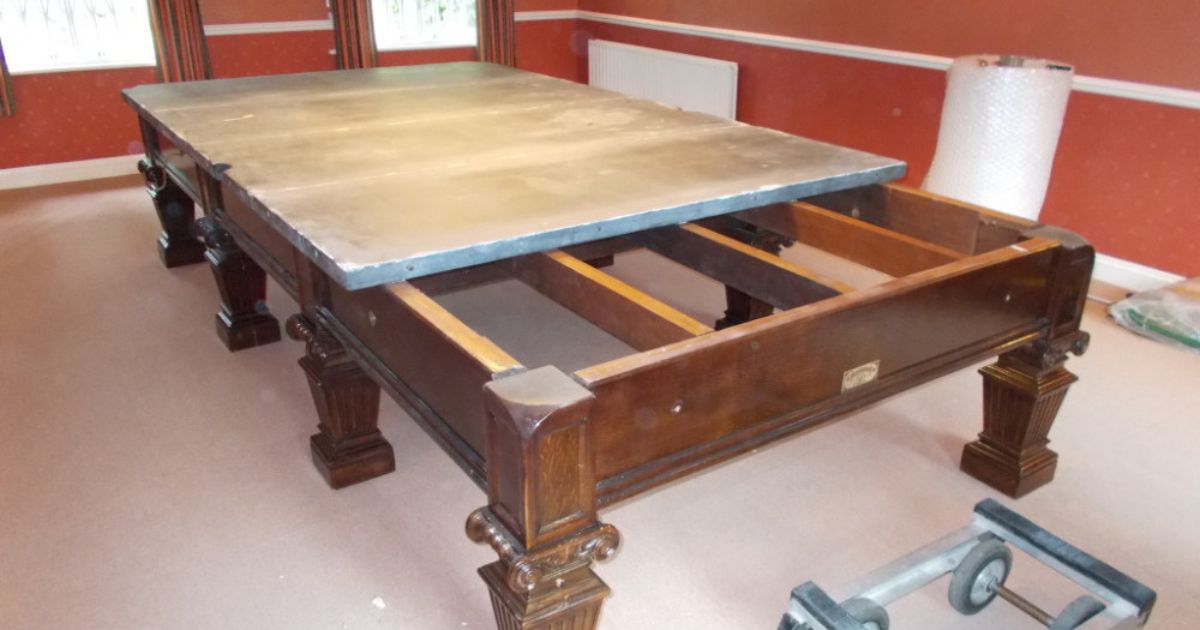 Despite many superior advantages, slate pool tables also have some drawbacks that you have to consider before deciding to choose one of your own.
Heavily weighted: Slate bed pool tables are heavy, weighing anywhere from 450 to 600 pounds or more, depending on size.
Non-transportable: Due to their weight, slate tables are hard to move and necessitate the aid of expert pool table installers and movers which will increase your costs.
High-priced: Slate tables are more expensive. However, the expense is countered by their durability, which means you won't need to buy another billiard table until you want to expand your gaming area.
How much does a slate pool table cost?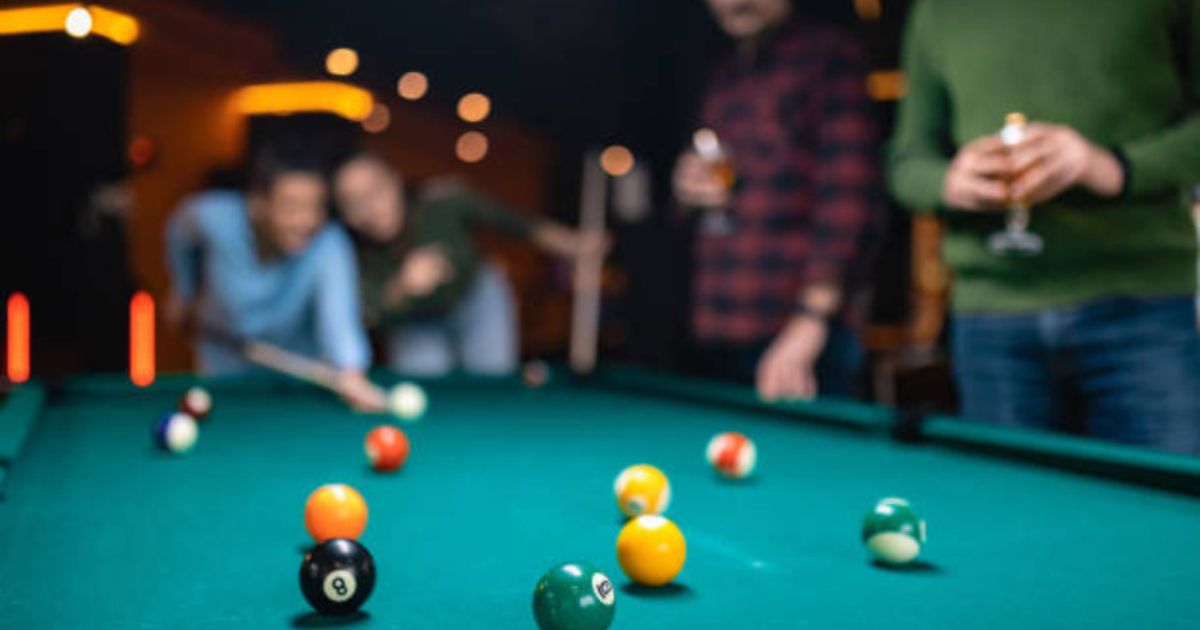 Depending on your budget and usage needs, the slate pool table can range from low-priced tables to luxurious billiard tables at extremely high prices.
If you're searching for a low-cost slate pool table, you may expect to pay around $857. These tables are ideal for casual players who aren't searching for a high-quality piece of furniture or a professional level of play.
Slate pool tables in the mid-range vary from roughly $1,100 to $2,300, giving you a more sturdy and visually pleasing table for your money. At this pricing, the slate will be of high quality throughout the table's construction.
Furthermore, you may anticipate a very good quality table for roughly $2,300 to $2,900 or more. You will appreciate the ability to customize many aspects of the table's appearance, such as the type of wood finish, the type and color of the cloth covering the table, and more. Such tables are far more durable and provide ideal playing conditions.
FAQs
Are slate pool tables better?
Yes, slate pool tables are undoubtedly better compared to other materials to make pool table beds. It has a smooth and sturdy surface. Even in heavy humidity, the slate will not warp. In addition, because slate is a rock, it is strong and long-lasting and requires small maintenance costs.
How do I know if my pool table is slate?
Many people have the same questions: how to tell if a pool table is made from slate or wood? It all boils down to the feel of the game as well as the table's design, weight, and expense. Many tables allow you to reach into a pocket or check under the table to see whether it's slate or wood. Slate is always heavier and more expensive than wood.
What does it mean when a pool table is not slate?
A pool table may be composed of plastic honeycomb or plywood if it is not built of slate. Although none of these materials have the density of slate, they are also less expensive. They also have different characteristics and are less durable than slate.
Conclusion
In general, the answer to the question "what is a slate pool table" is clear. Understanding the slate pool table's definition, its benefits, as well as drawbacks, will help you a lot when choosing a pool table for your home or your business. If you are in the market for a good pool table with all superior features without considering cost, a slate pool table should be the best option. However, if you have a tiny budget or want something for temporary use, the MDF pool table can a suitable choice. MDF pool tables are actually a good slate pool table alternative for common usage.