5 Best Material For Pool Table Cover (2023 Listing)
When a pool table is in bad condition, such as having scuffs, it's hard for people to pot the cue ball in the right trajectory as they want, making it harder to play. Besides, if you accidentally let your pool table be exposed to sunlight, the cloth's color and condition will gradually fade, which will look less aesthetically pleasing. Therefore, a pool table covering is essential in keeping your pool table in great shape and condition. 
If you are looking for the best material for a pool table cover, we have compiled the top 5 best materials and top choices for pool table covers. Let's check it out.
5 Best Material For Pool Table Covers
A pool table covering is worth your investment. It protects your pool table from external damage and other hazards. When choosing a pool table cover, the material is one of the most crucial things. Different materials had their unique uses. While some fabrics do not fade over time, others can protect your pool table from dust, dirt, rain, or wind.
Leatherette
Naugahyde
Polyester
Nylon
Vinyl
Leatherette
Leatherette is the most well-known and best material for pool table covers. It is a synthetic material, also called many names such as fake leather, faux leather, pleather, or synthetic leather. The advantages of using a leatherette pool table cover are it's very durable, waterproof, and dustproof, making it easier to clean than other fabrics. This material also does not fade over time, so leatherette pool table covers are suitable for indoor and outdoor placement.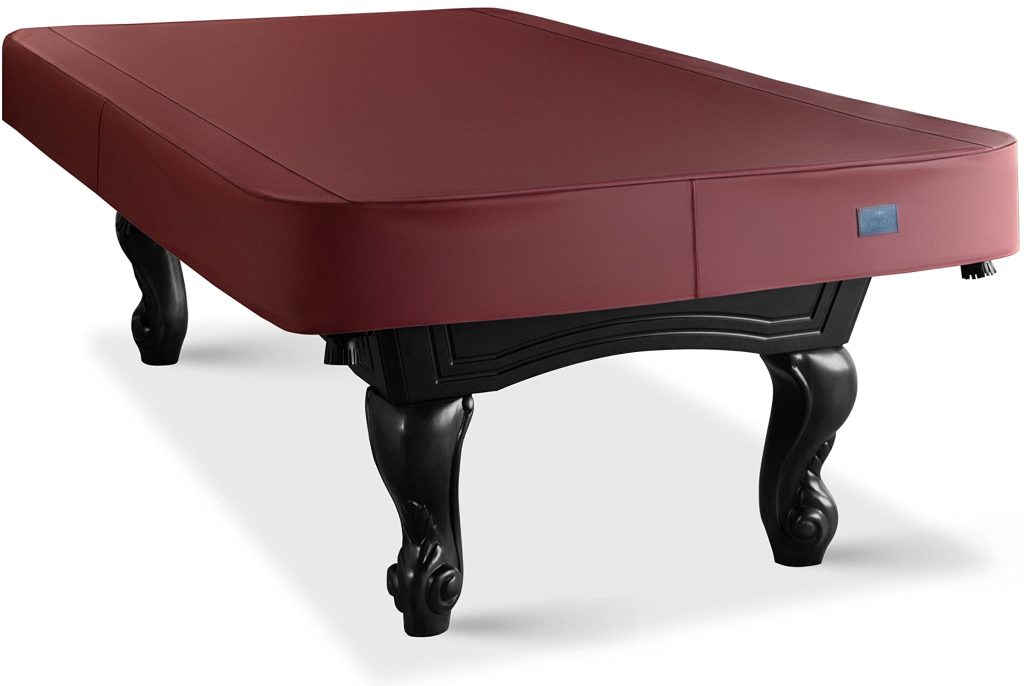 Leatherette comes in many colors, so it's convenient and easy to meet the different needs of customers. Besides, this material is also ideal for people who follow a vegan lifestyle as it does not contain animal products.
See more: What Is A Slate Pool Table? (Basic Explained)
Naugahyde
Naugahyde is another form of fake leather. Like leatherette, naugahyde pool table covers are incredibly durable and will undoubtedly help protect your pool table from most risks. This material is also sturdy and relatively easy to clean.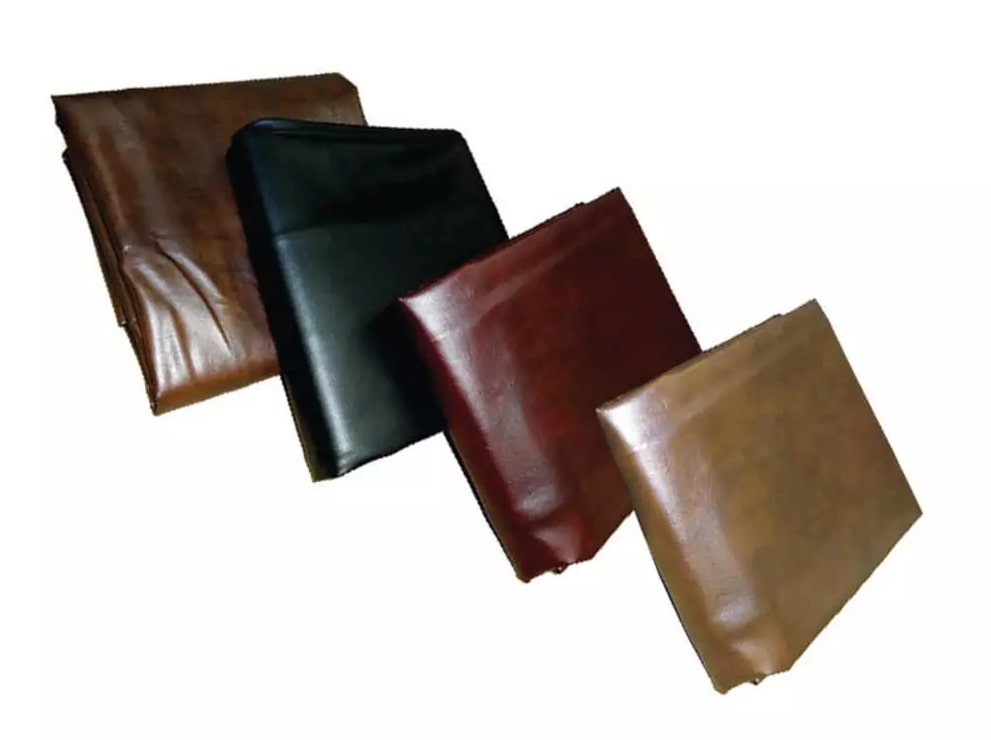 The material is also resistant to abrasion, tearing, and staining, making it the perfect choice for applications that require long-lasting performance, such as billiard table covers. If you put your pool table indoors or outdoors where the sun exposes, don't worry about it because this material offers excellent resistance to UV rays.
Polyester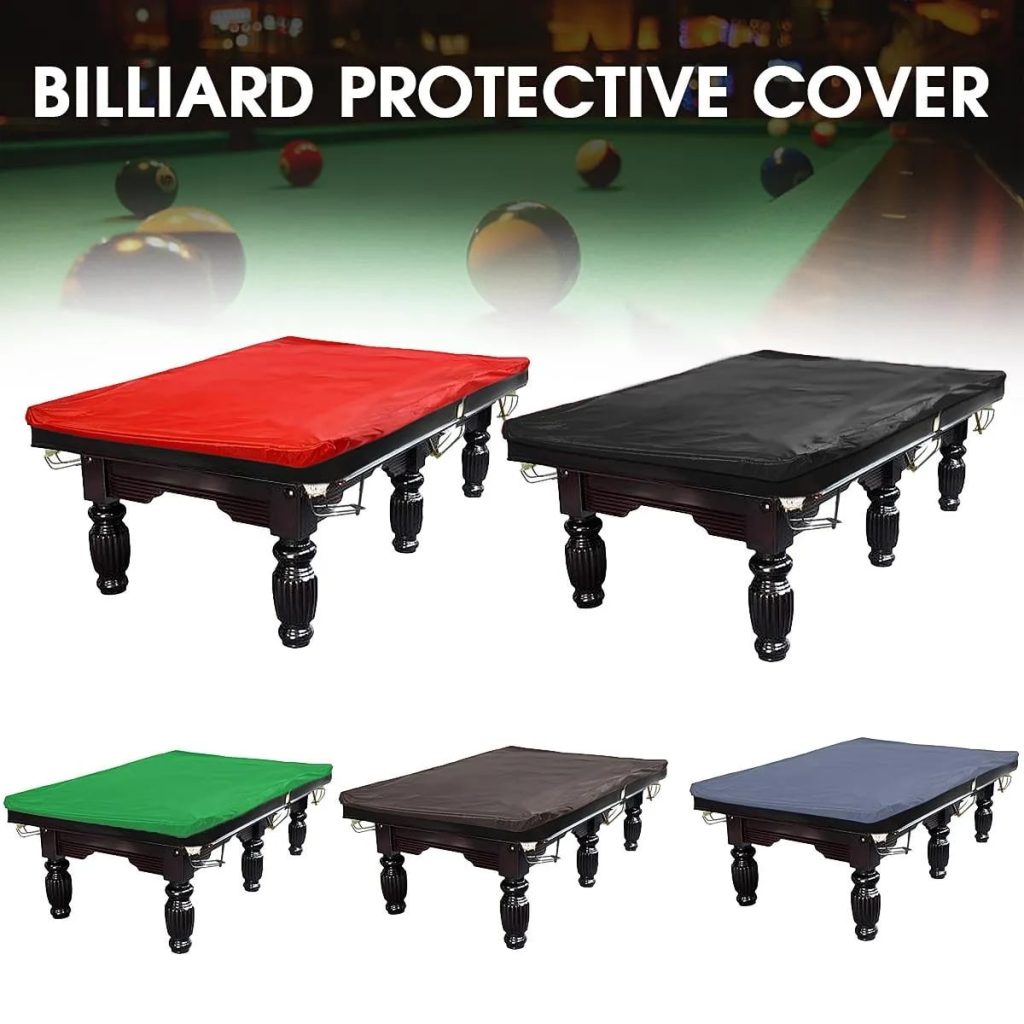 Polyester is a fabric used in products such as sportswear, clothes, and pool table covers. This material is one of the best materials for pool table covers because of its high durability.
This material is resistant to shrinkage and wrinkles and tends to retain its original shape for a long time. It won't provide a waterproof surface but is water resistant. Moreover, this material costs less than other materials on the list. Therefore, brands can produce this in large quantities at a low cost, which means that consumers can buy it at a lower price.
See more: How To Build A Pool Table (DIY Pool Table Guide for Players)
Nylon
Nylon is a form of plastic, one of the most widely used materials. A nylon pool table covering will typically be much thinner, more like a table cover you would use at a party. One of the advantages of nylon material is its strength and durability, which is sturdy and has high wear and abrasion resistance.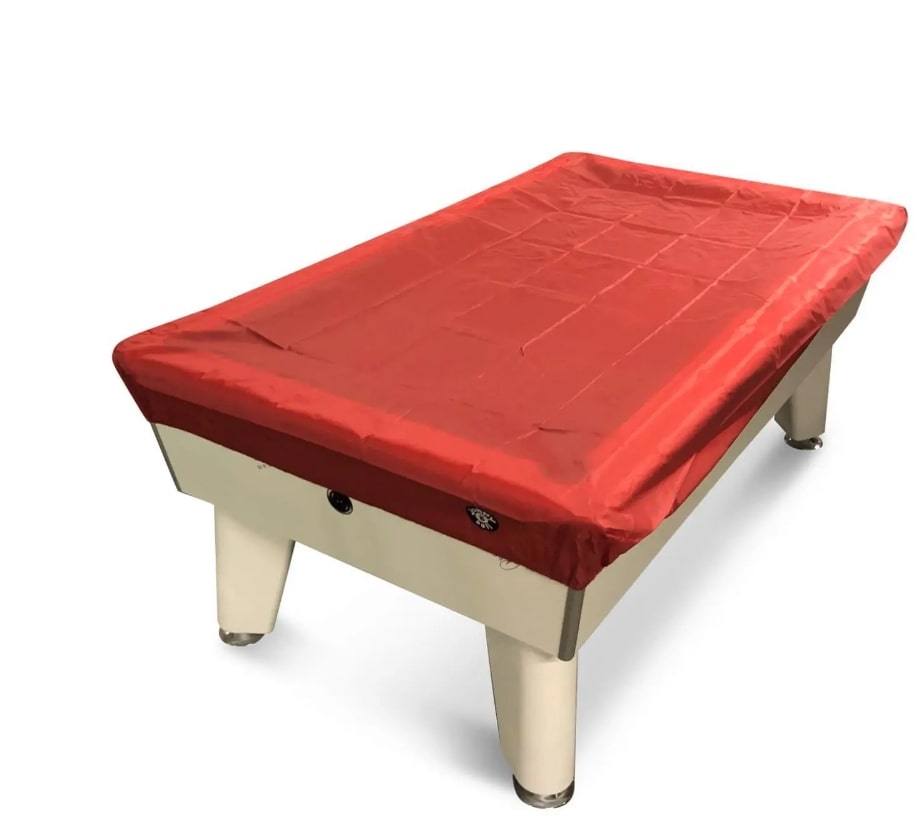 If you wonder whether nylon is waterproof, the answer will be yes. Unlike other materials, nylon pushes moisture to the surface, where it may evaporate. As a result, it won't retain or absorb water, which is less likely to grow mold or other fungi, saving you time and money on cleaning it.
Vinyl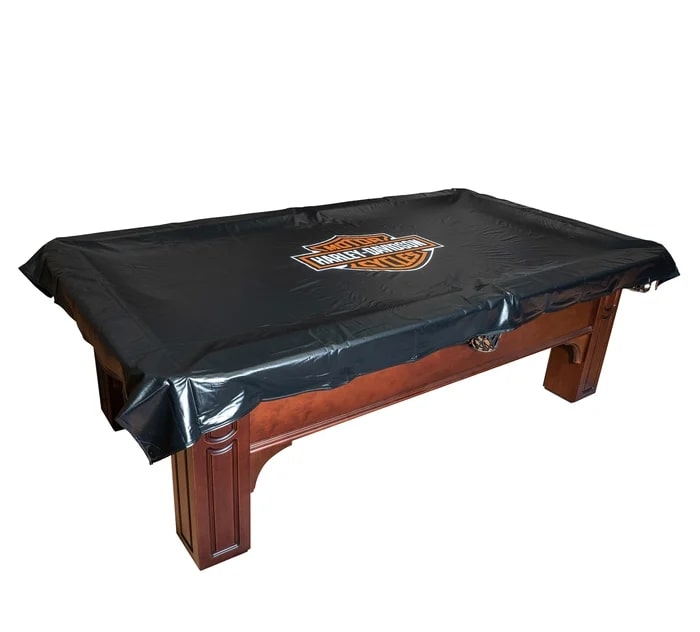 Vinyl is well-known for being waterproof and tear-resistant. The highlight of this pool table covering is its affordable price compared to other types of pool table covers. With this material, you can clean the cover without any hassles.
It's also an excellent choice if you place your pool table in areas with a lot of suns, such as windows or porches. Since vinyl effectively blocks sunlight, it can protect your pool table from sun damage.
See more: How Much Is a Pool Table? A Pool Table Buying Guide
Top's Choice For Pool Table Cover
1. Shieldo Heavy Duty Cover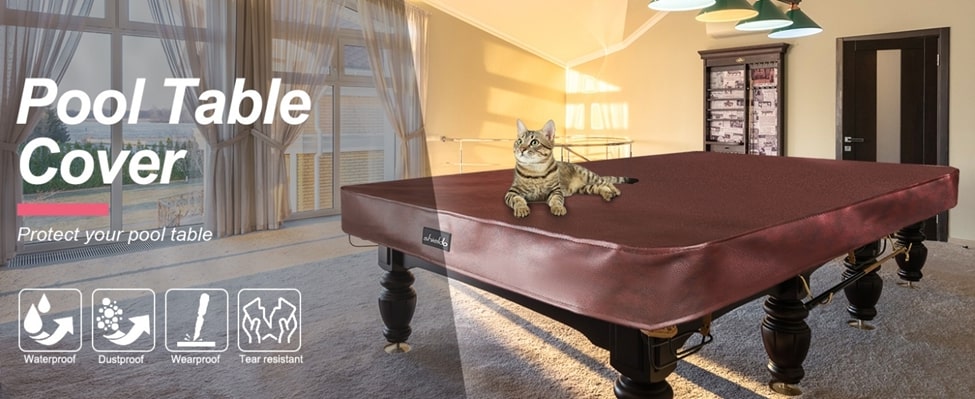 This cover has a simple design; you can choose between brown or black. It fits most standard pool tables, including 7, 8, and 9-ft sizes.
As it's made with a heavy-duty leatherette with a cotton fleece, it protects your pool table from any external damage. Thanks to being made of a good quality leather oil material, it also keeps the pool table cover smooth and wrinkly at all times. This cover is also well-loved by many customers because it is made with waterproof and dustproof fabric, making it very durable with time.
Leatherette is far less expensive than leather, costing approximately $40, making it an ideal cover for pool tables. Moreover, unlike leather, when it is exposed to sunlight, it does not fade over time.
Price: $37.99 – $49.99
Size Options: 7ft, 8ft, and 9ft
Material: Leatherette
Color Choices: Brown and black
See more: How To Refelt A Pool Table? 8 Steps To Install A New Pool Table Felt
2. ClawsCover Billiard Pool Table Cover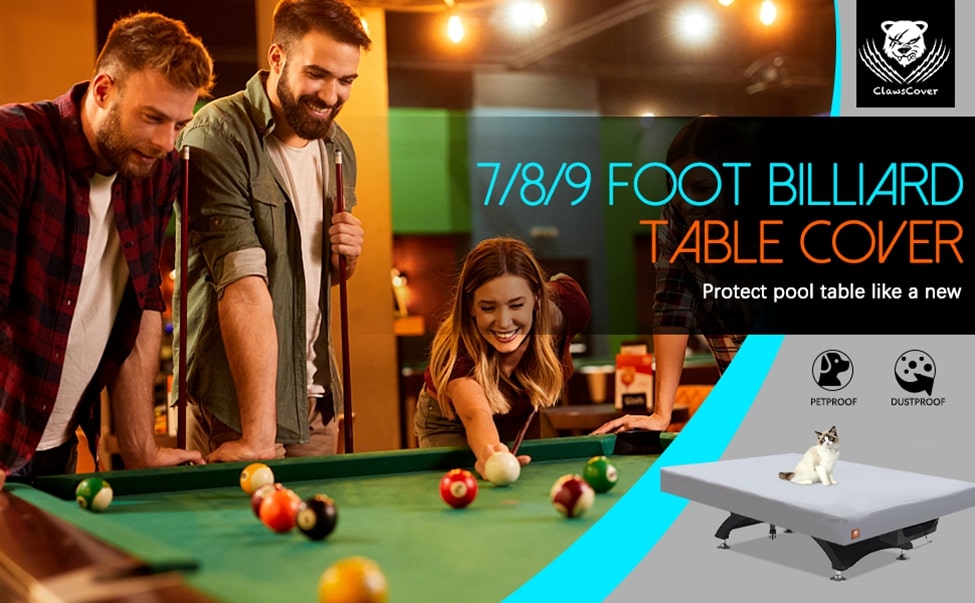 This cover is designed to fit all sizes of billiard tables, including 7/8/9 feet, and only comes in grey.
This pool table cover is heavy-duty, made of 600D polyester cloth, which is super smooth and soft and does not smell at all. This material is well-known for being a fast-drying fabric that is also wrinkle, stretch, and shrink-resistant. But it is not waterproof. That's why the manufacturer uses the best waterproof polyester cloth woven polyester fabric and waterproof PVC coating, which make it ideal for indoor and outdoor use.
Moreover, this cover can protect your billard pool table from dust, dirt, drink spills, etc., that could damage your pool table. If you own pets and worry they could leave scratches, don't worry. This pool table cover is robust and durable and can protect your pool table from pets, especially cats with sharp claws.
The cover can also resist UV and has a windproof click-close strap at the bottom cover to withstand strong winds. To use it after placing this cover on your pool table, you can tighten the button to secure it. This feature even makes it a more incredible outdoor pool table cover.
Price: $37.99 – $39,99
Size Options: 7ft, 8ft, and 9ft
Material: Polyester
Color Choices: Grey
3. Imperial Officially Licensed NFL Naugahyde Cover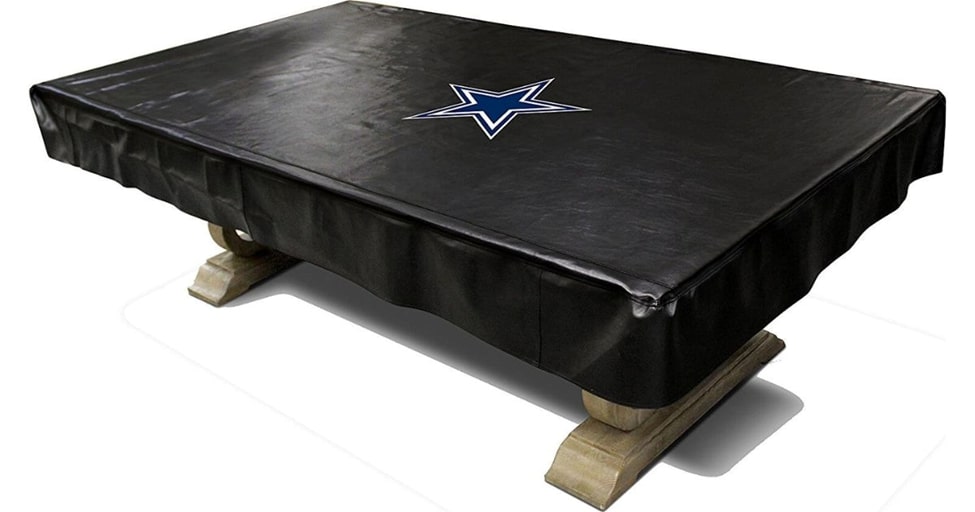 Imperial is one of the most famous companies in the pool and billiard industry in designing, producing, and selling exceptional products for cuesport, especially pool tables. The Imperial billiards table's Naugahyde coating protects the tabletop playing surface and the table edge guards from damage.
Although Naugahyde is a form of artificial leather, it is durable and reliable to keep your pool table safe from external damage.
Are you a fan of the National Football Teams? A prominent silkscreen NFL team logo locates in the center of the pool table cover. Although there are 32 NFL teams, you can only choose one out three groups listed. In the future, the manufacturer will be expanding that.
Price: $126
Size Options: 7ft and 8ft
Material: Naugahyde
Color Choices: Black
4. BEARCOVER Pool Table Cover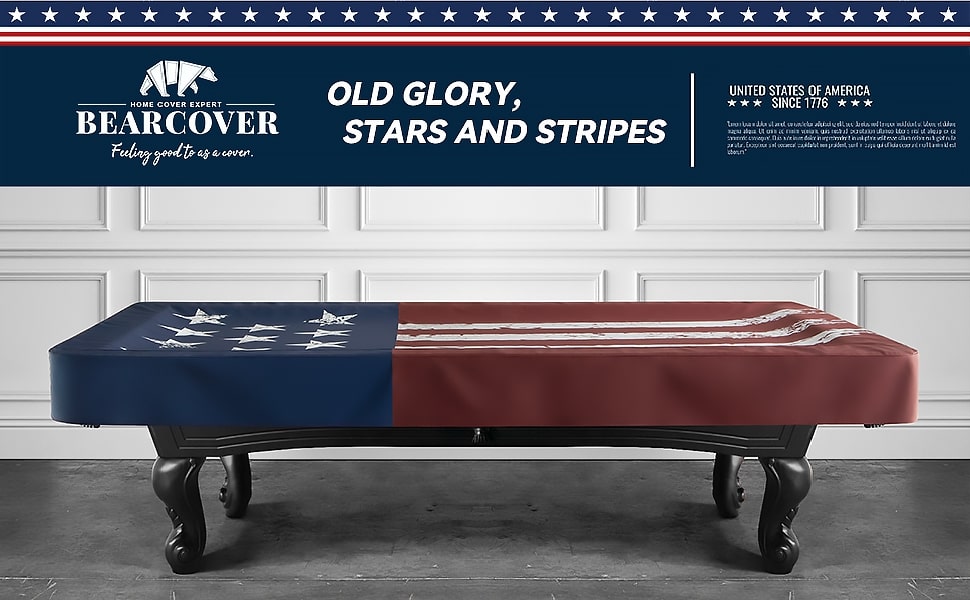 Last but not least, BEARCOVER Pool Table Cover is made of heavy-duty leatherette and high-density cotton fleece backing for better durability. Using the best material for pool table cover makes this cover look more premium and soft but still thick and sturdy.
This pool table cover is highly suitable for pet lovers. They are tear, stain, and odor resistant, so you don't have to worry about having your pets scratch the item. In addition, the heavy-duty leatherette can resist the penetration of water and oily milk so that you can clean the cover without any hassles.
This pool table cover is available in 3 sizes, including 7, 8, and 9 ft. So to ensure it will perfectly match your pool table, remember to measure it before purchase.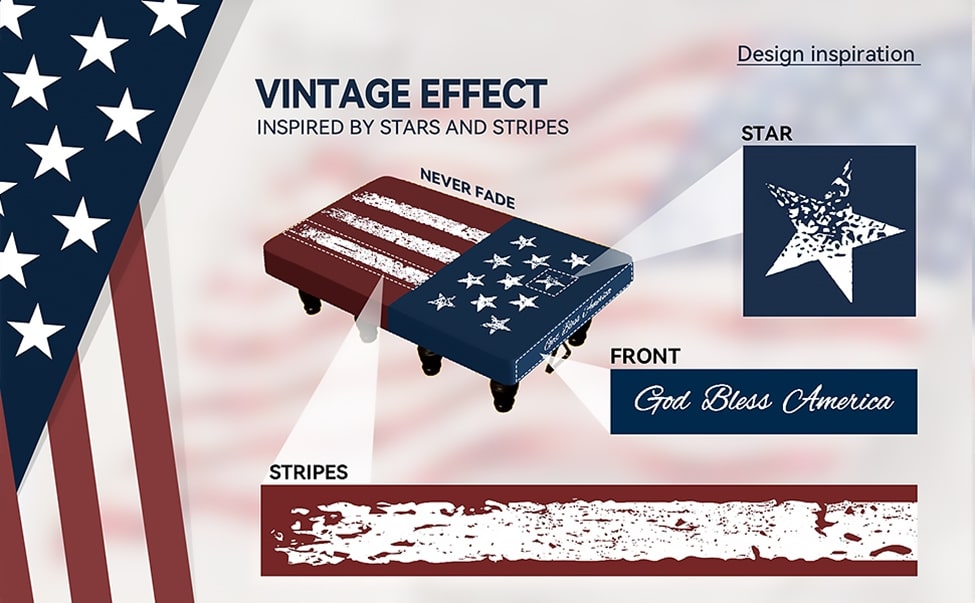 This cover's design makes it different from others on the list. If your family or friends go home and you want to make a good impression on them, consider buying this cover. This pool table's design gets inspiration from The United States of America's National Flag, which is aesthetically appealing. There are stars and stripes which never fade away. It even has "God Bless America" on the front pool table cover.
This pool table cover also uses the most classic color of the flag: Red and Blue. All of them make this cover stand out from the crowd.
Price: $52.99 – $65.90
Size Options: 7ft, 8ft, and 9ft
Material: Heavy-duty leatherette
Color Choices: Red and Blue
For the best experience in billiard games, owning the best pool table, and pool sticks is not enough, but you need the best pool table cover. The high-quality material of the billiard table cover will keep your pool table sustainable over time by protecting it from external damage.
This article will make choosing the best cover for your pool table easier. If you need further help or discussion, don't hesitate to get in touch with us. We are happy to help.
Frequently Asked Questions
What Is The Best Material For A Pool Table Cover?
Leatherette is the best pool table cover because it's durable, waterproof, dustproof, and easy to clean. It also does not fade over time and is available indoors and outdoors. However, compared to others, this material is more expensive than other materials. So, sometimes, the right one comes with features that meet your needs.
For example, if your pool table is outside your house, and you need a pool table covered with sun, water, wind, and dust protection, then you can go with leatherette or Naugahyde.
If you want a water-resistant pool table cover at a lower price, you can go with polyester, vinyl, and nylon.
What Material Covers A Pool Table?
You can use many materials for a pool table cover, such as polyester, vinyl, leatherette, Naugahyde, plastic, nylon, etc.
What Is The Best Cloth For An Outdoor Pool Table?
Simonis is one of the most famous brands in the world, commonly used in pool championships or significant tournaments. They only use the best-worsted wool and have an inclusive manufacturing process, making their cloth a smooth, flat, and precise surface without pills or fluff.
The Simonis 860 contains 90 percent of worsted wool and 10 percent of nylon, which makes them solid and durable enough to keep the best playing surface as much as possible. It maintains accuracy over time and does not change the ball roll as it ages.