10 Best Pool Cues Brands: Highest Review 2023
Are you ready to immerse in the guide on the 10 best pool cue brands 2023, where we unveil the top players pool cues that have garnered the highest reviews? As an avid billiards enthusiast, you may understand that having the right pool stick can significantly impact your game.
That's why we've meticulously researched and compiled this list, ensuring you find the best pool cue brands that cater to your unique style and budget. Read on and discover your perfect match from our carefully selected pool sticks, designed to elevate your gameplay and sharpen your skills.
10 Best Pool Cues Brands In 2023
Becoming skilled at playing pool requires time, patience, and plenty of practice. However, if you use a good cue from a well-known manufacturer, it can make the learning process a bit simpler. Well-established cue makers have extensive knowledge and experience, and they create cues that are consistently of high quality. This means that using their cues can lead to more consistent practice sessions, and you'll feel more confident when playing pool. Here are the top 10 best pool cue brands that you should consider purchasing:
Pearson Cues
Meucci
Schon
Pechauer
Jacoby Custom Pool Cues
McDermott
Balabushka
OB
Cuetec Pool Cues
Viking Pool Cues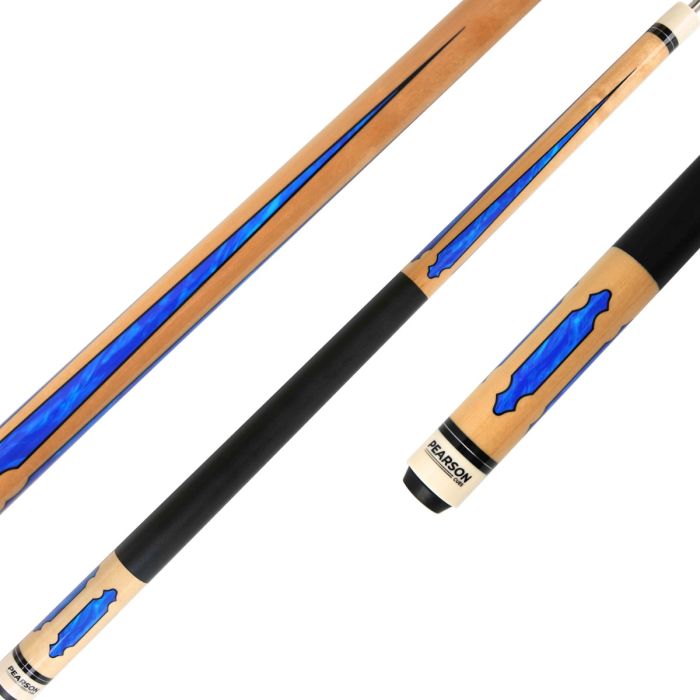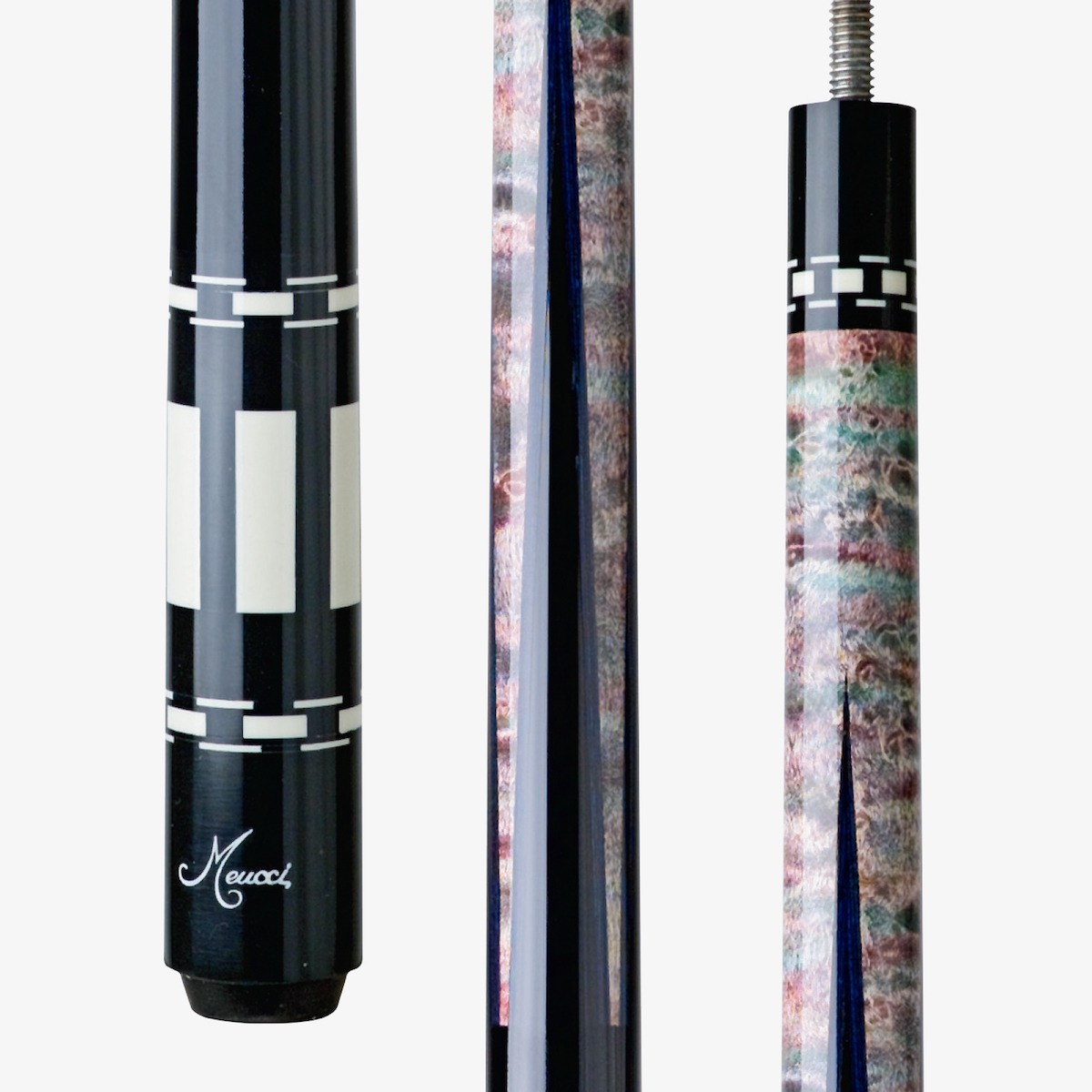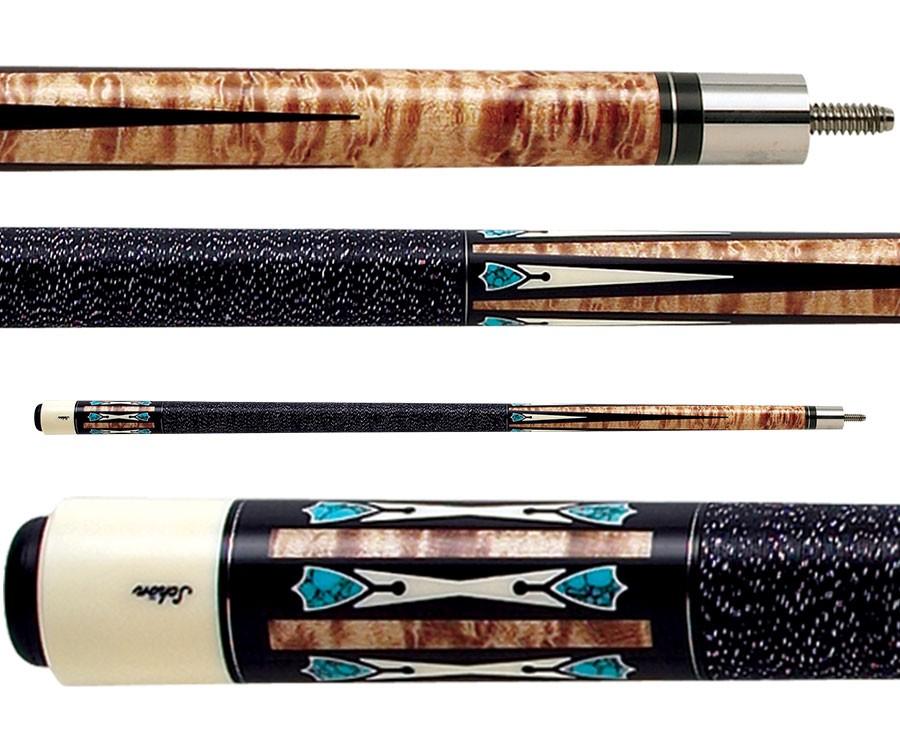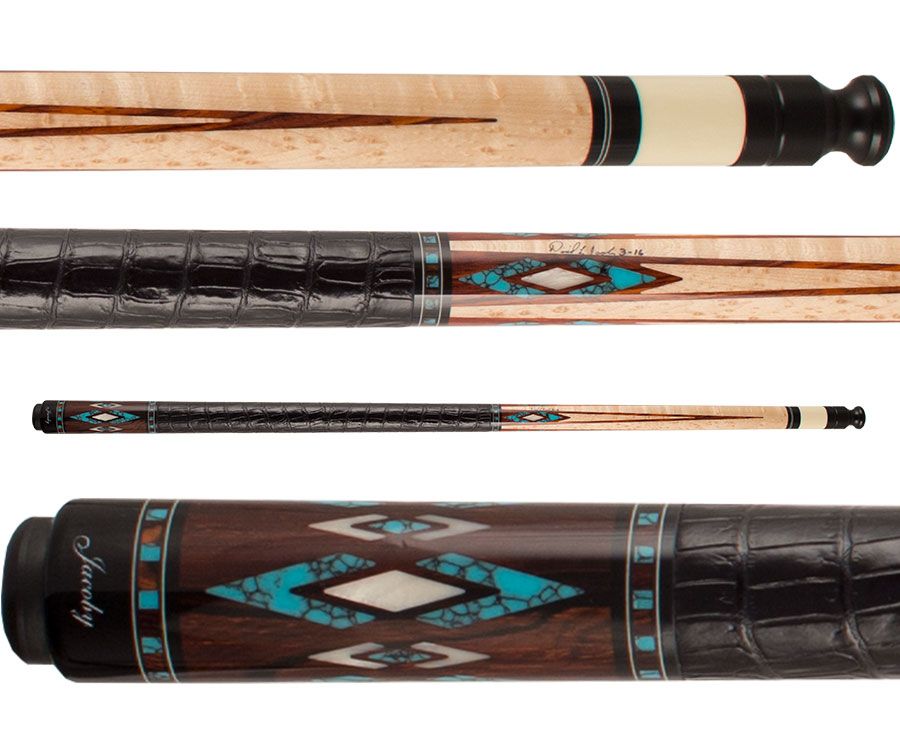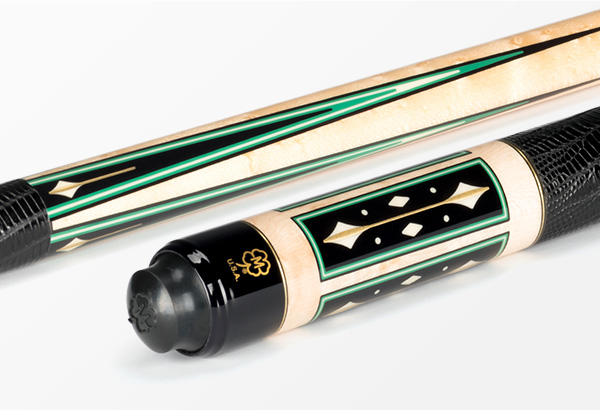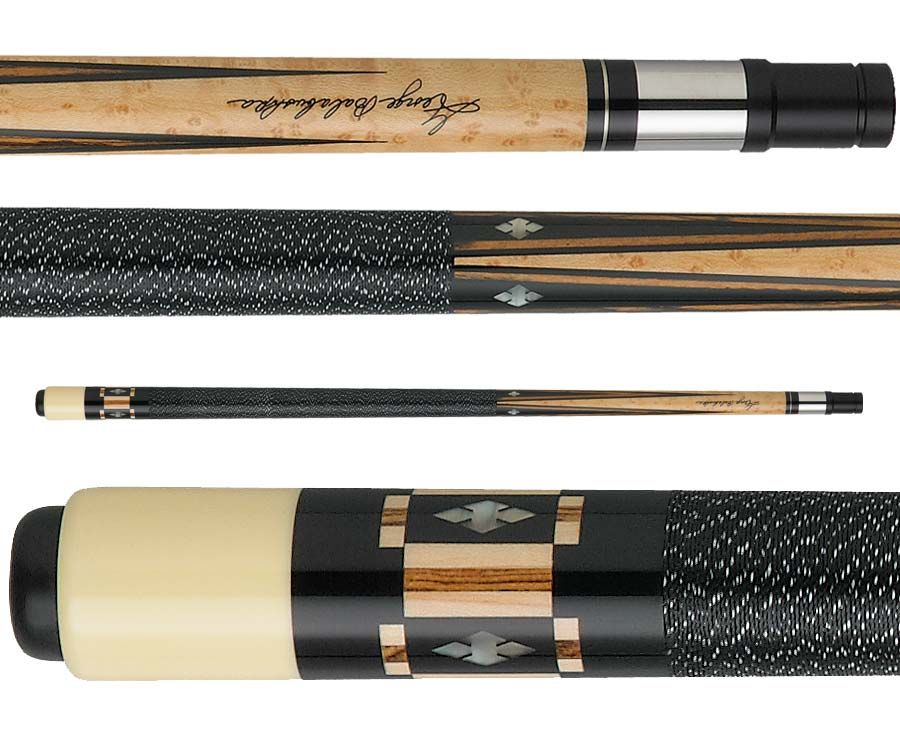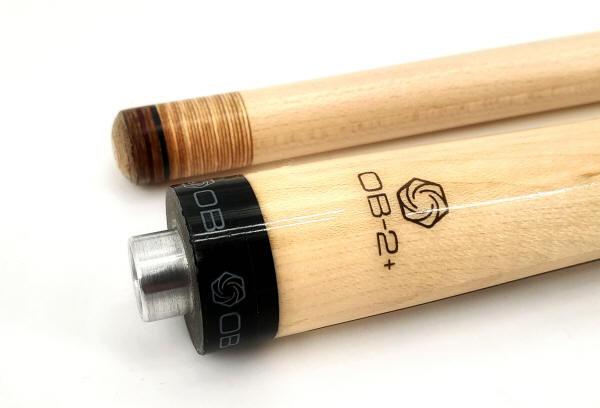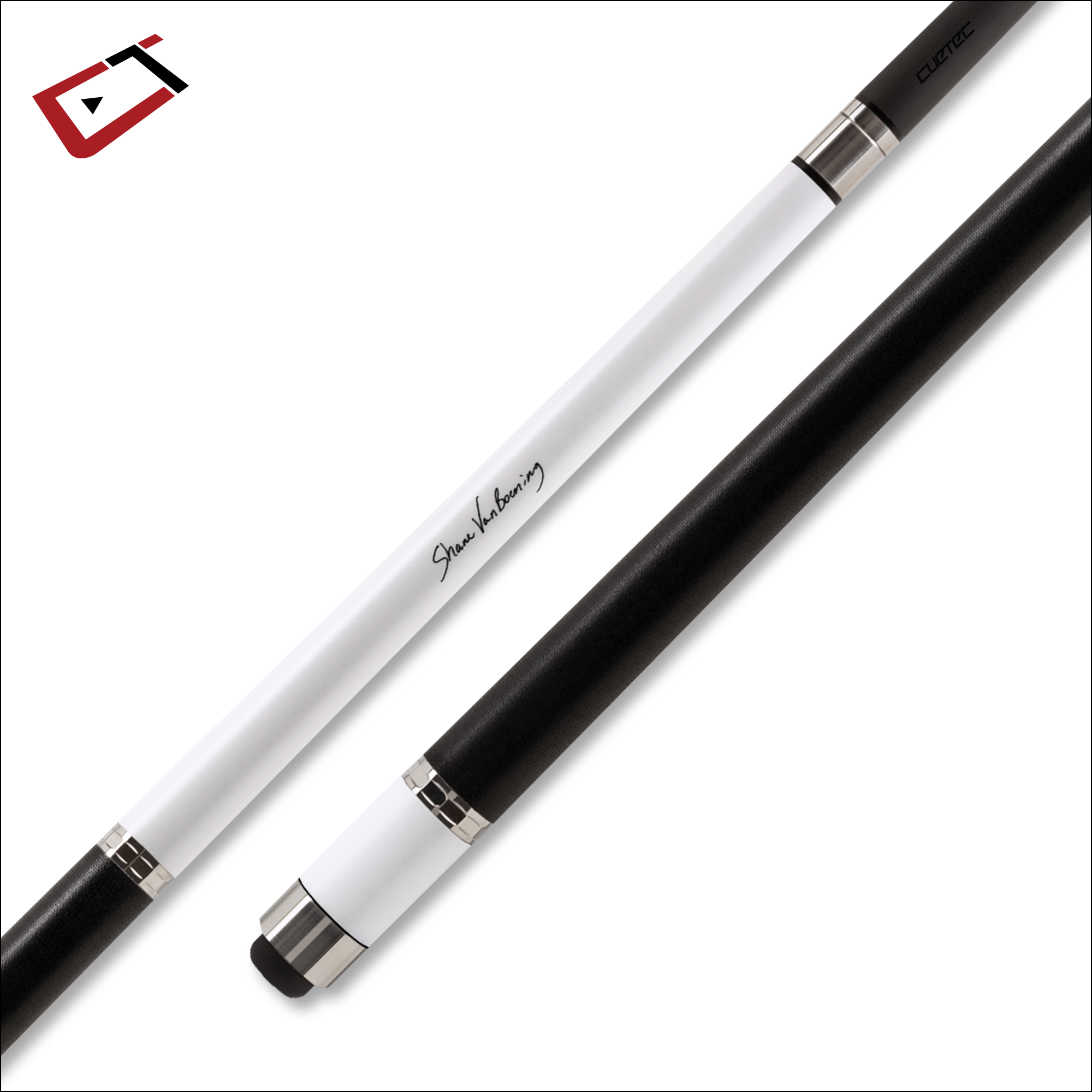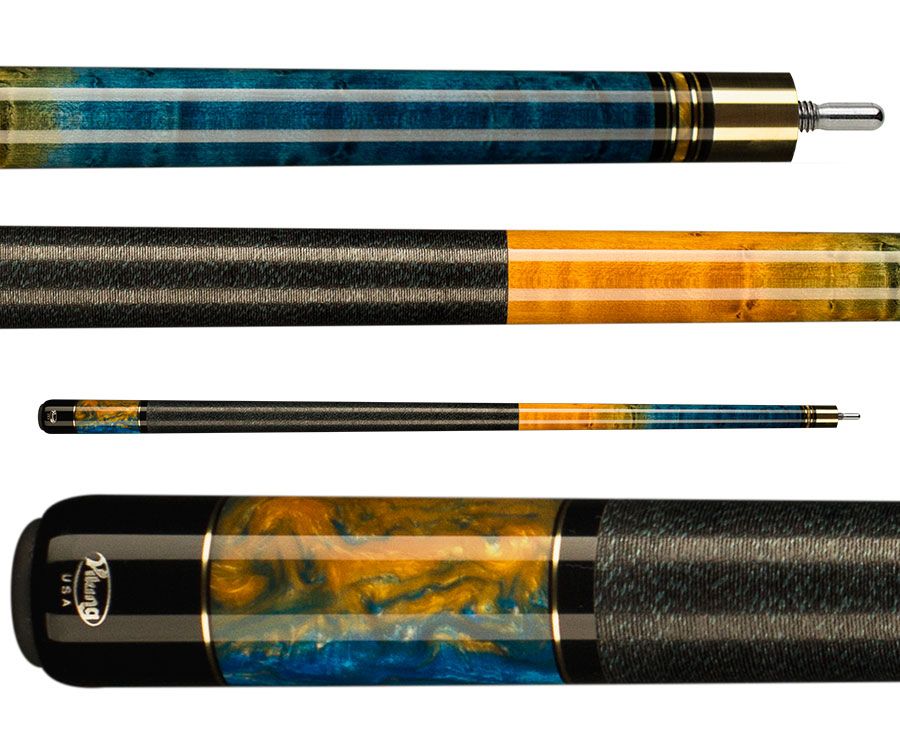 Pearson Cues, a brand set to revolutionize the pool cue industry, has rapidly emerged as one of the best pool stick brands available. By offering premium pool cues with quality, strength, and a winning spirit, Pearson Cues caters to both professionals and recreational players.
Founded by Dave Pearson, a pool phenomenon and Guinness World Record holder, Pearson Cues is driven by his passion for the game. Dave's commitment to quality and performance is evident in every product, as he designs and tests each cue. This level of personal involvement guarantees that customers receive top-quality pool sticks when choosing Pearson Cues. Proudly displayed in bars, pool halls, tournaments, and homes worldwide, Pearson Cues distinguishes itself from other pool cue brands.
There are 10 best pool cues available on Pearson Cues that you should not miss, which are:
See more: 9 Best Intermediate Pool Cues Players Should Buy in 2023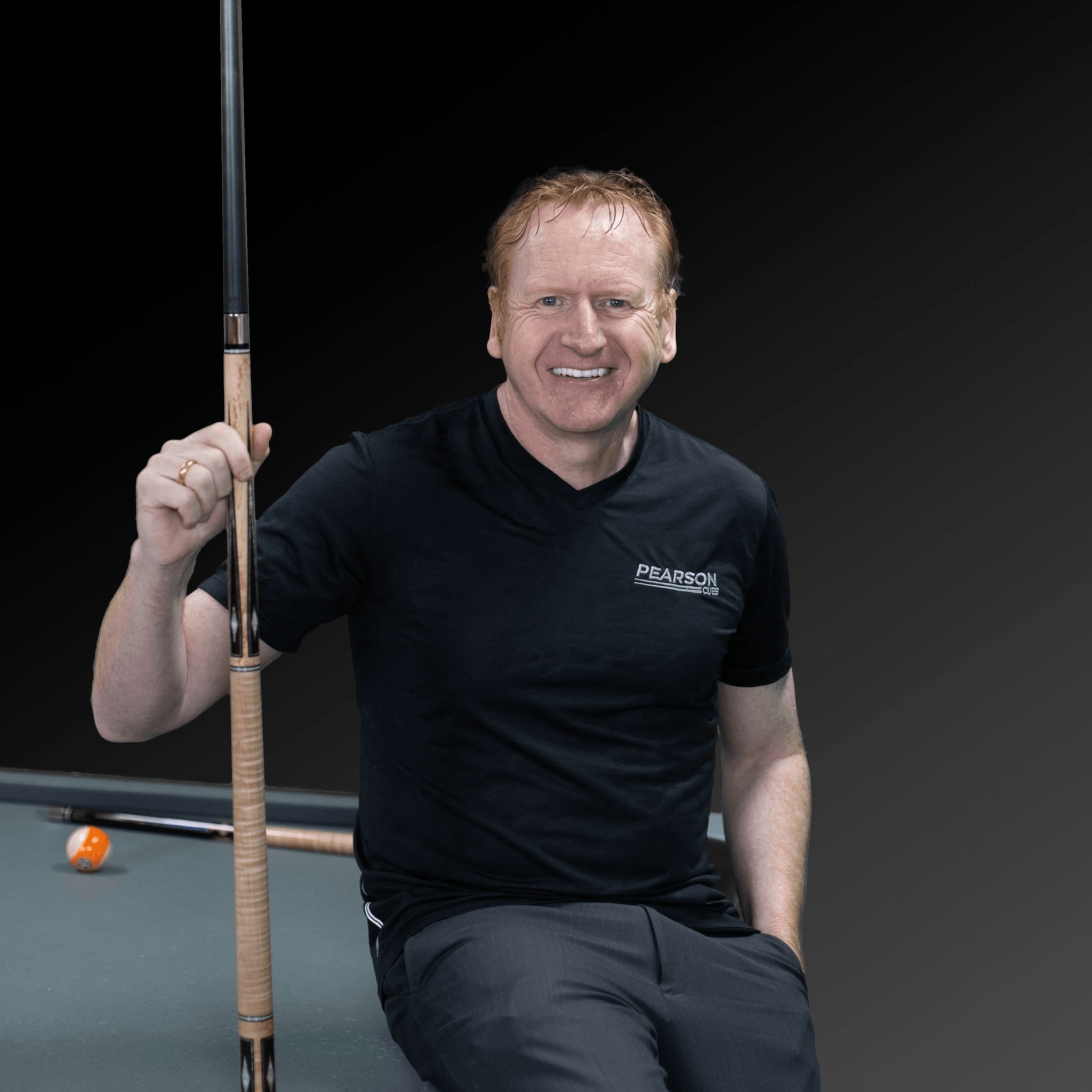 Meucci

Since the mid-1960s, Meucci has been a prominent name in the pool stick manufacturing industry. Proudly boasting a "Made in USA" label, Meucci designs aesthetically pleasing and technologically advanced player pool cues for professionals and experts alike.
During the 1970s and 80s, Meucci gained fame as their cues were commonly seen in the hands of professionals at tournaments. This success secured Meucci's position among the top pool cue brands. Their unique 60-day free return policy instills trust and confidence in customers.
The Meucci will be the best choice if you want to find the best pool cues for beginners. Its affordability sets Meucci apart, making it a popular choice for professionals, amateurs, and beginners. With Meucci, players can build an enviable collection of pool products suitable for any skill level.
Pro players trust Meucci pool sticks to maintain their standing in the industry, while beginners experience improvement and motivation with each game. A Meucci players pool cue purchase includes a hard case, Black-Dot shaft, and free shipping across the continental USA, adding value and convenience.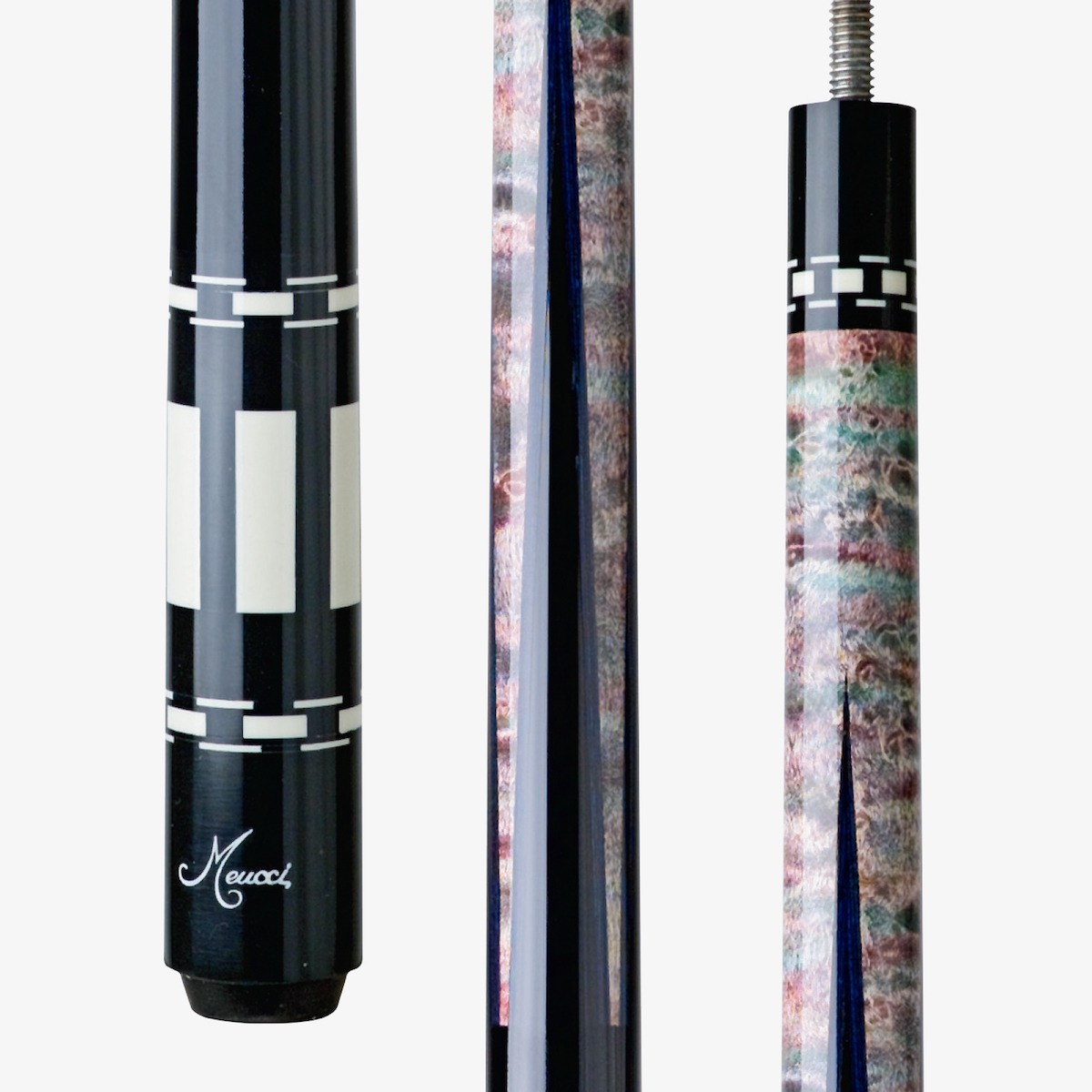 Schon

Schon, the German word for beautiful, aptly represents these American-made pool sticks. Established in 1981 by Terry Romine Senior, the Wisconsin-based company embarked on creating the best pool cues. Many players believe they've accomplished that, placing Schon among the best pool stick brands.
Schon cues are handcrafted to maintain the family-owned company's commitment to quality since its inception. This brand uses only top-grade materials, focusing on beauty, excellence, accuracy, and precision for their players pool cues.
Famous players such as Minnesota Fats, Buddy Hall, Dallas West, and Shane Van Boening have wielded Schon pool sticks throughout their careers. The company offers cues in six categories, including the fan-favorite STL line, which is popular among amateurs and pros. 
Other lines include:
CX made exclusively for Cuestix International
SP or Special line, made occasionally
Limited and Elite lines, with few produced
Unique cues, which are genuinely one-of-a-kind masterpieces.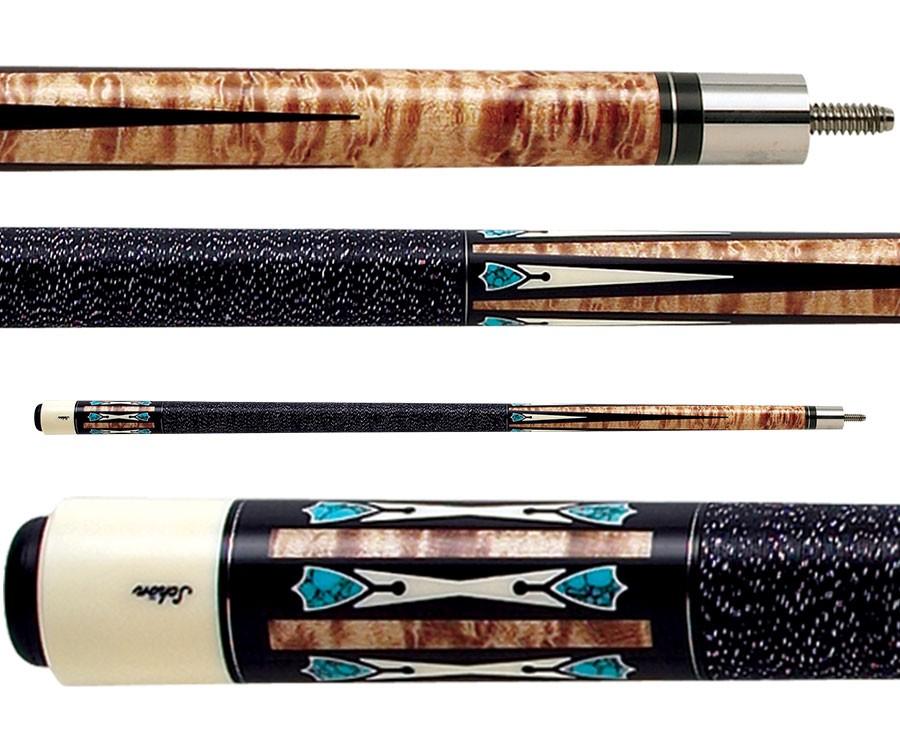 Pechauer

In 2013, Pechauer celebrated five decades of success and growth in the pool stick industry. This achievement results from their unwavering commitment to maintaining high standards and keeping up with industry trends. Pechauer is renowned for delivering exceptional custom cues tailored to meet individual expectations.
The company's journey began when Jerry Pechauer, then a truck mechanic trainee, was invited by a friend to play pool. Despite not knowing the game, Jerry won and received a broken Willie Hoppe cue as a reward, which marked the beginning of Pechauer Custom Cues, a name now synonymous with perfection and excellence.
Today, Pechauer has earned a remarkable reputation in the players pool cues manufacturing industry. Top pool players recognize the precision, balance, and performance offered by Pechauer cues to customers worldwide.
With a vast range of pool sticks, Pechauer caters to players' diverse needs and expertise levels. You can find an affordable and suitable cue by carefully exploring their extensive collection. These exceptional cues come with a lifetime warranty, covering factory defects and warping issues, although additional conditions may apply depending on the purchase.
Pechauer Custom Cues has built trust and confidence in its products over the years, thanks to its dedication to excellent quality, quality, and customer satisfaction.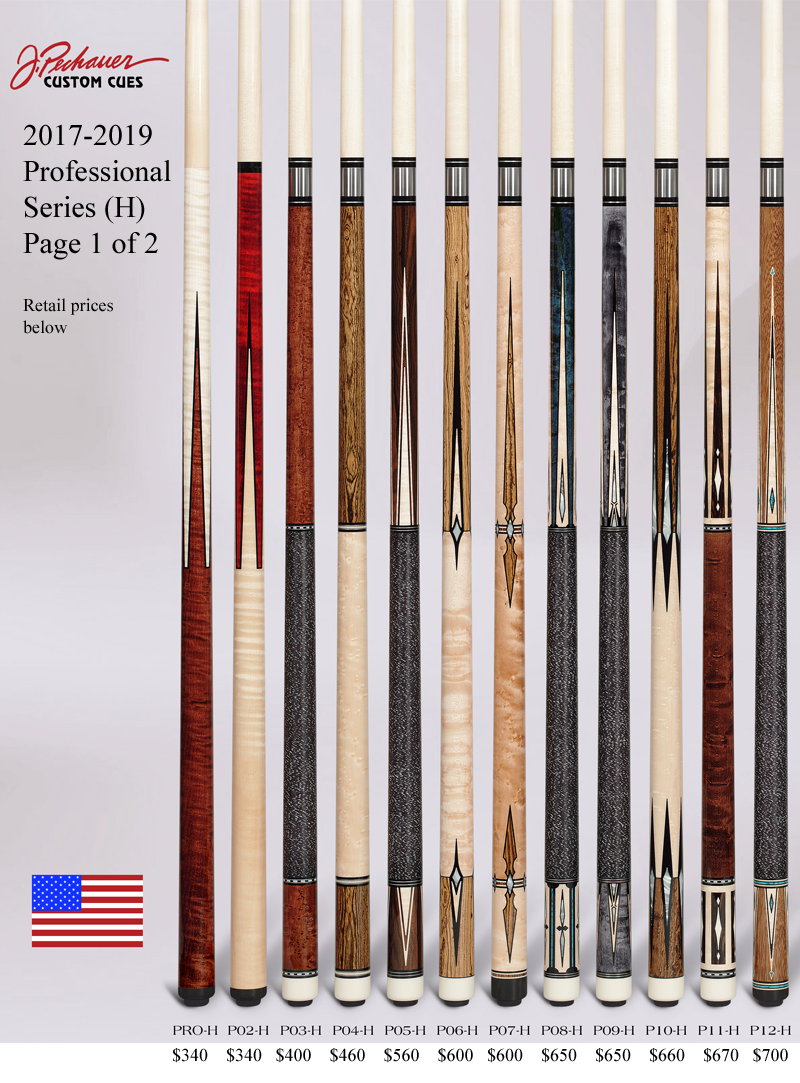 Jacoby Custom Pool Cues

Jacoby Pool cues, founded by the King of Custom, Dave Jacoby, have humble origins. Dave began as a master craftsman producing cues for other brands in 1968. He created limited quantities of high-end custom cues for top professionals and collectors, using exotic woods and intricate inlays to craft visually stunning and high-performing cues
Today, Jacoby has become synonymous with quality and ranks among the best pool cue brands. The company has greatly influenced the design and construction of pool sticks and contributed to billiards' global popularity. Jacoby sponsors numerous high-profile events and professional tournaments, further solidifying their reputation as a top pool cue brand in the industry.
With a commitment to craftsmanship and performance, Jacoby Pool cues have earned their place among the most sought-after and respected brands, setting a high standard for others.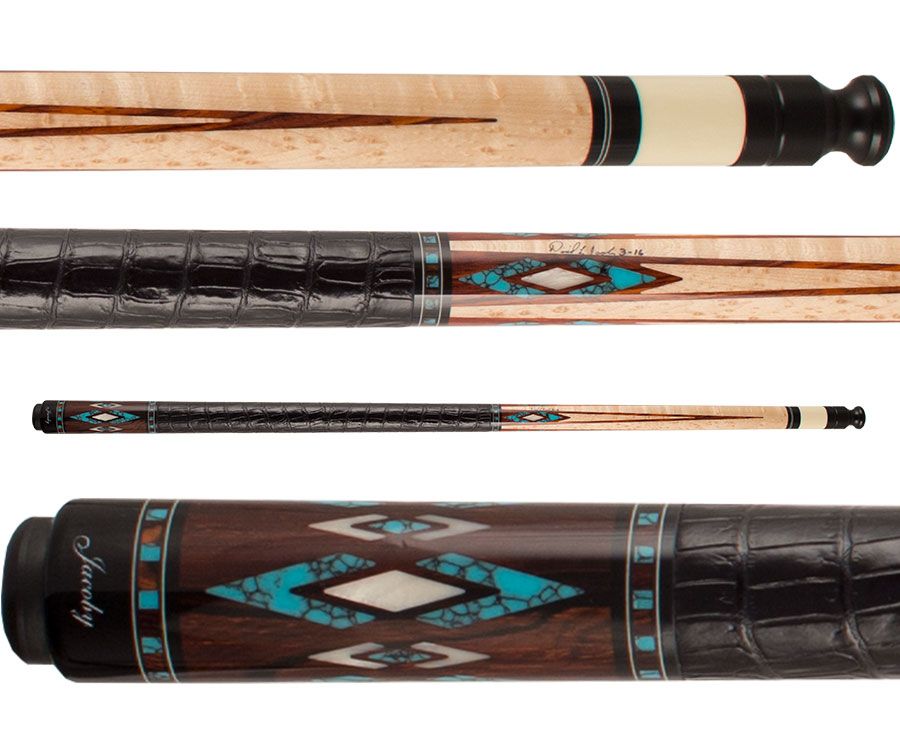 McDermott

McDermott Handcrafted Cues, established in 1975, has a rich history in the pool industry. Over the years, they have introduced unique and advanced high-end players pool cues, thanks to their dedication to in-depth research spanning four decades. This commitment enables McDermott to deliver exceptional quality and performance consistently.
Based in Wisconsin, USA, McDermott players pool cues are manufactured using the latest technological innovations, futuristic designs, and skilled craftsmanship. The company even welcomes customers to visit its facilities to witness firsthand the high standards and quality maintained.
Under the McDermott name are 12 distinct brands, each offering a great line of products. Notable brands include McDermott Pool, Star Pool, and Lucky Pool, which have gained prominence recently. Each brand offers exceptional benefits for passionate pool players.
McDermott Pool cues undergo rigorous quality testing before being released and dispatched to store shelves, ensuring that only the best products reach customers. This attention to detail has secured McDermott's leading position in the industry, giving customers confidence in the products they purchase.
See more: 5 Best Pool Cues For The Money (2023 Buyer's Guide)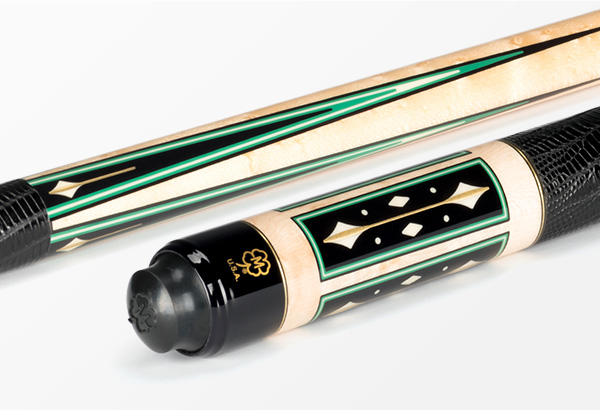 Balabushka

The Balabushka story epitomizes the American dream. George Balabushka, a renowned cue maker, immigrated to America at 12 during the mid-20th century. Despite working with wood his entire life, he never initially intended to become a cue maker.
In 1959, George purchased a pool hall in Brooklyn with a friend and began repairing and crafting cues for his acquaintances. Soon, his name became synonymous with high-quality pool sticks. He established a lasting reputation and legacy though he made cues for only 16 years.
George passed away in 1975, but the Balabushka name continues to hold prominence in the pool world, and for a good reason. Original cues handcrafted himself are now worth tens of thousands of dollars and are highly sought-after collector's items.
While today's Balabushka cues may not have the same value as their vintage counterparts, they still maintain the brand's reputation for quality craftsmanship. These cues serve as a testament to the enduring legacy of George Balabushka and his remarkable contribution to the world of pool.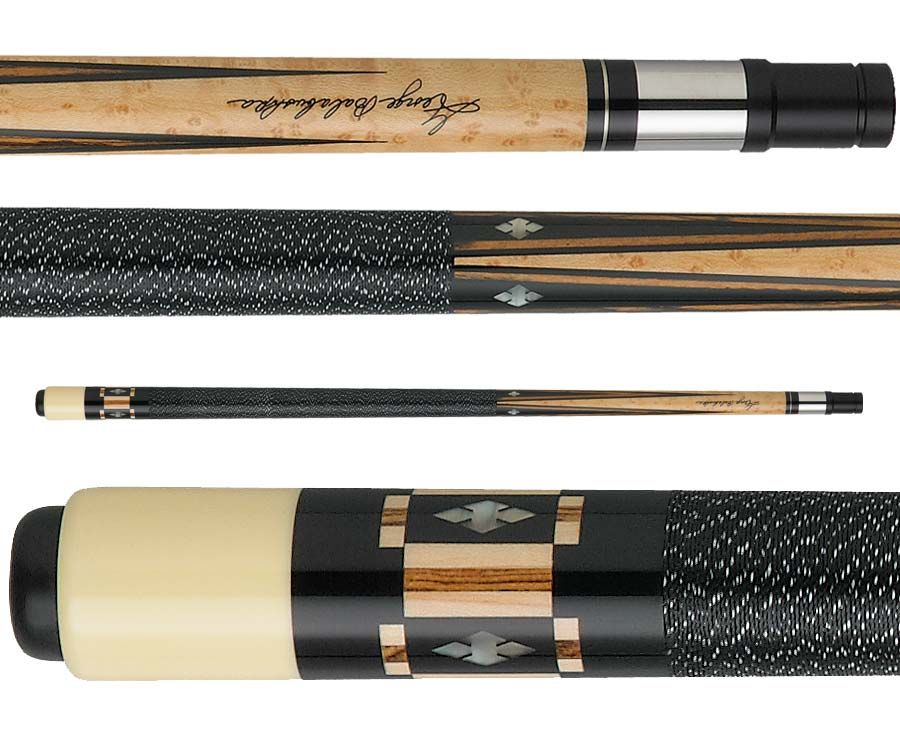 OB

Founded in the early 2000s, OB Cues is the brainchild of Don Owen and Royce Bunnell, who met in Dallas after joining the same pool league. Discovering their shared passion for designing and crafting players pool cues, they established the company, with OB representing Owen-Bunnell.
OB Cues has rapidly gained popularity in the pool community, with many enthusiasts swearing for their products. The company has developed cutting-edge technology, taking low deflection to new heights. Many of their innovative products are patent-protected and may set the new standard for low-deflection shafts. OB primarily focuses on delivering optimal feel, accuracy, consistency, and spin in their cues.
As the OB name continues to grow, the production team in Texas remains committed to delivering top-quality products at the best possible prices, ensuring that OB Cues remains a strong contender among the best pool stick brands.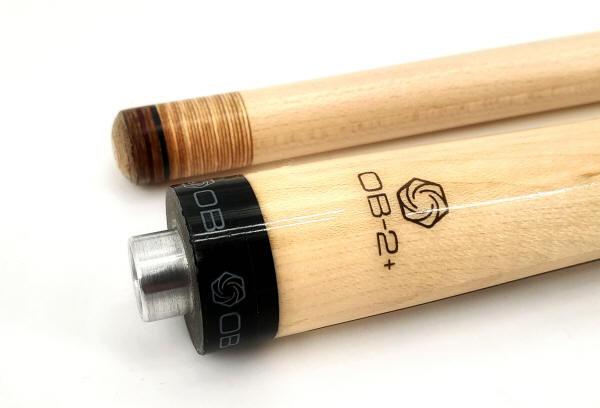 Cuetec Pool Cues

Cuetec has revolutionized the players pool cues industry since 1991. With the introduction of "Cuetec Graphite," a composite material that is lightweight, durable, and stronger than traditional wooden cues, the brand quickly gained a reputation for its unmatched quality and performance.
Cuetec has become a popular choice for players at all skill levels, continuing its rise among the best pool stick brands. These cues provide a long-lasting solution for billiards enthusiasts, maintaining their quality and performance for years. Cuetec's innovative designs and commitment to excellence ensure every player can find the perfect cue to elevate their game.
Whether you're an amateur or you are finding the best pool cues for advanced players, Cuetec's pool sticks are designed with you in mind. With their cutting-edge technology and superb craftsmanship, you can be confident that a Cuetec cue will meet your expectations and assist you in making your mark on the pool table. Experience the difference yourself and join the countless players who trust Cuetec for their billiards needs.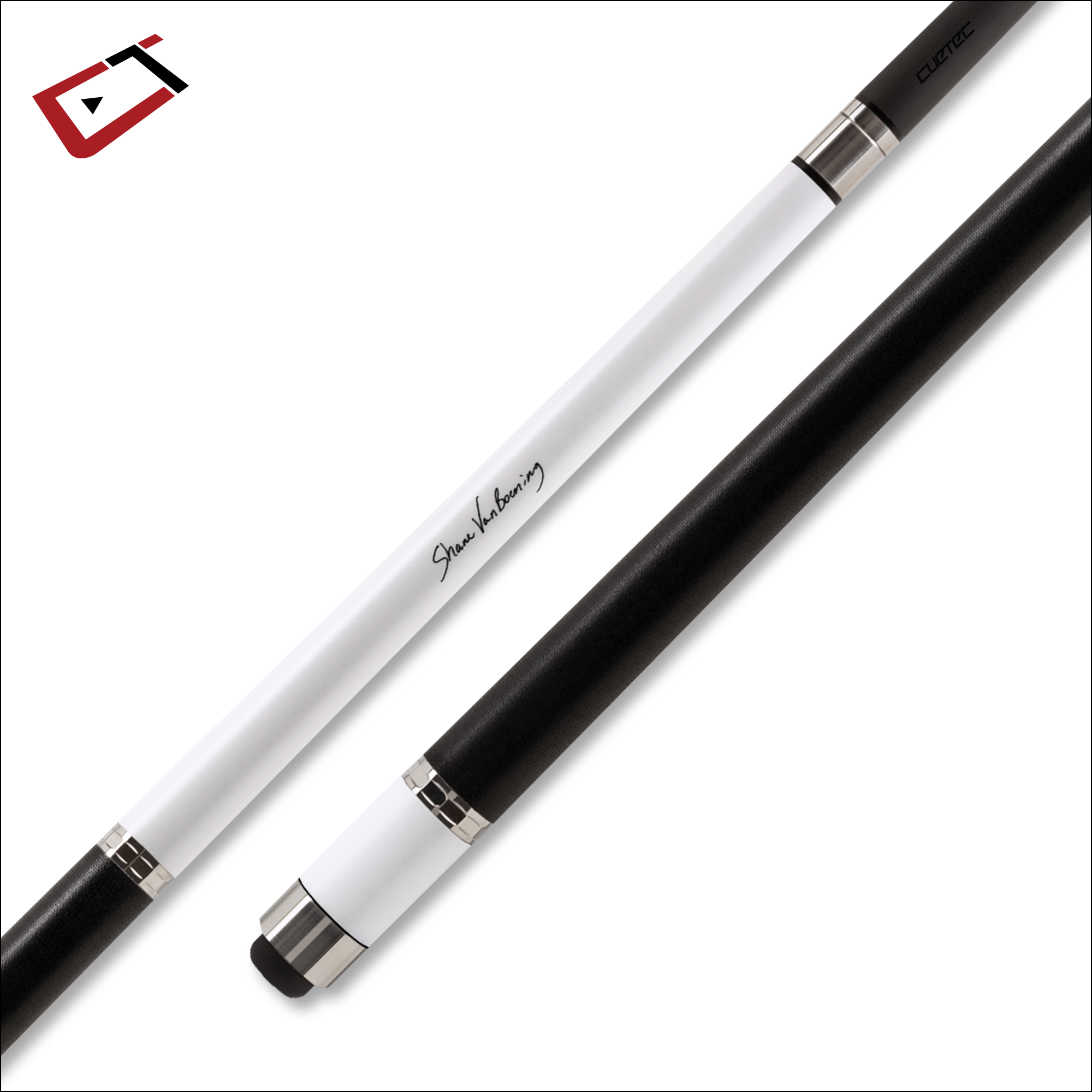 Viking Pool Cues

Viking, synonymous with strength and power, has been one of the best pool table brands for over 50 years. They've earned their place among the best pool stick brands thanks to their innovative approach and high-quality craftsmanship. With the introduction of the Viking Quick Release joint, they solidified their status as a top player in the players pool cues industry.
Each Viking cue showcases its commitment to quality, boasting exceptional balance and unmatched quality. As one of the best pool stick brands, Viking has built its reputation on delivering consistent performance and pushing the boundaries of innovation.
Viking's pool sticks are designed to impress and perform, whether you're a casual player or a seasoned billiards pro. Experience the difference between a Viking cue for yourself and discover why they've been trusted by players worldwide for over half a century. With Viking at your side, you can confidently take on any challenge the pool table offers.
In conclusion, our comprehensive review of the 10 best pool cue brands in 2023 showcases a diverse range of top-quality pool sticks that cater to players of all skill levels. These brands have consistently demonstrated their commitment to excellence and innovation in players pool cues.
Whether you're an amateur or a professional, choosing from these best pool cue brands will guarantee a reliable and exceptional pool stick to enhance your game and make some outstanding achievements in billiards.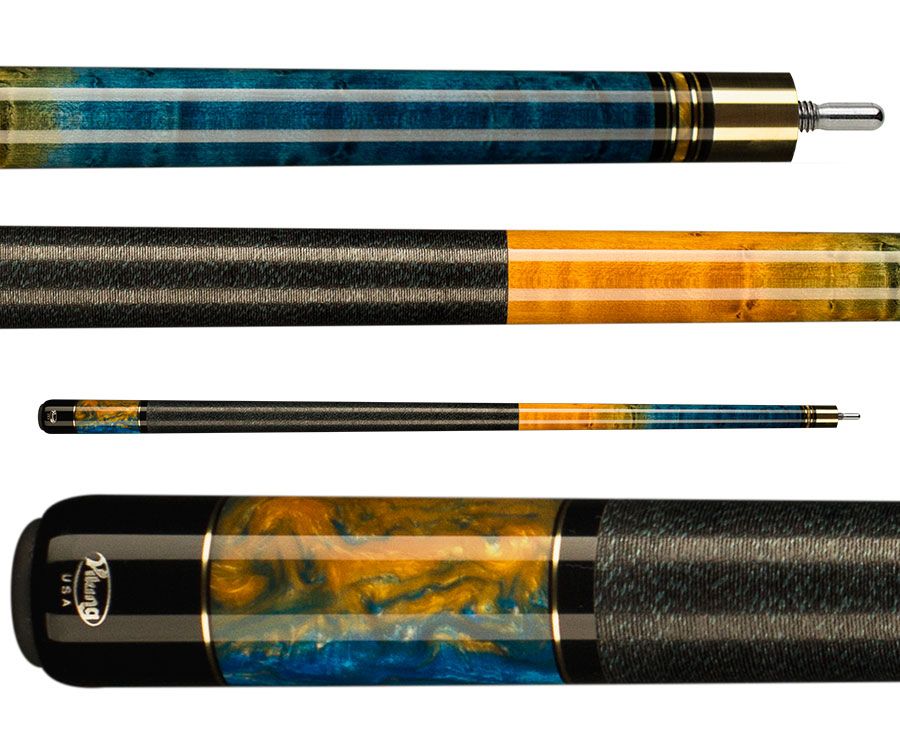 Frequently asked questions
Do Expensive Pool Cues Make A Different?
Expensive players pool cues can make a difference, but they are not a guarantee of success. Ultimately, it depends on the individual player to determine whether investing in a high-priced cue is worth it based on their needs and goals.