Top 5 Best Pool Cues For Beginners. The Best Cue Stick Brands In 2023
Pool cue is like a primary weapon in your pool combat against any opponent. For a beginner, a good pool cue even plays a more important function. Given its significance, many pool players are willing to spend a substantial amount of money on their desired pool cues. However, choosing the most expensive or nicest designed pool cue is not a smart idea. Good pool cues should fit your size, your skills, and your budget. This article will suggest the top 5 best pool cues for beginners with all the needed details and prices.
Pool cue name

Cue Features

Price

PLG-Blue

2-pieces

Classic design with blue accent

Glass A hard maple shaft

$139

PLG-Purple

2-pieces

All-black linen wrap

$139

PLG-Green

2-pieces

Grade-A Canadian Maple with a vibrant green accented hardwood handle

Lifetime warranty

Stylish design

$139

PP-RASP

2-pieces

Stylish design

Durable and strong

No wrap

$199

PP-2

2-pieces

High-quality cue

Stylish black acrylic design

$179
Read more: best pool cues under 200
Key factors for beginners to choose the correct pool stick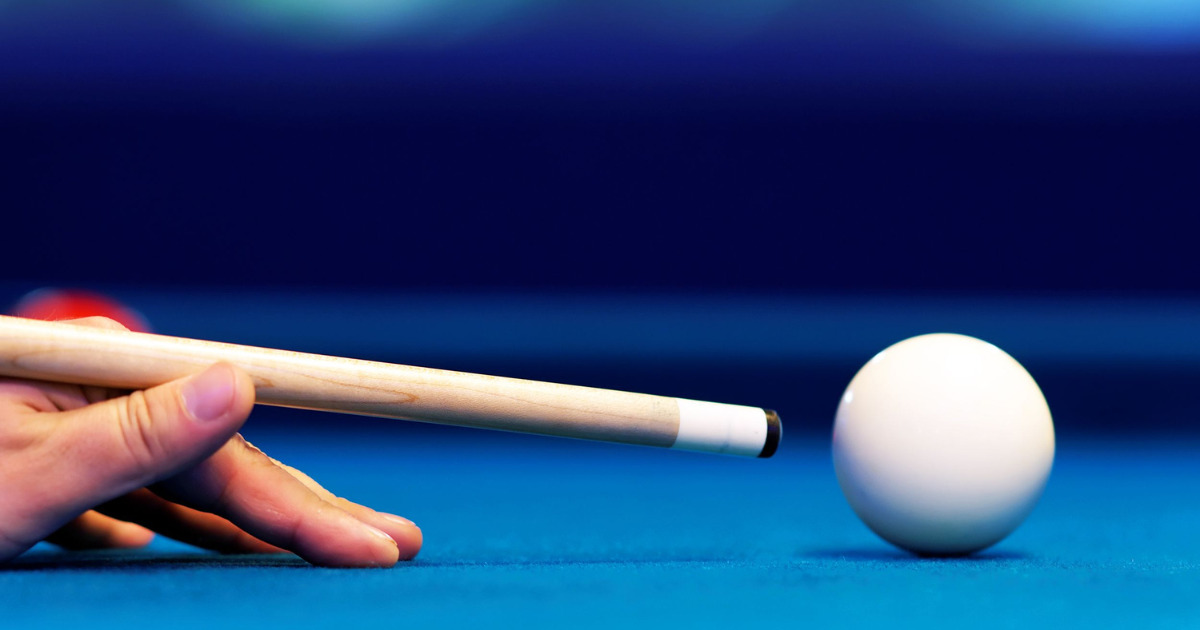 There are many factors that need to be considered when choosing the pool sticks. Here we can list 4 main criteria as follows:
Materials
Stick materials
The main material for most pool cues is wood. Besides, pool cues can also be found made of aluminum, fiberglass, carbon fiber, graphite, and even plastic. However, a high-quality pool cue is typically crafted, especially the shaft, from straight-grained hard rock maple wood. If you are a beginner, you should choose a pool cue made from high-quality material to support your practice.
Wrap materials
A pool cue wrap is a piece of material you wrap around your stick to give your shooting hand more grip. Cue wrap can be made from leather, rubber, and Irish linen. Each type of material will give you a different amount of grip. Rubber is more suitable for a hard shot where you need more grip. However, less grip allows for more precise shot placement, which is what the pool is all about. And among all the materials, Irish linen material offers the least amount of grip which is more suitable for beginners.
Size
Choosing the right pool cue length and diameter is necessary for beginners since they can not easily control the pool stick that is out of their reach or bigger than their hand size.
Length
The average pool cue length is 58 inches, which is suitable for most people between the heights of 5'0 and 5'8. If you are shorter, you can try the pool stick with a length of around 52 inches which is the common length for juniors.
Diameter
Selecting the proper shaft diameter is crucial because the shaft is the longest component of a pool stick. In most cases, shaft diameters lie between 12 and 13 mm. Just a small difference in diameter can significantly alter how comfortable your hands are when playing.
For a beginner, when selecting your pool cue shaft diameter, your hand size is the most crucial consideration. Smaller shaft diameters are preferable if your hands are small so that your hand doesn't feel uncomfortable when it travels down the shaft during those shots. The easiest method to make sure you select a cue stick with the proper shaft diameter is to test out a few to determine which one suits you the most.
Weight
Cue sticks are available in a wide range of weights. Considering your skill level when selecting your stick weight is crucial. Professional pool players typically use sticks that weigh around 19 ounces, but beginners are recommended to use sticks that are a little lighter (about 18 ounces), as they are still learning how to pocket those difficult shots with ease. Even if you slightly off-center the cue ball when you strike it with a lighter cue stick, it will be more likely to move in the direction you intend.
Price
Price is an important factor when selecting your best pool cue whether you are a beginner or an advanced player. The price of a pool cue can vary from $30 to several thousand dollars, so how much you are willing to spend will determine which cue is ideal for you. However, good pool sticks normally cost between $100 and $200. If you are a beginner, you should stick to this price range to choose your pool cue.
Top 5 best beginner pool cues
Among all the high-quality Pearson Pool cues, the top 5 best pool cues for beginners should be the Pearson League series( Green, Blue, and Purple), Pearson Player Series 2, and Pearson Player Series Raspberry. We can make these 5 beginner pool cues reviews as simple as follow: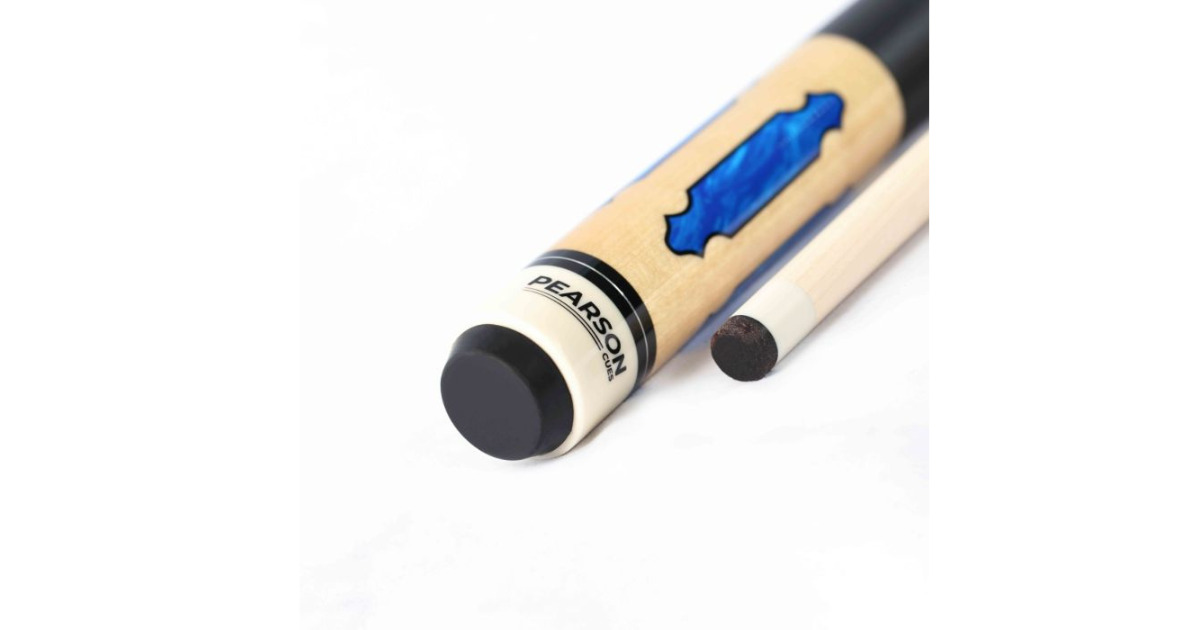 The Pearson League Series is designed to be beginner pool cues with all the needed features
Pros
2-piece pool cue which is superior to one-piece cue in performance. This is due to the possibility of distortion after prolonged use. This frequently happens on the part of the shaft that makes contact with the ball, usually the thinner end. A one-piece cue that has warped or fractured is difficult to use, and repairs aren't always successful. If a two-piece cue's shaft starts to warp or break, you can swap out the shaft without changing the base

Traditional design for popular use

Feature with grade A maple shaft

Affordable price
Cons
This pool cue is not equipped with a high-quality tip as Elite series cues and Unilock joint for swapping shafts with ease as other professional pool sticks.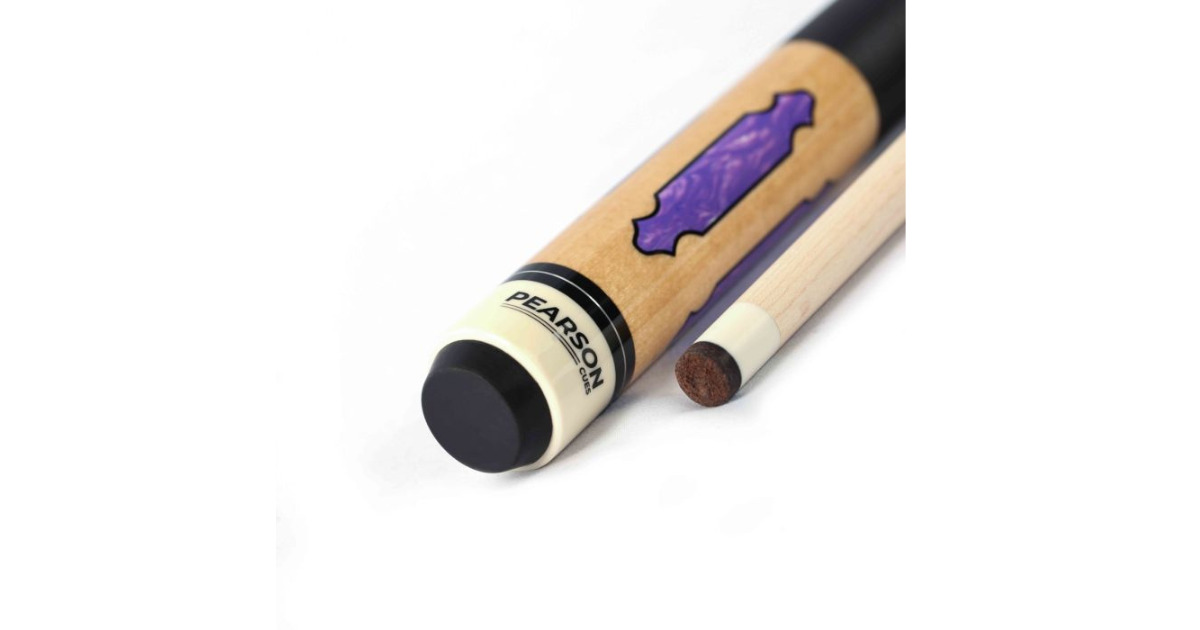 The League Series Purple is also one of the best pool cues for beginners
Pros
Featured with Grade A hard maple shaft

All-black linen wrap which has the least amount of grip compared to other wrap materials, making it better suited for players who need a lot of control over their shots.

Affordable price

Traditional design
Cons
Irish linen has the drawback that it is not advised for players who frequently sweat; these players should use leather or a sports grip cue, such as the Pearson Pro Series Cues.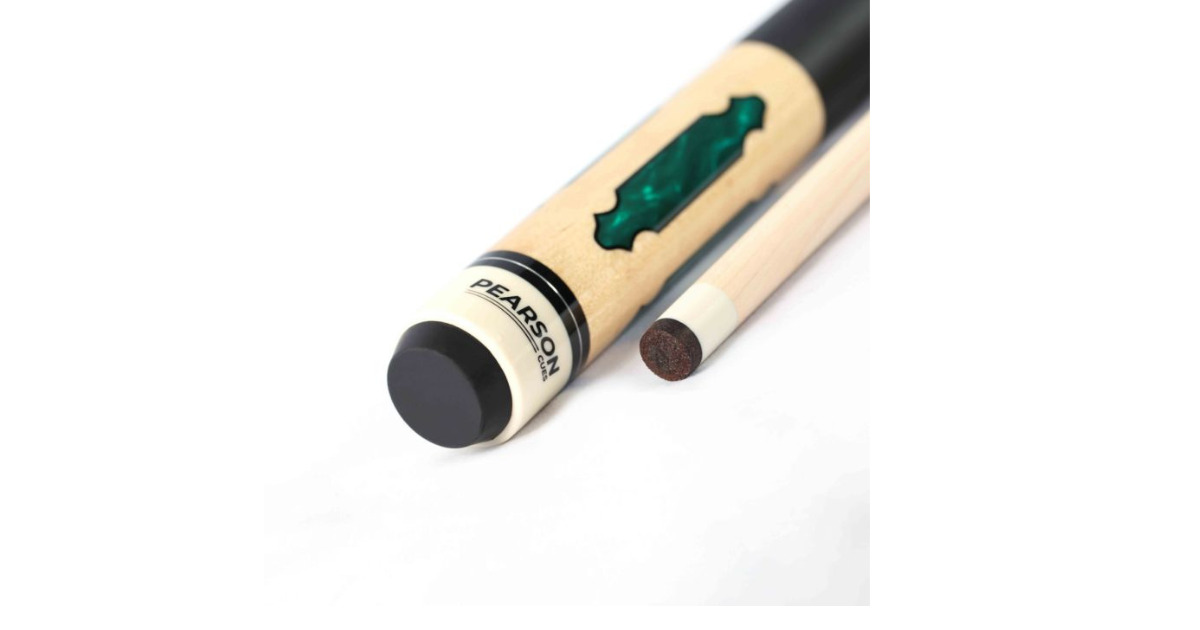 The Pearson League Series Green pool cue is a premium cue compared to previous options
Pros
Constructed from Grade-A Canadian Maple and features a vivid green accented hardwood handle.

Lifetime warranty against manufacturer faults as all other Pearson cues.

A fashionable option with a tight budget.

Feature a white composite ferrule with a Pearson Personal tip on top of it.
Cons
It's not intended for breaking. Consider the Pearson Ball Buster cue if you're looking for a top-notch break cue.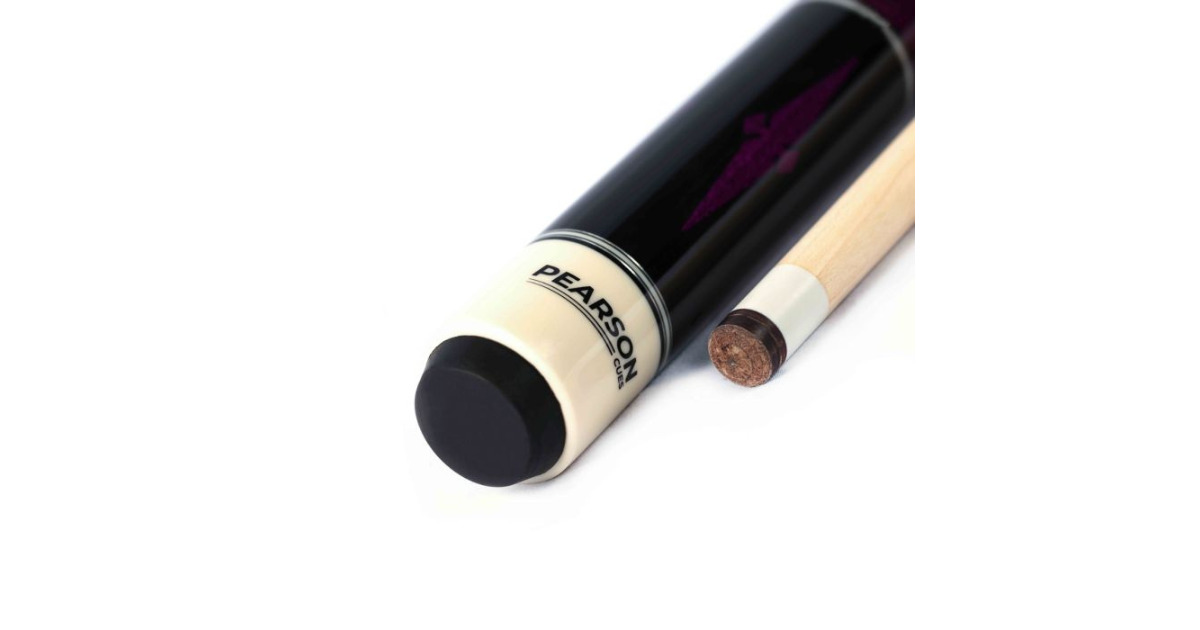 This Pearson Players Series Raspberry pool cue is also another premium option for beginners who desire a fashionable pool cue.
Pros
Constructed from Canadian maple

Provide a strong and precise feel

Simplistic design with a raspberry-stained finish.

The deep raspberry shade is a stunning one that is not only distinctive but also fashionable.
Cons
There are no wraps in this cue. Contrary to what most people think, wrap-less cues have a very good grip. This is due to the fact that the cue's butt and shaft are built differently. Pool cue shafts are designed to be smooth to allow for simple passage through your bridge hand. But the butt of the cue is protected with a high gloss surface. Many players, but not all, find this finish's moderate level of grip on the cue's butt to be sufficient. Everything comes down to personal taste.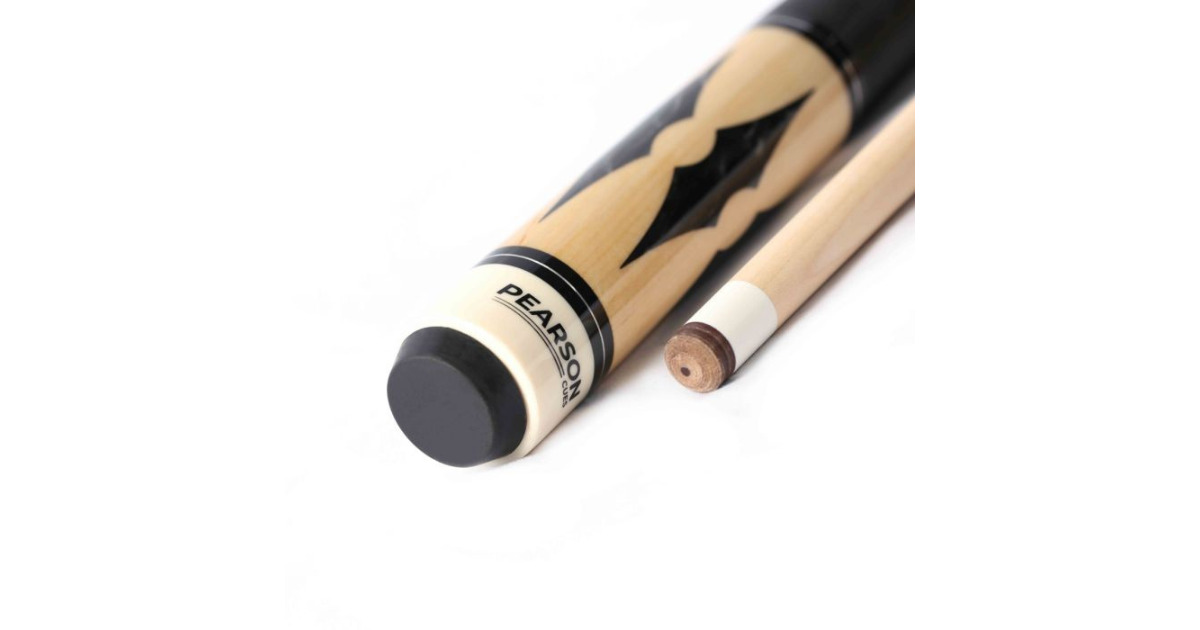 This Players Series 2 pool cue from Pearson Player Cues is a perfect example of what a high-quality pool cue should look like.
Pros
Made from Canadian Maple wood of the greatest quality

Use professional-grade high gloss lacquer to polish

Feature a chic black acrylic forearm design, a 12.5mm tapered Tiger Everest Pro tip, and a black Irish linen wrap. When it comes to a better cue with an Irish linen wrap, this cue offers the best of all worlds.

Available in weights of 18 to 21 ounces
Cons
Irish linen's disadvantage is that players who sweat a lot should avoid using it.
FAQs
What cue sticks should beginners use?
If you are a beginner, you should choose a pool stick with a price range from $100- $200. The pool stick should be made from maple wood to ensure durability and the wrap should be linen for easier grip. Besides, choosing the cue with a length of around 58 inches and weight of around 18 ounces. Try to test several cues to find out the one that fits you the most.
How do I know what pool stick to buy?
Besides ensuring that the pool cue meets all the basic requirements in weight, size, price, and materials, you have to check it carefully before buying. Pool cues that have just been purchased ought to feel almost flawless. Your hand should be able to travel the entire length of the cue without encountering any anomalies. Small imperfections on cue sticks are frequently warning signs of worse problems. A top-notch pool stick that is just out of the box should be nearly faultless, with little to no smoothness variation between the tip, ferrule, shaft, and butt.
The easiest method to determine if a pool cue is right for you is to use it in a game. Break with the cue, attempt some straight-on shots, try some more difficult bank shots, and attempt some harder combos to gain a general sense of the stick. When the cue stick strikes the cue ball, it should feel solid.
Conclusion
In general, the best pool cues for beginners are those that are within your budget and have the weight, size, and materials that are appropriate for you as a beginner. For many pool players, the style and color of the cue can also be crucial cue features to consider. You can use our list of the top 5 pool cues as a guide when selecting one to start using in your practice sessions. More importantly, consider testing as many pool cues as you can to see which one gives you the best sensation when shooting the cue ball.